Editors handpick every product that we feature. We may earn commission from the links on this page.
Champagne Yurts, Firepit Fiestas, and 4 Other Epic Après Ski Experiences You Need to See
Better yet, *go and do with your friends.*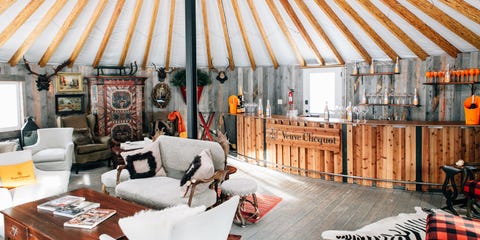 Skiing is great and all, but we all know what comes after is where the real fun is. For the best of the best, look no further than these bars, hotels, lounges, and pools that prove you don't ever really have to hit the slopes at all.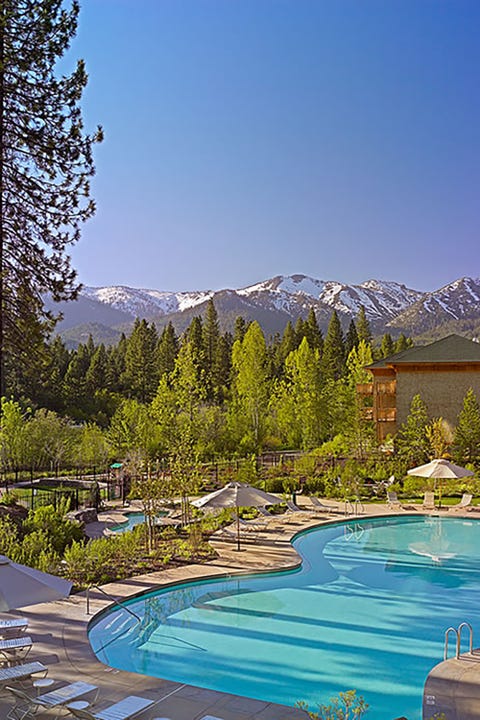 Stillwater Spa at the Lake Tahoe Hyatt Regency
You'll want to maximize a spring skiing getaway with a little spa time, because there is nothing better than pampering yourself *while also being outdoors in nature*. (Hello, mountain views.) At Stillwater Spa, you can enjoy all that and après-ski specific treatments like a 50-minute boot relief or reflexology treatment, a Moroccanoil Hydration and Exfoliation ritual (it's important to keep well hydrated during and after a day on the slopes), or a deep tissue massage.
Yoga & Poolside S'mores at the Four Seasons Jackson Hole
Sometimes the best way to unwind from a day full of strenuous ski exercise is...with more exercise. The Four Seasons Jackson Hole offers guests a complimentary après ski yoga class to loosen up those sore muscles—you will not believe the kind of relief yoga stretching provides after skiing, especially when you're on a multi day trip.
After the class, you can continue unwinding by lounging at their outdoor pool and hot tubs, located slope side, where snow bunnies will put your robes on for you and store them in a heated box while you soak. If you end up there during peak aprés time, AKA 3 to 6 p.m., you'll also be able to indulge in poolside s'mores.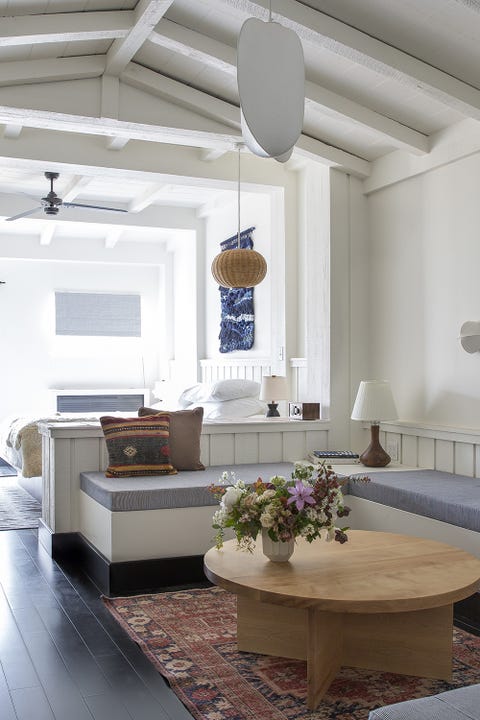 Prospect at Scribner's Catskill Lodge in Hunter, New York
Whether you ski or not isn't really the point when it comes to enjoying Scribner's Lodge (although there is a ton of skiing nearby). This 1960s lodge serves as the perfect retreat for urban explorers with 38 chic-meets-modern guest rooms (think vintage rugs and terra-cotta-tiled bathrooms), a locally-inspired restaurant, and one of the best après-ski bars in the area, Prospect, so there's plenty to do for a few fun-filled days. Scribner's is also big on campfire cocktails, vinyl music nights, and a unique gong sound bath experience.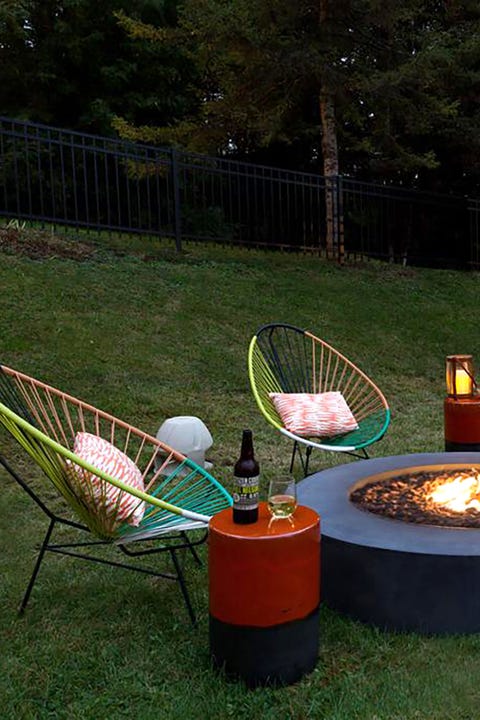 Field Guide in Stowe, Vermont
Skiing in the winter is great and all (you know, if you're into fresh powder and chilly temps), but skiing in the spring is even more fun—especially because après'ing can be done outdoors on terraces and lawns in front of cute fireplaces. One of those happens to be located at the rustic gem that is Field Guide Hotel in Stowe. Spend your days on the trails at Mt. Mansfield, sip a craft cocktail or local brew from The Alchemist in the hot tub, pamper yourself with in-room treatments, or take a trip to Cold Hollow Cider Mill for apple picking or Sterling Falls Gorge for a nature walk.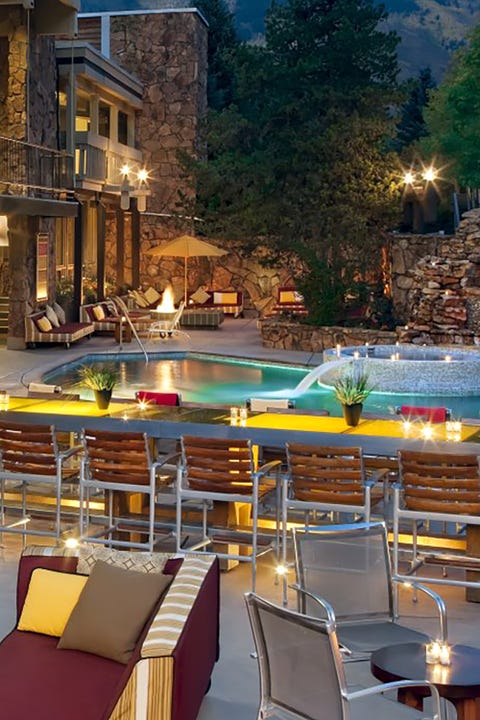 39 Degrees Lounge in Aspen, Colorado
Aspen is pretty much the epicenter for the après-ski lifestyle: Chair 9 at The Little Nell, Cloud Nine Bistro, Ajax Tavern, Nest Public House, Eight K, Hops Culture...the list goes on and on. 39 Degrees in The Sky Hotel is, however, by far the best party scene. Considering most of it centers around a hot tub and pool, in addition to the lounge, it's naturally where you should spend your month of March after a long day of runs. Try seasonable bites such as crab spring roll wraps, tuna tartar tacos, and soft giant pretzels with cheese fondue, plus frozen drinks, "Colorado cans," and house specialties like the Aspen Reviver.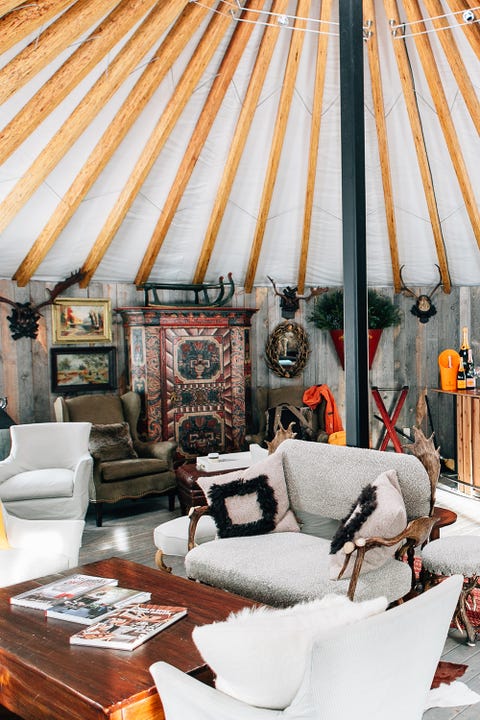 The Veuve Clicquot Yurt at the Montage Deer Valley, Utah
Nothing compares to the experience of skiing into a yurt for a little R&R at the end of your day, especially when there's a little Veuve Clicquot waiting. Après-ski selfies are taken to the next level in the Veuve Clicquot Deer Valley Yurt when you take them sprawled across plaid chairs with a cocktail in hand. The yurt officially closes at the end of the spring skiing season (mid-to-late April), but that doesn't mean you can't visit it again (and again) in June when it reopens for the summer months.
What to pack for your spring skiing adventures:
For clear mountain views: These Smith lenses prevent optical distortion so you can see true colors and, ya know, exactly where you're going.
To protect your phone: The Lifeproof Nuud is ski-friendly because it's basically indestructible — meaning it will keep your mobile device safe even if you take a nasty spill on the slopes.
The ever important après ski boot: Regardless of your post-ski plan, you're definitely going to need a cute boot to change into. Enter this furry option from UGG.
Ski socks that fit: Everyone knows those ski and snowboard boots are painful to take on and off, and do a number on your feet during a full day of skiing. FITS' light ski sock is ideal for warmer spring skiing without sacrificing cushion in the toes, shin and heel so your feet have a more comfortable experience.
For layering up: With warmer temperatures and thermal inversion happening on the mountain, you won't need to bring along a big ski jacket for spring skiing, but don't forget to pack something, like this insulated jacket from Stio, which will regulate your body temperature regardless of how hot or cold it gets.
This content is created and maintained by a third party, and imported onto this page to help users provide their email addresses. You may be able to find more information about this and similar content at piano.io