Editors handpick every product that we feature. We may earn commission from the links on this page.
The 6 Coolest Airport Lounge Perks Around the World
It's time to live your best life.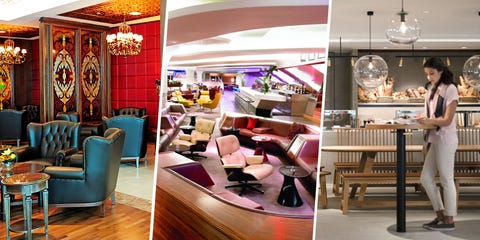 Forget everything you've ever known about basic waiting rooms when you're waiting to take off. Nowadays, airlines are taking lounge experiences to the next level via massage therapy shower stalls, private wine cellars, and gaming stations. So naturally #airportgoals are no longer associated with making it to your gate on time with mere seconds to spare. Here, the best of the best.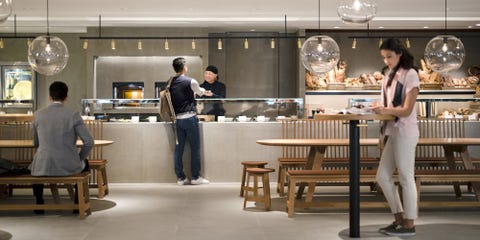 Cathay Pacific Lounge, Terminal 1, Hong Kong International Airport
If you're in it to win it when it comes to the culinary experience offered at a lounge, not just the spa, we'd have to go with Cathay Pacific's numerous options at HKIA. Just ask Si-Yeon Kim, Chief Compliance and Risk Officer at American Express Global Business Travel. Kim considers herself a true pro when it comes to lounge life (she once missed a flight out of Istanbul because she was having such a killer time) and CP's happen to be some of her faves.
"Whether you're in the first class Wing or Pier lounges, or the Bridge or Cabin in business, they have the best food and beverage hands down," she says. "The Haven restaurant at The Wing has everything from dandan noodles to pappardelle with truffles, plus the ultimate cheese selection—all catered by the Peninsula Hotel. To top it off, they also have a gorgeous champagne bar with lacquered wood panels (that resembles the Mandarin Oriental Hotel in Hong Kong), which serves Moët & Chandon Rosé and Veuve Clicquot. The Cabin is great as well, with custom smoothies, fresh juices, and the best grilled cheese sandwiches found in Asia."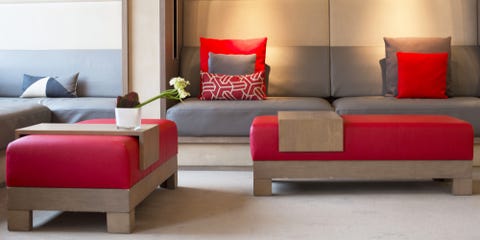 Air France La Première Lounge, Terminal 2E, Paris Charles de Gaulle Airport
Designed by big deal architect Didier Lefort (AKA the guy who did the Four Seasons Resort Bora Bora), this mega lounge is the epitome of French chic. La Première has featured works of art by Jeff Koons and Keith Haring, gastronomic delights made specifically for Air France by Alain Ducasse, and a relaxation center by Biologique Recherche, with specialized health and beauty treatments that are complimentary for the first thirty minutes. Even the waiters wear white uniforms with gold epaulettes to pay homage to the ones worn in the 1950s. (Nice.)
Selections from the Air France wine cellar are also available and you can take a fancy chauffeured luxury car to or from the airport, but that's only after a private porter carries your bags over to said car. There's also a library stocked with every newspaper, book, and magazine (oh hey, Marie Claire) imaginable, just in case you grow bored inside this wonderland.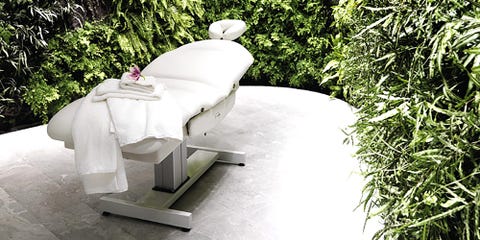 Qantas International First Lounge, Terminal 1, Sydney International Airport
You could visit the Qantas lounge hoping for a Nicole Kidman sighting, or you could go because it's where you want to be, when you're battling a nasty case of jet lag down under. After being greeted by a lovely vertical garden motif, you are escorted upstairs and into the lounge where true bliss is there to meet you. There are the usual cozy nooks, high-tech work stations, self-serve drink machines and snack counters, some pretty impressive menus, and all of the vino you could want or consume, but let's get to the point — you come for the spa.
De-stressing back and reviving scalp massages, pre-flight circulation boosting foot therapy, lower leg exfoliation, and the best part of all: the rooms have that same FernGully vibe going on, since the walls are covered in greenery much like the lobby. The only downer? They're open from 5 a.m. to 10 p.m., so trying to catch some Zzz's there overnight isn't happening.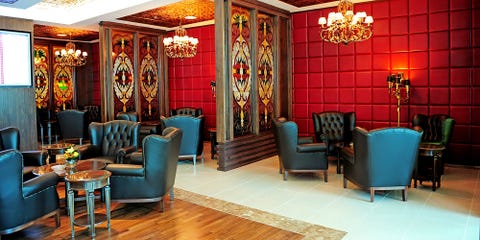 Emirates Business Class Lounge, Terminal 3, Dubai International Airport
In a city where bigger is better and you're nothing unless you're dripping in labels, your airport lounge better come correct and Emirates' does. If you've got the coin and happen to be traveling business or first class, then you can skip the crowds vying for a plastic seat and sashay through through a different kind of aspirational pearly gates—the ones to the lounge.
Imagine what awaits you: cushy chaises with pillows and blankets for undisturbed shut-eye, glitzy duty-free boutiques, a cigar bar, a personalized barista experience, fruit-infused VOSS water from the Health Hub, canapés crafted by Michelin star chefs—oh, and a *casual* wine cellar where an expert sommelier will take you through their top vintages. Even kids have it made here, with their own play area stocked with toys and a finger food buffet.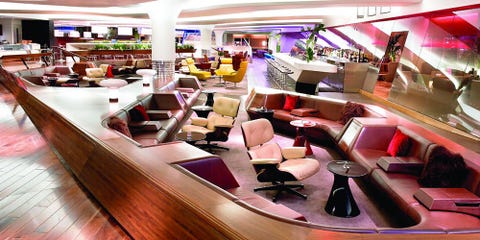 Virgin Atlantic Clubhouse, Terminal 3, London Heathrow Airport
If you're jetting across the pond, be sure to pop into the Virgin Atlantic Clubhouse at Heathrow. It's got everything you need to unwind pre-wheels up or post-flight, including: retro video games, afternoon tea service (because, obviously), free WiFi, a 14-meter-long cocktail bar—even loaner laptops with Internet access in case you forgot yours at home and want to pass the time online shopping.
But wait, it gets better…there's a Cowshed Spa (where the elite go to get their pampering on in London), which offers free facials, mens' shaves from Brit grooming house Truefitt & Hill, Shellac manis, massages with Dr. Hauschka oils, haircuts and blowouts by Bumble and Bumble stylists, massage jet showers, and a steam room. Why even bother boarding your flight?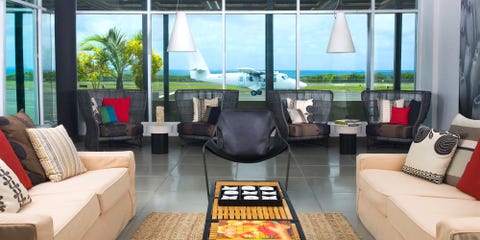 W Retreat & Spa Airport Lounge in Vieques, Puerto Rico
If you've never been to the gem of an island that is Vieques in Puerto Rico, you should go. (You should also know you have to take a very teeny-tiny plane that basically seats six to get over there. That's after flying into San Juan on a normal aircraft. Although the length of part two of the journey is short—around 25 minutes—it can still be scary AF if you don't like to fly.)
Luckily, the W Airport Lounge makes you forget you just took your life in your hands the second you walk in. Not only is it designed actually like the main retreat (so you get a sneak peek before you enter insert your key card into your suite), but it has some amazing rum punch and very lovely employees who will give you the lay of the land and all the local-approved recommendations you could want or need. There's also the very necessary AC and WiFi to enjoy, before your car comes and whisks you away to paradise.
This content is created and maintained by a third party, and imported onto this page to help users provide their email addresses. You may be able to find more information about this and similar content at piano.io