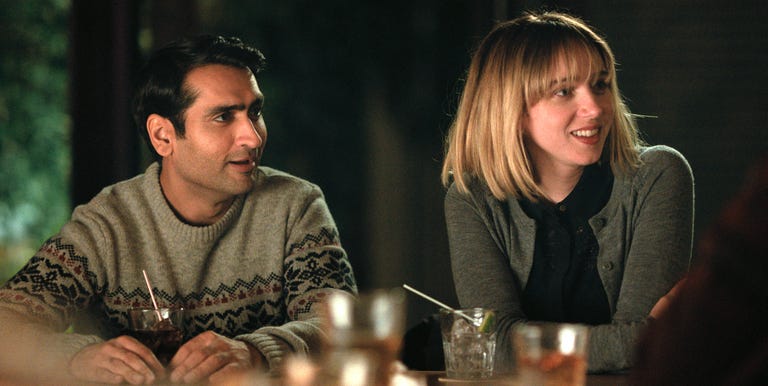 Fact: Everything sucks so much that not even 938,594 fizzy bath bombs and a clarifying face mask can fix it. But that's when you bring out the big guns. Ahead, 10 of the year's best rom-coms to add to your self-care routine.
Based on a true story (the one about how Kumail Nanjiani and his now-wife met). All your friends had strong opinions about it, so give it a go—especially since there's Oscar buzz, and we all know you need all the help you can get winning this year's pool.
2
'Everybody Loves Somebody'
Looks a wee bit cheesy with the heartwarming soundtrack and the cute family, but it's also got subtitles, so culture. Plus sometimes, all you want is your heart to be overly warmed, no?
Is this...some...commentary...on the corporate charlatanism known as Valentine's Day? Or just a kooky, slapstick-violence-filled twist on the genre? Either way, Amber Tamblyn and Saul (of Better Call Saul fame) star.
The one where Nancy Meyers' daughter has Reese Witherspoon sleep with a younger dude whose main function is to be there and look pretty. Which, nice.
5
'How to Talk to Girls at Parties'
Starring Ruth Wilson, Elle Fanning, and Nicole Kidman as David Bowie as Jareth, this one's like The Perks of Being a Wallflower—with aliens. Sick.
6
'The Incredible Jessica James'
They don't want you to watch a rom-com starring a strong POC. So you have to now.
Somehow more fun than it looks here.
"You are Romeo and Juliet, and we all wish you the same happy ending." Anna Kendrick is all of us generously single folk at weddings, except she's got Stephen Merchant, Lisa Kudrow, and that Wes Anderson lobby boy as unlikely pals—and an Aussie love interest (there's always an Aussie love interest, but okay).
That really wild-looking one based on the Decameron but with lots of swearing and horny nuns. Even better than it sounds.
Wealthy people going on an expensive road trip, but this subcategory of rom-coms does have its charms. So does food porn.