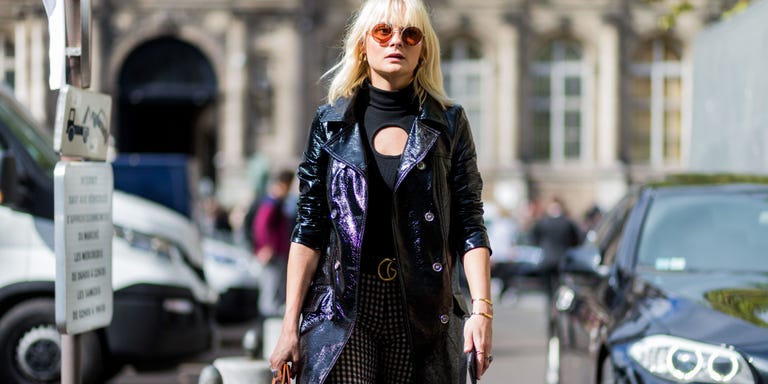 The main difference between you and a blogger is that they *really* know all the sleights of hand and optical illusions that make clothes look good—that is what we pay them for. A magician never reveals her secrets, but that doesn't mean we, a totally objective third party, can't. Ahead, five ways to cop that editorial feel for a tabloid price.
Kind of sketch, but do you want to get ahead or not? When you start with pieces—here, a coat by Kenzo x H&M—that have been touched by a designer via a collaboration or, uh, creative osmosis, you make less work for yourself because these shapes are already imprinted in our brains. Familiarity breeds the assumption of luxury.
True story: After seeing this Schmisabel Schmarant-ish skirt so frequently I'd swear Instagram's algo was personally invested in me buying it, I gave in. But they didn't have it in my size, so, dizzy on a few margs, I took the next one up. Big mistake—huge. Let's just say it didn't hang on me as it does on Diletta. Do as I say, etc., etc.
Ever heard of high-low? The bit people don't discuss as often is that the designer trophy pieces lend some of their shine to the low, which gives off the impression that the whole package is high—it's not just a marketing gimmick to get shoppers to think outside the box/tax bracket. Even if you've only got Vuitton and Vetements impostors, those will perform the same function of elevating less-"inspired" high-street togs.
Style It Like the Top-Shelf Stuff
Lighting Matters—and So Does Attitude
We live in a hieroglyphic world, but the delivery system is photographs, not papyrus. Therefore, pins and tucks and binder clips and jackets half-slung over our shoulders get the point across in still images. However, IRL, achieving an atmosphere of wealth is even easier: If you take pride in your appearance, choose your clothes carefully, and wear them insouciantly, you needn't ever worry about looking expensive.