The 15 Best Face Oils for Every Skin Type
Don't let the word "oil" throw you off—these gems are the real deal.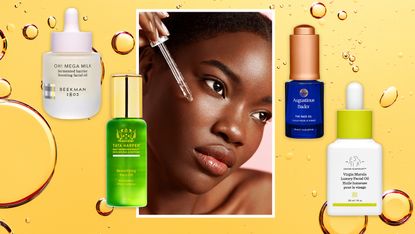 (Image credit: Future)
Face oils get a bad rap—and they shouldn't. I get it: The word "oil" can throw you off. Your mind goes straight to greasy, slick, suffocating, and sticky. In reality? The best face oils are anything but. They actually have the power to treat your skin issues (looking at you, acne), work for all skin types (they're derm-approved), and are masters of hydration. You'll have to pick the right player (read: jojoba oil, marula oil, moringa oil—the list goes on) to get results, but once that's said and done you're gearing up for a lifetime of healthy, hydrated, and glowy skin.
"Facial oils can provide benefits to the skin by acting as occlusives (which act like sealants in order to keep water in the skin) and emollients (which soften and strengthen the outer layer of the skin by filling in spaces between skin cells)," explains along with board-certified dermatologist Dr. Melissa Kanchanapoomi Levin. "Skincare oils often form a protective barrier on the outer layer of the skin rather than hydrating the skin. The benefits of skincare oils is that certain oils can provide antioxidative, anti-inflammatory, and skin barrier repair properties."
I know, you might still be questioning my oil-loving antics. But don't knock it till you try it. To win you over, I, and some of the Marie Claire team, are sharing the best face oils in existence. Here, you'll find the very top products for your oily, sensitive, dry, broken-out, and yes, even normal skin. So toss your excuses to the side and give one of the best face oils a go.
What to Look For in Face Oil
There is a wide range of oils to choose from—and the best one for you is closely related to your specific skin type and concern. "For example, for sun-damaged skin, rosehip oil is one of my favorite oils since it has a high ratio of linoleic acid, which has not only been shown to be beneficial for those with acne, but also has been shown to reverse UV-induced hyperpigmentation," explains Dr. Levin.
Oily skin and acne-prone skin, on the other hand, is best off with jojoba oil. "It's structure mimics your own skin's natural sebum which is appropriate for oily and acne-prone skin while providing moisturization. Tea tree oil is also a great option as a facial oil alternative to acne-fighting ingredients such as salicylic acid and benzoyl peroxide." There is a rare chance of allergic contact dermatitis with tea tree oil so if you develop a rash, it's important to see a board-certified dermatologist.
At a baseline, a facial oil is going to offer hydration. But more often than not, these products are packed with additional ingredients that provide supplementary benefits. "Since some facial oils are antioxidants and have vitamins like vitamin C and E, they neutralize free radicals to slow the aging process," says Dr. Levin. "Certain facial oils have hydration properties and can be used as a moisturizer to help restore the natural oils in the skin and hair, improve skin hydration, and restore and strengthen the skin's natural protective barrier."
If you're not sensitive, then by all means go straight for the deliciously smelling products. If you are sensitive? Steer clear. "Fragrant plant-based oils or essential oils can cause skin irritation, photosensitivity, and even cause allergic reactions. For those with known plant-based allergies or sensitive skin in general, I recommend avoiding fragrant essential oils and to test every oil in their forearm for at least a week before applying on the face to test whether a reaction will occur," says Dr. Levin.
The Best Face Oils for Every Skin Type
When Do I Use a Face Oil?
As a rule of thumb, face oil is going to be the very, very last step in your nighttime skincare routine. Should you use it in the morning? Typically you'll want to put it on just before sunscreen and makeup, but exercise a bit of caution. "When using an oil during the day, you do need to be careful about how it interferes with your SPF, as oils have the ability to break down or dilute your sun protection," says Dr. Levin. "To be on the safe side, it's best to use overnight instead."
Can I Use a Face Oil If I Have Oily Skin?
"It used to be widely believed that using oil in your skin-care routine was a no-no for acne or oily-prone skin. We now understand well that not all oils are the same and while some facial oils can clog skin and worsen acne, the right oils can actually re-balance the skin's sebum and water ratio as well as help hydrate and moisturize the skin," says Dr. Levin. You are going to want to opt for lighter, non-comedogenic oils however, such as argan, jojoba, marula, and rosehip oils.
Meet the Expert
Samantha Holender is the Beauty Editor at Marie Claire, where she reports on the best new launches, dives into the science behind skincare, and keeps up with the latest trends in the beauty space. She has previously written for Us Weekly, Popsugar, Makeup.com, Skincare.com, and Philadelphia Wedding. Follow her on Instagram @samholender.