This Could Be Your Skin's Secret Weapon for Fighting Adult Acne
A top derm explains what makes adult acne different—and the product you should add to your routine ASAP.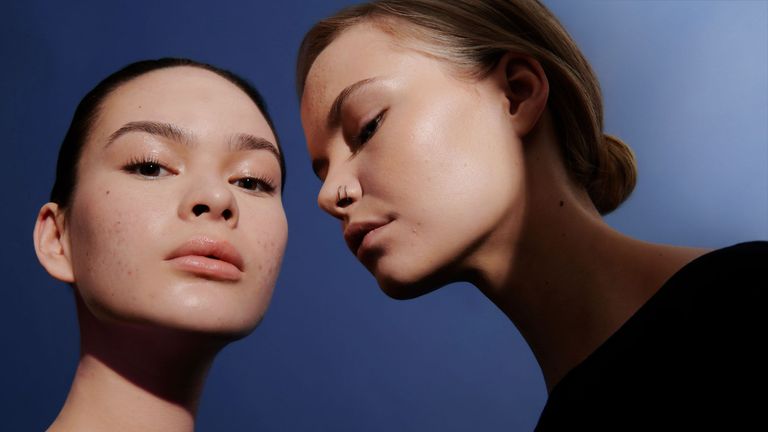 (Image credit: Courtesy)
Ahhh, acne. Like gossipy (supposed) friends and fights with your mother, it's one of those things that unfortunately isn't relegated to teenage years. In fact, according to the Journal of American Academy of Dermatology, 54 percent of women older than age 25 have some facial acne. But just as blowups with mom and backhanded compliments take on new dimensions in your 20s, 30s and 40s, so too do breakouts and blemishes. We talked to Joshua Zeichner, M.D., a board-certified dermatologist in New York City, all about adult acne, how it differs from other types of breakouts, and Altreno (tretinoin) Lotion, 0.05% (opens in new tab), a uniquely formulated topical treatment you should have on your radar.
The 411 on Adult Acne
Acne is the result of a chain reaction that begins with overactivity of the oil glands. "Think of hair follicles or pores as the pipes that transfer oil from sebaceous glands to the surface of the skin," says Dr. Zeichner. The more oil produced, the more likely it is to trap dead skin cells and gum up those pipes. When blockages occur, it creates the perfect condition for acne-causing bacteria to flourish. Inflammation soon follows, as do the red, inflamed, painful bumps we all know as acne.
While experts haven't quite solved the puzzle of why all of this happens in adults specifically, the prevailing theories suggest that changing hormones within the body coupled with a genetic predisposition drive breakouts, Dr. Zeichner explains. "Oil glands may also be involved in the production of hormones or the conversion of testosterone to its more active—aka acne-triggering—form."
One of the main challenges in treating adult acne is that adults often have drier skin on the surface even if the sebaceous glands underneath are pumping out excess pore-clogging oil, Dr. Zeichner explains. That can complicate treatment given that many pimple-fighting products and prescriptions either target oil or are extremely drying as a side effect.
The Derm-Recommended Adult Acne Treatment
Prescription topical retinoids—and tretinoin, specifically—are textbook examples of treatments known for drying out skin. They're also known for being powerful and effective. "Topical retinoids have been a foundational and mainstay treatment because they act like pipe cleaners for your skin," Dr. Zeichner says. "And tretinoin is perhaps the most studied prescription topical retinoid we have."
And if you're wondering whether retinoids are the same thing as retinol, that would be a hard no. Both are derived from vitamin A, but retinoids are clinically proven and FDA-approved to fight acne, and retinol is not.
Ready for results with less dryness? Prescription Altreno (opens in new tab) combines clinical-strength tretinoin with skin-friendly hyaluronic acid, natural collagen, and glycerin in a lightweight yet hydrating lotion formula that minimizes irritation, dryness, and other side effects. In fact, in a clinical trial (opens in new tab) conducted with Altreno, only 4 percent of those using Altreno reported dry skin. Although it is approved to treat acne in people as young as 9, "it addresses the specific needs of adult skin with breakouts," Dr. Zeichner says. It's also just as important to note what Altreno doesn't contain—namely: silicones, alcohol, or fragrance.
Another factor that makes the formula unique: It disperses ingredients in a microscopic honeycomb-like mesh delivery system, which allows for even distribution of both the active and hydrating ingredients while still feeling like a lightweight lotion, making it perfect for layering under makeup. "When a doctor prescribes a brand name medication versus a generic, there's a reason for that—these drugs are more than just their active ingredients," he says. "So it's important to talk to your doctor and ask for certain prescriptions by name."
Dr. Zeichner says his patients have had great results with Altreno, including those with sensitive skin. "It's a home run for those who felt they couldn't previously use retinoids or who became too dry or irritated with other formulas." And in studies, it reduced acne by about 50% by week 12.
Important safety information you should know about Altreno is included below, but you'll also want to discuss it with your healthcare provider.
How to Incorporate Altreno Into Your Skincare Routine
First, your dermatologist may ask you to discontinue use of other potent treatment products that remove dead skin cells like alpha- and beta-hydroxy acids. If your derm thinks that Altreno is right for you, they'll likely suggest that you start with a pea-sized amount over your entire face after cleansing. Don't be shy about checking back in with your doctor once you start—for example, if you feel you need additional moisture, they may suggest adding a more hydrating moisturizer to your routine. As with most tretinoin treatments, you'll probably start by using Altreno every other evening, especially if you have very sensitive skin. Again, your dermatologist will give you specific instructions.
"My approach with skincare is usually to treat, repair, and hydrate skin in the evening and to protect skin and prevent damage with sunscreen and antioxidants in the morning," says Dr. Zeichner. But the Altreno formulation does give you the flexibility to use it in the morning or evening because it's been tested in clinical trials for both AM and PM applications.
Then, stay the course, applying Altreno every day or evening. "Using topical retinoids is like training for a marathon," Dr. Zeichner says. "You don't wake up and expect to be able to run 26 miles, and the same is true of results from a retinoid. Stick with it and you'll see improvement after consistent use for several weeks."
Ready to learn more? Ask your dermatologist about Altreno.

IMPORTANT SAFETY INFORMATION FOR ALTRENO (TRETINOIN) LOTION, 0.05%
WHAT IS ALTRENO?
Altreno (tretinoin) Lotion, 0.05% is a prescription medicine used on the skin (topical) to treat people with acne (blackheads, whiteheads, and other pimples).
IMPORTANT SAFETY INFORMATION
It is not known if Altreno is safe and effective in children under 9 years of age.
Altreno is for use on the skin only. Do not use it in your eyes, mouth, or vagina.
What should I tell my healthcare provider before using Altreno?
Before you use Altreno, tell your healthcare provider about all of your medical conditions, including if you:
- are allergic to fish. Altreno contains fish proteins. Tell your healthcare provider if you get hives or itching during treatment with Altreno.
- have eczema or any other skin problems.
- have a sunburn.
- are pregnant or plan to become pregnant. It is not known if Altreno will harm your unborn baby.
- are breastfeeding or plan to breastfeed. It is not known if Altreno passes into your breast milk.
Tell your healthcare provider about all the medicines you take, including prescription and over-the-counter medicines, vitamins, and herbal supplements. Certain medicines, vitamins, or supplements may make your skin more sensitive to sunlight. Tell your healthcare provider about any cosmetics you use, including moisturizers, creams, lotions, or products that can dry out your skin.
What should I avoid while using Altreno?
• You should avoid sunlamps, tanning beds, and ultraviolet light during treatment with Altreno.
• Minimize exposure to sunlight. If you have to be in the sunlight or are sensitive to sunlight, use a sunscreen with an SPF of 15 or more and wear protective clothing and a wide-brimmed hat to cover the treated areas.
What are the possible side effects of Altreno?
Altreno may cause serious side effects, including:
Skin Irritation: Altreno may cause irritation, including skin dryness, pain, redness, excessive flaking or peeling. If you develop these symptoms, your healthcare provider may tell you to stop using Altreno for a while, decrease how often you use it, or stop it altogether. Avoid applying Altreno to skin that is affected by eczema or sunburned.
• These are not all the possible side effects of Altreno.
• Call your healthcare provider for medical advice about side effects.
You are encouraged to report negative side effects of prescription drugs. Visit www.fda.gov/medwatch or call 1-800-FDA-1088.
Please click here for full Prescribing Information, including Patient Information.
Altreno is a trademark of Ortho Dermatologics' affiliated entities.
© 2021 Ortho Dermatologics' affiliated entities. ALT.0094.USA.21
Janes is a freelance writer and editor who specializes in health, beauty and fitness.