This Beauty Vlogger's Trick for Hiding Zits Is Honestly Freaking Genius
I *guarantee* you haven't tried this hack before.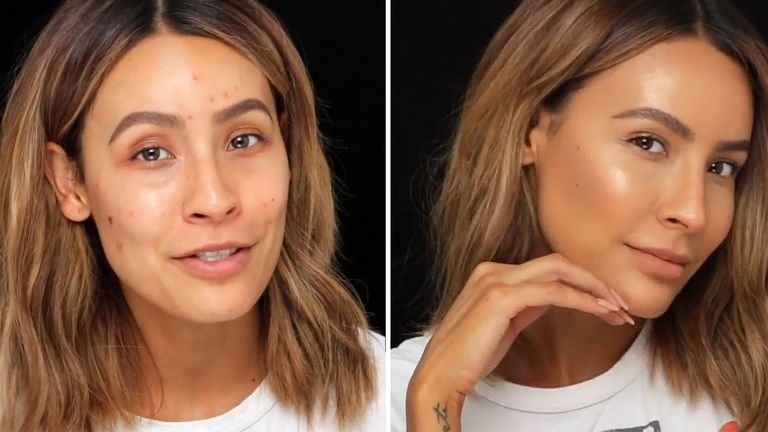 (Image credit: YouTube)
At this point in my career, I feel comfortable saying I've watched at least 300 beauty tutorials on YouTube—and honestly, that's probably a conservative number. Which means that by now, pretty much nothing surprises me in the ways of applying makeup. But that was before I saw an acne-masking tutorial from makeup artist Desi Perkins (opens in new tab), where I was legitimately shocked by not only her transformation, but also the final trick she used for hiding her zits.
Because please look at that before-and-after image above. Nothing out of the ordinary, right? Just some intense glow, a few freckles, and airbrushed-looking skin. Oh, but surprise! Those freckles are actually fake—just some zits disguised as beauty marks, thanks to some strategically placed eyeshadow dots. And because I think this is the most realistic-looking pimple cover I've ever seen, I broke the steps down for you in gif form, so you, too, can live your best freckled life, breakouts and all.
1. Start the Transformation
After blending on your concealer, foundation, another layer of concealer, and setting the whole thing with powder, Perkins grabbed a super-skinny liner brush, dipped it lightly into deep-brown powder eyeshadow (specifically Melt Cosmetics Eyeshadow in Rott , then gently tapped the shadow over the "highest point of the breakout," she says.
2. Continue Dotting
Perkins continued her beauty marking, lightly tapping the shadow over an acne scab, too, adding, "so when I turn my face, what looked like a bump is now a little beauty mark."
3. Blend It In
Then, taking her Charlotte Tilbury Airbrush Flawless Finish Powder and a fluffy powder brush, Perkins softly pressed and dab powder over her fake freckles. "It's going to make them look more natural," she says. "Since the rest of your face has powder over it, it'll look more fake if it's just a dot with no makeup over it."
4. Vogue It Out
Because you just successfully covered some big-ass zits, and gave yourself some Instagrammable beauty marks, too.
5. ...Or Just Watch the Whole Thing
Still confused? Try watching Perkins' entire acne-masking routine, here. Trust me when I say you're about to glow up.
Chloe Metzger is the deputy beauty director at Cosmopolitan, obsessively writing about new makeup launches, the best hair products (curly girl here; whattup), and the skincare formulas that really work for every skin type (follow her on Instagram to see behind-the-scenes pics of that magazine life). She also has an unhealthy adoration for Tom Hanks and would like to please meet him one day, if you could arrange that. Thanks.