The Spring 2020 Nail Trends You'll Want to Wear Right Now
Half-moons, colorful French manis, and more.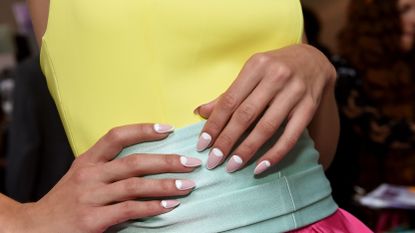 (Image credit: KISS Nails )
Girl, it's time to say good riddance to the same boring nails you've been wearing forever. I'm here to convince you to try nail art ideas straight from the runway. Like the bold and colorful makeup looks at NYFW, nails were also way more fun this season. Lots and lots of bright colors, sparkles, squiggly lines, polka dots and more were spotted on manicures backstage. Ahead, the best nail looks you'll want to add to your nail inspo mood board, and your shopping cart, immediately.
1/30
Alice + Oliva
Lead manicurist Gina Edwards created a chic soft moon design using a neutral color combo with KISS Nail products. "I wanted to celebrate the fantasy feel of the collection with a fresh, whimsical take on classic nails," she said.
2/30
Kiss Acrylic Nude French Nails
In less than 30 minutes you'll have salon-quality nails—without the price tag.
3/30
Oscar De La Renta
Celebrity manicurist Miss Pop created this creamsicle twist to a classic french mani with a sherbet orange shade completed with a cute little dot in the center of the nail.
4/30
Zoya Natural Nail Polish in Sawyer
This sherbet orange shade will remind you of warmer days.
5/30
Ulla Johnson
Paintbox creative director Mabelyn Martin designed a mani minimalists will love, with a partial outline allowing the natural nail to shine through. "Creating a partial outline of the nail with this curvy design gives the nails a sexy edge by exposing the natural nail while slightly framing it with a rich pop of color," she explained. "Natural hand movements reveal both bare shine and an unexpected graphic detail."
6/30
Paintbox Nail Lacquer in Like Spice
This nail polish with both ginger and caramel undertones is cruelty-free, vegan, gluten-free, and paraben-free.
7/30
Tibi
Manicurist Jin Soon Choi took neutral nails to the next level with a hand-sculpted wired loop on the index and middle nail of each model's hand. The brand called it a "an imaginative twist on the classic nude manicure."
8/30
JinSoon Nail Polish in Sandbar
The subtle yet striking neutral will dry quickly, to boot.
9/30
The Blonds
The Blonds, a show that always wins when it comes to out-of-this-world nail designs, was all about celebrating Moulin Rouge this season. With such an iconic theme, each nail design represented "bohemian elegance" with a whole lot of sparkle and adornments.
10/30
CND Gel Polish in Cream Puff
Apply two coats of the gel polish on your nails, and the manicure should last two weeks in return.
11/30
Kith
Essie nail artist Betina Goldstein created a "double corner french" to edge up this classic concept using a detail brush and Essie Nail polish in Mademoiselle and Blanc.
12/30
essie Nail Polish in Blanc
The brush fits every nail size, so you can look forward to a streak-free application.
13/30
Tommy Hilfiger x Zendaya
Nail artist Naomi Yasuda made every manicure look like it took a time machine to the 1970's with almond-shaped tips drenched in deep, moody shades.
14/30
essie Nail Polish in Berry Naughty
The deep red shade of our dreams.
15/30
Jeremy Scott
"We're leaning into the wild side of the '80s!" Miss Pop said to describe all the primary colors, geometric shapes, and animal at Jeremy Scott. As for the design technique, they're "random splotches" and "squiggles," according to Miss Pop.
16/30
essie Nail Polish in Butler Please
Make a statement with this vibrant shade of blue.
17/30
Zero + Maria Cornejo
With nail art, sometimes less is more, which was the vibe at Zero + Maria Cornejo this season. "Nail Artist Betina Goldstein created something "fresh and almost playful in its polka dotted simplicity," the brand describes.
18/30
10 Free Chemistry Nail Polish in Moody Blue
Free your nails from nail polishes that feature toxic ingredients and let them shine with this polish that's 85 percent naturally derived.
19/30
Phillip Lim
Jin Soon Choi kept the nails effortless and fanciful backstage at Phillip Lim to complement the clothing. A lemon-lime yellow, pink beige, and toffee beige shade were the star shades of the show.
20/30
JinSoon Nail Polish in Charme
Those who have always been against yellow nail polish might change their minds after trying out this color.
21/30
Pyer Moss
Celebrity nail artist Lisa Logan used Emilie Heathe nail products to free-hand multicolored stripes with colors that coordinate with the collection. "For the nail look, we wanted to create a look that would pop but not clash with the colors of the collection," Logan says. "The idea, was as the model walks down the runway, you would see see thumbs first that would coordinate and often match the color of the garment she was wearing."

22/30
Emilie Heathe Nail Polish in The Perfect Red
It's the shade of red you've always wanted.
23/30
Rag & Bone
Dubbed "On the Dot," these nails emanated effortless eclectic functionality with a jet-black base completed with a white polka dot using JinSoon nail polish in Absolute White.
24/30
JinSoon Absolute Black
Everything's better in black, and a dark shade like this will make any color you pair it with glow.
25/30
Kate Spade
Manicurist Reta Remark matched each model's manicure to the shoes worn down the runway, which were inspired by the concrete jungle. Remark wanted all of the vivid shades to make "each girl feel like her own person on the runway."

26/30
essie Nail Polish in Yes I Canyon
The perfect shade of orange that you can wear past fall.
27/30