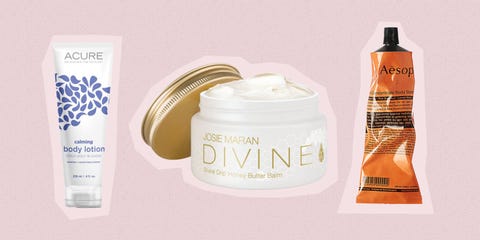 Last week, Groundhog's Day confirmed what we all know and dread: we're up for a few more weeks of cold and dry air, nightmarish central heating, and heavy green concealer for our inflamed skin. So if you *still* haven't invested in a solid body lotion to restore your lizard skin to its baby-soft potential, now's your last chance. Below, our dry skin survival guide for these trying times, to last you until your skin sebum levels even out (spring, hurry your ass up).
1
Acure Calming Body Lotion
Nothing's more calming for skin than a combination of lavender, aloe, and rose, which is why Acure beelined straight to these natural ingredients for its signature body lotion. Consider it one part aromatherapy and two parts skin soother.

$10; acureorganics.com.
2
First Aid Beauty Ultra Repair Cream
Though this intense hydration cream has the look of whipped cream, it's rich and dense on skin. From the added antioxidants to the healing eucalyptus oil, this giant (giant!) tub of repairing skin care will help restore your winter skin to its warm-weather glory (and last you for seasons to come, too).
$30; dermstore.com.
3
Aesop Concentrate Body Balm
For itchy dry spots, pat on Aesop's aloe vera-enriched body balm that smells like an orange grove (though not in an overpowering way) and makes your skin feel cool-to-the-touch after application.
$35; net-a-porter.com.
4
Aveeno Skin Relief Moisture Repair Cream
An oat-based lotion is basically the equivalent of rubbing on anti-itch cream, but this new variety from Aveeno is also especially good at treating the dryness that causes the skin irritation in the first place. Slather it on skin post-shower or rub it on dry patches that are more exposed to harsh air.
$11; target.com.
5
Skinfix Eczema Extra Strength Body Cream
For more intense skin issues than your typical dry skin (read: eczema, psoriasis, and the like), seek out an allergy-tested formula like Skinfix's. The lotion comes enriched with shea butter and triple oat complex to moisturize and halt itching, plus it's unscented for super reactive skin types.
$20; cvs.com.
6
Grown Alchemist Mandarin and Rosemary Leaf Body Cream
This all-natural body lotion should be a go-to for sensitive skin types. The vitamin-C formula might be the closest you get to sunlight in these overcast days and it works to brighten and improve the elasticity of skin (both solid perks).
$26; davidpirotta.com.
7
Lubriderm Advanced Therapy Lotion
For hydration to last you for days and days and days, invest in an affordable lotion like this one that moistens intensely parched skin for hours and doesn't leave grease spots on your sheets at night.
$6; target.com.
8
Josie Maran Divine Drip Honey Butter Balm
If your skin needs something denser—like a body butter—to layer on, nothing tops Josie Maran's latest: a balm treated with antioxidants, honey (a natural moisturizer), and her signature argan oil.
$42; sephora.com.