Editors handpick every product that we feature. We may earn commission from the links on this page.
The 13 Best Curling Irons for Every Hair Type
Waves and ringlets and texture, oh my!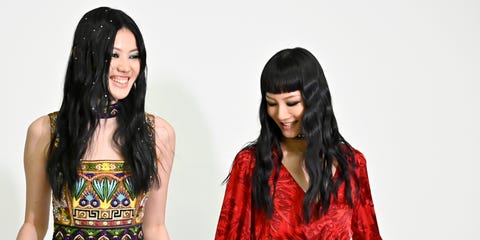 Astrid Stawiarz
Getty Images
Is the curling iron the first hair tool you ever tried? If not, allow me to speak for myself. My mother's was about 400 pounds, had a convenient three-inch cord, heated up to an approximate 900 degrees, and was outfitted with a rigid, rusting clamp that creaked angrily with each twist. The resulting looks were breathtaking in the fullest sense of the word. I'd emerge from the bathroom with stiff minuscule ringlets, a cloud of eau de singed strands trailing behind me, and a few telltale burns simmering along my forearms. Suffice to say, curling iron technology—and my own skillset—have both come a long way.

What should you look for when you're in the market for a curling iron? A few things, really. Most models these days are tourmaline or ceramic coated, which just means they heat up more evenly than old-school aluminum. Depending on how intricate the looks you're hoping to create are, you could also evaluate the heat settings and options, although a single, finely tuned temperature can also be effective. It's also important to consider if you're more comfortable with a clamping model or a freestanding wand, and if you'd benefit from extra features like auto shut-off, extended cords, and tapered barrels.
Thankfully, the hot tools of today are more tech-y and primed than ever to save us the trouble, and the burns. Here, our picks in every price category for the hair curlers that are doing the most for the least amount of effort.

This content is created and maintained by a third party, and imported onto this page to help users provide their email addresses. You may be able to find more information about this and similar content at piano.io