The 16 Best Anti-Aging Foundations That Will Banish Your Fine Lines
Handy for hiding the stress of the news cycle.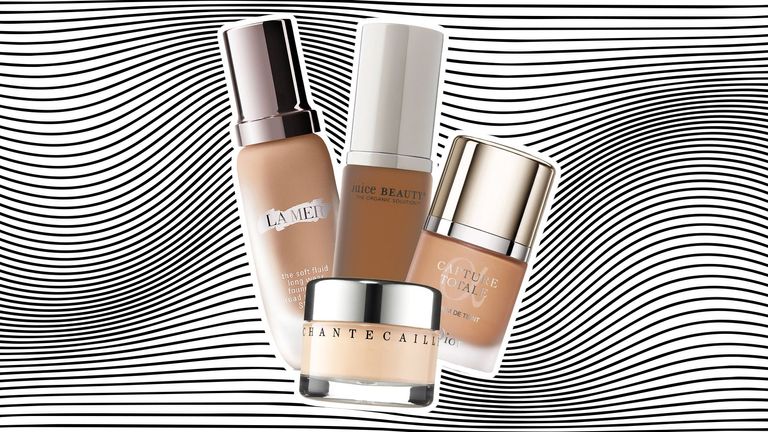 (Image credit: Design by Morgan McMullen)
It's 2020 in America, which means every day is a new opportunity to quietly rest your head on your desk and scream. But although we can't do much about the stress levels causing havoc on your skin, we can do something to tackle the fine lines, wrinkles, and other signs of aging skin you're seeing, thanks to anti-aging foundations. Phew!
That said, we first need to make clear that aging is never a bad thing. You're smarter, have a refined palette after years of trend-trying, and the teenagers you see on the street definitely think you're the coolest. It's just that your skin has seen some things, and it requires a little more tender love and care, okay? Hence, the reason picking up one of these foundations is vital.
Filled with hardcore antioxidants, hydrators, and collagen boosters, these 16 formulas, ahead, really do play down the wrinkles and dark spots that come with aging (or the news cycle) when used daily. As for your blood pressure? Sorry, we can only do so much. So before you reach for the old faithfuls stashed away somewhere in that makeup cabinet of yours, pick up one of these babies, and get ready to see some brag-worthy results.
1/16
Neutrogena Healthy Skin Anti-Aging Perfector
The Retinol Pick
Unlike most anti-aging foundations, which are infused with ingredients that just soften or disguise fine lines, this creamy drugstore formula actually contains retinol to speed up your collagen production while you wear it. Just make sure to pair it with a sunscreen of at least SPF 35 every single morning.
2/16
Giorgio Armani Luminous Silk Foundation
The Celeb Favorite
This award-winning foundation has a fan club of celebs ranging from Kim Kardashian West to Chrissy Teigen. The use of "silk" in its name hits at its lightweight quality: It goes on like butter while giving you enough coverage to hide that pesky pimple, sunspots from hanging out at the beach too long, and more.
3/16
Charlotte Tilbury Magic Foundation
The Glowy Classic
What do you get when you swirl together skin-tightening mushroom extracts, line-plumping hyaluronic acid, and a whole bunch of spot-fading vitamin C? Pure magic. Or, more accurately, this anti-aging powerhouse from Charlotte Tilbury.
4/16
LAURA GELLER Filter First Luminous Foundation
The Pearly Finish
We're not joking when we say this is a skin-perfecting filter in a bottle. Each bottle features finely crushed pearls that ward off lousy lighting and blur imperfections with ease while skin-helping ingredients like grapeseed oil and vitamin E work hard to give a glow your favorite Instagram filter wishes it could.
5/16
It Cosmetics Bye Bye Lines Foundation
The Sheer Favorite
After sitting down and chatting with top plastic surgeons, IT Cosmetics created this sheer dewy foundation. Filled with what every good skincare lover craves like hyaluronic acid, anti-aging peptides, and hydrolyzed collagen, you'll be taking off years worth of furrowed brows in no time.
6/16
Maybelline New York Instant Age Rewind Eraser Treatment Makeup
The Drugstore Favorite
This drugstore holy grail (check out their concealer from this line; it's top-tier) features goji berry and collagen, which helps tighten, hydrate, and improve your skin's elasticity. Seriously. It also comes with SPF 18, but feel free to add on a little more.
7/16
Perricone MD No Makeup Foundation Serum Broad Spectrum SPF 20
The Magic Serum
It's a serum and a semi-matte foundation all in one, which is exactly as amazing as it sounds. The formula is packed with neuropeptides (a signature ingredient found in most of the Perricone MD products, BTW) that help energize and tone your skin while firming your face.
8/16
REVLON Age Defying 3X Foundation
The Three-In-One
If you're a minimalist when it comes to your beauty products, check this bad boy out. Its formula is an incredibly hydrating moisturizer, serum, and primer all in one bottle. The Tri-Shield Technology formula—a.k.a. another fancy way of saying "age preventive benefits"—also comes with SPF 20, so if you forget to put some on, they've got you covered.
9/16
CHANTECAILLE Future Skin Gel Foundation
The Water Foundation
Oil-free foundations are elite, and if you don't believe me, you need this product in your life immediately. Sixty percent of this formula is charged water meaning your skin is getting the hydration it desperately needs without the richness of oil-based foundations.
10/16
Juice Beauty Phyto-Pigments Flawless Serum Foundation
The Clean Pick
There's nothing like clean ingredients that actually work. This 2-in-1 foundation provides full coverage and makes sure your skin reaps the benefits of its Age-Defy Serum technology (that seriously reduces fine line and wrinkles) all in a single bottle.
11/16
LA MER Soft Fluid Long Wear Foundation SPF 20
Most Luxe
This foundation boasts the wonderful Miracle Broth most La Mer products are known for, which renews your skin cells with lightning speed every time you wear. The real star of the show is its color capsule technology, which makes sure your skin tone stays the same all day, no matter the stress or activity.
12/16
LANCÔME Skin Feels Good Skin Nourishing Foundation
The No-Makeup Makeup
When you want to wear foundation, but want to give off that "no makeup" look, pick up this. It's an oil-free skin tint meaning it lacks the "cakey" feeling many foundations have. It's also packed with moringa seed and hyaluronic acid that moisturize but don't drown your pores.
13/16
NARS Natural Radiant Longwear Foundation
The Juicy Classic
Available in 33 gorgeous shades, this foundation delivers on the promise of improving skin by the hour by looking better the longer you wear it. Seriously. Never creasing or getting in those pesky forehead wrinkles, its recipe of raspberry, apple, and watermelon extracts also improve your skin texture over time.
14/16
CoverGirl + Olay Simply Ageless 3-in-1 Foundation
The Vitamin Foundation
Okay, yes—you've seen this foundation on every commercial and magazine ad for so many years, it almost seems like a gimmick product to skip. But the formula really, truly works, thanks to its niacinamide (a powerful, anti-aging form of vitamin B3) and vitamin E, which combine to both stop and prevent skin damage.
15/16
DIOR Capture Totale Foundation SPF 25
The Hydrator
As skin ages, it loses its ability to retain moisture, leaving it looking dull and crepe-y. This hydrating foundation, however, revamps your skin barrier with a blend of antioxidants, leaving it ridiculously silky, smooth, and glow-y.
16/16
L'Oréal Paris Visible Lift Serum Absolute Foundation
The Affordable Pick
A mix of hydrating glycerin, soluble collagen, and a hefty dose of retinyl palmitate (a vitamin-A derivative similar to retinol) gives this lightweight foundation the magical powers to fade dark spots and slightly lessen fine lines over time.