The 20 Best Foundations for Mature Skin
Hydrating formulas that won't settle into fine lines.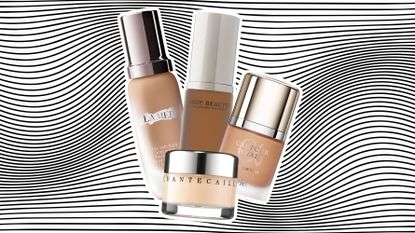 (Image credit: Design by Morgan McMullen)
Coverage, texture, finish, ingredients—there are a lot of boxes to check off when you're searching for the best foundation. And when you have more mature skin, that list can seem miles long. You want a complexion product that plumps and hydrates, won't settle into fine lines or wrinkles, and gives a youthful glow. Thanks to our incredibly high standards, we've been able to identify the best anti-aging foundations ever created. Some are tried and true favorites, others are hailed as the greatest foundations on the market, and a handful are new-to-market formulas bound to become cult favorites.
These 20 foundations for mature skin are filled with hardcore antioxidants, hydrating ingredients, and collagen boosters that play down wrinkles and dark spots with daily use. There are lightweight CC creams that are ideal for a five-minute face, tinted moisturizers that keep skin looking its absolute dewiest at all times, and full coverage, matte options that won't fall flat. The common denominator? They all give brag-worthy results. So, without further ado, allow us to introduce the best anti-aging foundations.
1/20
Neutrogena Healthy Skin Anti-Aging Perfector
The Best Anti-Aging Foundation With Retinol
Unlike most anti-aging foundations, which are infused with ingredients that just soften or disguise fine lines, this creamy drugstore formula actually contains retinol to speed up your collagen production while you wear it. Just make sure to pair it with a sunscreen of at least SPF 35 every single morning.
2/20
Giorgio Armani Luminous Silk Foundation
The Cult-Favorite Anti-Aging Foundation
This award-winning foundation has a fan club of celebs ranging from Kim Kardashian West to Chrissy Teigen. The use of "silk" in its name hits at its lightweight quality: It goes on like butter while giving you enough coverage to hide that pesky pimple, sunspots, and more.
3/20
Charlotte Tilbury Beautiful Skin Foundation
The Best Anti-Aging Foundation for a Natural Finish
If you're not all aboard the dewy skin train, but also don't love a super matte finish, check out this Charlotte Tilbury formula—it's a happy medium. The product delivers on each and every promise: It blurs pores, brightens skin, and hydrates. I've found that applying this with a brush and then sinking it into the skin with a damp beauty blender is the best course of action, but you can also apply this directly with your (clean) hands.
4/20
LAURA GELLER Filter First Luminous Foundation
The Best Blurring Anti-Aging Foundation
We're not joking when we say this is a skin-perfecting filter in a bottle. Each bottle features finely crushed pearls that ward off lousy lighting and blur imperfections with ease while skin-helping ingredients like grapeseed oil and vitamin E work hard to give a glow your favorite Instagram filter wishes it could.
5/20
It Cosmetics CC+ Nude Glow Lightweight Foundation
The Best Anti-Aging CC Cream
If glow is your MO, you can't go wrong with this three-in-one product. Not only is this going to provide medium coverage to camouflage any dark spots or unevenness, but the niacinamide is also going to give you back a youthful glow, and the SPF 40 will protect your skin from sun exposure. It's a win-win-win. When it comes to application, a brush is your best bet.
6/20
Maybelline New York Instant Age Rewind Eraser Treatment Makeup
The Best Drugstore Anti-Aging Foundation
This drugstore holy grail features goji berry and collagen, which helps tighten, hydrate, and improve your skin's elasticity. Seriously. It also comes with SPF 18, but feel free to add on a little more underneath.
7/20
Perricone MD No Makeup Foundation Serum Broad Spectrum SPF 20
The Best Anti-Aging Serum Foundation
It's a serum and a semi-matte foundation all in one, which is exactly as amazing as it sounds. The formula is packed with neuropeptides (a signature ingredient found in most of the Perricone MD products, BTW) that help energize and tone your skin while firming your face.
8/20
REVLON Age Defying 3X Foundation
The Best Multi-Benefit Anti-Aging Foundation
If you're a minimalist when it comes to your beauty products, check this bad boy out. Its formula is an incredibly hydrating moisturizer, serum, and primer. The Tri-Shield Technology formula—a.k.a. another fancy way of saying "age preventive benefits"—also comes with SPF 20, so if you forget to put some on, they've got you covered.
9/20
CHANTECAILLE Future Skin Gel Foundation
The Best Water-Based Anti-Aging Foundation
Oil-free foundations are elite, and if you don't believe me, you need this product in your life immediately. Sixty percent of this formula is charged water meaning your skin is getting the hydration it desperately needs without the richness of oil-based foundations.
10/20
Juice Beauty Phyto-Pigments Flawless Serum Foundation
The Best Non-Toxic Anti-Aging Foundation
There's nothing like clean ingredients that actually work. This two-in-one foundation provides full coverage and makes sure your skin reaps the benefits of its Age-Defy Serum technology, which reduces fine line and wrinkles, all in a single bottle.
11/20
LA MER Soft Fluid Long Wear Foundation SPF 20
The Best Luxe Anti-Aging Foundation
This foundation boasts the wonderful Miracle Broth most La Mer products are known for, which renews your skin cells with lightning speed every time you wear. The real star of the show is its color capsule technology, which makes sure your skin tone stays the same all day, no matter the stress or activity.
12/20
LANCÔME Skin Feels Good Skin Nourishing Foundation
The Best Lightweight Anti-Aging Foundation
When you want to wear foundation, but want to give off that "no makeup" look, pick this up. It's an oil-free skin tint meaning it lacks the "cakey" feeling many foundations have. It's also packed with moringa seed and hyaluronic acid which moisturize but don't drown your pores.
13/20
Nars Light Reflecting Advanced Skincare Foundation
The Best Anti-Aging Foundation for Dark Spots
Exfoliators, vitamin C, and professional-grade peels are the go-tos for actually reducing the appearance of dark spots. But if you want to conceal sunspots or blotchy redness throughout the day, a medium-coverage, blurring foundation is going to be your secret weapon. One of our all-time faves is this skincare-infused Nars formula—it truly goes on like a second skin. It's glowy, but not sticky; luminous, but not shimmery; and gives coverage, but doesn't feel heavy.
14/20
CoverGirl + Olay Simply Ageless 3-in-1 Foundation
The Best Vitamin-Packed Anti-Aging Foundation
Okay, yes—you've seen this foundation on every commercial and magazine ad for so many years, it almost seems like a gimmick product to skip. But the formula really, truly works, thanks to its niacinamide (a powerful, anti-aging form of vitamin B3) and vitamin E, which combine to both stop and prevent skin damage.
15/20
DIOR Capture Totale Foundation SPF 25
The Best Anti-Aging Foundation for Dry Skin
As skin ages, it loses its ability to retain moisture, leaving it looking dull and crepe-y. This hydrating foundation, however, revamps your skin barrier with a blend of antioxidants, leaving it ridiculously silky, smooth, and glow-y.
16/20
Sisley-Paris Sisleya Le Teint Anti-Aging Foundation
The Best Anti-Aging Foundation for Tired Skin
Getting a good glow is a bit trickier when your skin is extra dry. But trust us, this luxe foundation is up for the challenge. An ingredient called Persian acacia extract works to give the skin a bouncy and plump look that actually lasts all day. If you're trying to reduce the appearance of fine lines and wrinkles, we recommend dabbing the product lightly with your fingers. Less is genuinely more when you're trying to camouflage fine lines.
17/20
Pat McGrath Labs Sublime Perfection Foundation
The Best Anti-Aging Foundation for Pores
If large pores are your biggest pain point, we urge you to turn your attention to this Pat McGrath game-changer. It has a blurring formula that makes your entire complexion look airbrushed. It's also infused with tons of good-for-your-skin ingredients like peptides, so you're getting an extra dose of hydration.
18/20
Tom Ford Traceless Soft Matte Foundation
The Best Matte Anti-Aging Foundation
Matte formulas have a rep for being drying, looking powdery, and feeling cakey. But with hyaluronic acid, vitamins C and E, and caffeine, we promise this Tom Ford foundation is the exception to the rule. It'll let you achieve the matte look without any of the typical annoyances.
19/20
Westman Atelier Vital Skin Foundation Stick
The Best Anti-Aging Foundation for Easy Application
If you're more the makeup-in-the-car, always-on-the-go type of person, this foundation stick is about to become your best friend. It's ideal for travel (no mess!) and makes the application foolproof—you literally can't mess it up. Just swipe it on, and blend it out with your fingers. And with hydrating ingredients that plump the skin and even out tone, it's a win all around.
20/20
L'Oréal Paris Age Perfect Radiant Serum Foundation
The Best Anti-Aging Foundation With Skincare Benefits
If you fall on the drier side and struggle to find a product that won't emphasize flaky patches, allow us to introduce you to this mega moisturizing foundation. Because it's packed with hydrating ingredients and antioxidants, it's just as much a skincare serum as it is a makeup product. So while the gorgeous coverage will make your complexion look radiant and dewy in seconds, all the great ingredients inside will actually improve your makeup-free skin over time.
Samantha Holender is the Beauty Editor at Marie Claire, where she reports on the best new launches, dives into the science behind skincare, and keeps up with the latest trends in the beauty space. She has previously written for Us Weekly, Popsugar, Makeup.com, Skincare.com, and Philadelphia Wedding. Follow her on Instagram @samholender.