Editors handpick every product that we feature. We may earn commission from the links on this page.
The 5 Best Anti-Aging Foundations That Really, Truly Get Rid of Your Fine Lines
Perfect for hiding the wrinkles this week's news is giving you.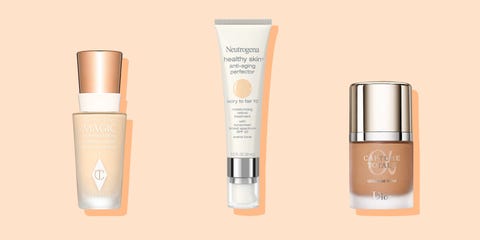 It's 2017 in Trump's America, which means every day is a new opportunity to quietly rest your head on your desk and scream. And unless you set an alarm to unfurrow your brow every 30 seconds for the next three years, you'll probably be facing a new trove of fine lines and wrinkles before the year is over.
[contentlinks align='left' textonly='false' numbered='false' headline='Related%20Stories' customtitles='What%20It\'s%20Really%20Like%20Living%20with%20Rosacea%7CThese%205%20Korean%20Skincare%20Products%20Are%20Literal%20Magic' customimages='|' content='article.29199|gallery.5014'] But hey—it's cool. Because although we can't do anything to magically fix the entire political sphere overnight, we can do something to offset the hell it's wreaking on our faces, namely in the form of anti-aging foundations.
Filled with hardcore antioxidants, hydrators, and collagen boosters, these five formulas, ahead, really do offset the wrinkles and dark spots that come with aging (or politics) when used on a daily basis. But as for your blood pressure? Sorry; we can only do so much.
This content is created and maintained by a third party, and imported onto this page to help users provide their email addresses. You may be able to find more information about this and similar content at piano.io