Watch: The Greatest Movie Pick-Up Lines
All 50 of them, from George Clooney to Will Ferrell and everything in between.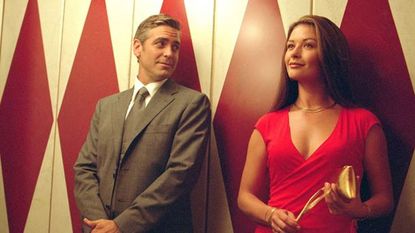 (Image credit: Archives)
Marie Claire newsletter
Celebrity news, beauty, fashion advice, and fascinating features, delivered straight to your inbox!
Thank you for signing up to . You will receive a verification email shortly.
There was a problem. Please refresh the page and try again.
It's difficult to approach a woman in a bar, on the street, or in a crowded venue and try to charm her with the perfect come-on. Which is precisely why we have the movies! Since the medium's inception, characters have been showing us the way to someone's heart through clever wordplay. From self-deprecating witticisms and goofy non-sequiturs to swoon-worthy proclamations and blunt offers of carnal delights, movie characters have given us a wealth of romantic remarks custom-built to help one score with a would-be significant other — or, at least, break the ice enough to allow for further chit-chat and drinks. Not that you should try to replicate all of these lines, mind you. But here we've assembled a wide selection of the best quips, cracks, and retorts onscreen men — and a few women, for good measure — have used in the name of love and sex.
"You need kissing badly. That's what's wrong with you. You should be kissed often, and by someone who knows how."

Clark Gable, Gone with the Wind (1939)
"Will you marry me? Did he leave you any money? Answer the second question first."

Groucho Marx, Duck Soup (1933)
"I don't bite, you know... unless it's called for."

Audrey Hepburn, Charade (1963)
"I hate to see you go, I love to watch you leave."

John Travolta, Face/Off (1997)
"Now on the one hand, it's very difficult for a man to even speak to someone who looks like you. But on the other hand, should that be your problem?"

Will Smith, Hitch (2005)
"You're good-looking. You got a beautiful body, beautiful legs, beautiful face, all these guys in love with you. Only you've got a look in your eye like you haven't been fucked in a year."

Al Pacino, Scarface (1983)
"Your husband had told me you were the most beautiful woman he'd ever met. I didn't expect the most beautiful woman I'd ever met."

George Clooney, Intolerable Cruelty (2003)
"How would you like to have a sexual encounter so intense, it could conceivably change your political views?"

John Cusack, The Sure Thing (1985)
"You know how to whistle, don't you Steve? You just put your lips together and... blow."

Lauren Bacall, To Have and Have Not (1944)
"Gimme some sugar, baby."

Bruce Campbell, Army of Darkness (1992)
"That's a nice dress — where's the rest of it?"

Andy Garcia, Internal Affairs (1990)
"Swoon — I'll catch you."

Ralph Fiennes, The English Patient (1996)
"I don't exactly know what I am required to say in order for you to have intercourse with me. But could we assume that I said all that? I mean, essentially we are talking about fluid exchange, right? So could we just go straight to the sex?"

Russell Crowe, A Beautiful Mind (2001)
"You make me want to be a better man."

Jack Nicholson, As Good As It Gets (1997)
"You know how they say we only use ten percent of our brains? I think we only use ten percent of our hearts."

Owen Wilson, Wedding Crashers (2005)
"I hear voices, too. Voices that say, 'If you don't kiss her soon, you're a chump.'"

Jimmy Stewart, You Can't Take It with You (1938)
"You know... when you blow out the match... that's an invitation to kiss you... ?"

John Gilbert, Flesh and the Devil (1926)
"You know what you are? You're polymorphously perverse."

Woody Allen, Annie Hall (1977)
"Is that canon fire, or is it my heart pounding?"

Ingrid Bergman, Casablanca (1942)
"Can you keep a secret? I'm trying to organize a prison break. I'm looking for, like, an accomplice. We'd have to first get out of this bar, then the hotel, then the city, and then the country. Are you in or are you out?"

Bill Murray, Lost in Translation (2003)
"I want you. I want all of you. Forever. You and me. Every day."

Ryan Gosling, The Notebook (2004)
"I would like to extend to you an invitation to the pants party."

Steve Carell, Anchorman (2004)
"Why don't you come up sometime and see me?"

Mae West, She Done Him Wrong (1933)
"I may be an outlaw, darling. But you're the one stealing my heart."

Brad Pitt, Thelma and Louise (1991)
"Gertie, I want to buy you food, I want to buy you corn dogs, I want to buy you anything."

Billy Waldeman, Kids (1995)
"Let's hop on the good foot and do the bad thing."

Mike Myers, Austin Powers: The Spy Who Shagged Me (1999)
"When you realize you want to spend the rest of your life with somebody, you want the rest of your life to start as soon as possible."

Billy Crystal, When Harry Met Sally (1989)
"Take me to bed or lose me forever."

Meg Ryan, Top Gun (1986)
"Ma'am in the leopard dress — you have an amazing rack."

Bradley Cooper, The Hangover (2009)
"We gotta get you out of those wet clothes and into a dry martini."

Jay Chandrasekhar, Beerfest (2006)
"You were hoping to get a goodnight kiss?" "I was hoping to get goodnight laid."

Matt Damon, Good Will Hunting (1997)
"You give me premature ventricular contractions. You make my heart skip a beat."

Natalie Portman, No Strings Attached (2011)
"You scratch our backs, we'll scratch yours." "Well, Jules, the funny thing about my back is that it's located on my cock."

Jonah Hill, Superbad (2007)
"Now what's a nice girl like you doing in a place like this?"

Sean Connery, You Only Live Twice (1967)
"See, I've got this little problem. I've got a stalker... I need a cover. I need for you to pretend we're having a scintillating conversation, and you are wildly entertained."

Tom Cruise, Vanilla Sky (2001)
"Your hat has sequins."

Steve Carell, The 40-Year-Old Virgin (2005)
"Wanna see my spaceship?"

Sam Rockwell, The Hitchhiker's Guide to the Galaxy (2005)
"Excuse me, miss. I just want you to know that I don't intend to sleep with another woman until I'm back here in your arms with my head resting between your creamy thighs."

Curtis Armstrong, Revenge of the Nerds II: Nerds in Paradise (1987)
"I don't know how to put this, but... I'm kind of a big deal."

Will Ferrell, Anchorman (2004)
"You're not too smart — I like that in a man."

Kathleen Turner, Body Heat (1981)
"I have crossed oceans of time to find you."

Gary Oldman, Dracula (1992)
"There's no reason we need to be shackled by the strictures of the employee-employer relationship. Unless, of course, you're into that sort of thing. In which case, I got some shackles in the back. I'm just kidding. But seriously, I've got 'em."

Ben Stiller, Dodgeball (2004)
"You are everything I never knew I always wanted."

Matthew Perry, Fools Rush In (1997)
"You know, it's dangerous for you to be here in the frozen foods section — because you could melt all this stuff."

Steve Martin, My Blue Heaven (1990)
"Marry me, and I'll never look at any other horse."

Groucho Marx, A Day at the Races (1937)
"Your eyes are amazing, you know that? You should never shut them, even at night."

Oliver Martinez, Unfaithful (2002)
"I love you. You complete me."

Tom Cruise, Jerry Maguire (1996)
"I really wish you'd come home with me. You're so cute, and I'm really good in bed, too, believe me."

Nicolas Cage, Leaving Las Vegas (1995)
"You know what I heard when I first met you? Beeeeoooo! Beeeeoooo! Beeeeoooo! Beeeeoooo. That's an ambulance, come to take me away, 'cause the sight of you stopped my heart. Beeeeoooooooooooo."

Will Ferrell, Night at the Roxbury (1998)
"Drop that zero and get with the hero."

Vanilla Ice, Cool as Ice (1991)
Related:
10 Movies You Didn't Realize Are On Netflix (opens in new tab)
The 10 Most Romantic On-Screen Kisses (opens in new tab)
Via Esquire (opens in new tab)
Nick Schager is a NYC-area film critic and culture writer with twenty years of professional experience writing about all the movies you love, and countless others that you don't.