Everything You Need to Know About Hugh Hefner's Son Cooper and the Future of 'Playboy'
For starters, Cooper won't get to live at the Playboy Mansion.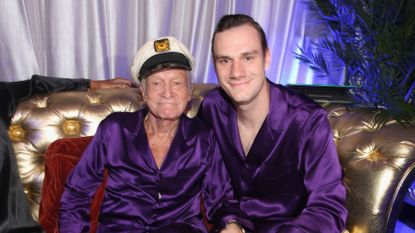 (Image credit: Getty)
Marie Claire newsletter
Celebrity news, beauty, fashion advice, and fascinating features, delivered straight to your inbox!
Thank you for signing up to . You will receive a verification email shortly.
There was a problem. Please refresh the page and try again.
Hugh Hefner died Wednesday (opens in new tab) at the age of 91 at the Playboy Mansion in Los Angeles. Cooper, his 26-year-old son and chief creative officer of Playboy Enterprises confirmed his death (opens in new tab) with a statement: "My father lived an exceptional and impactful life as a media and cultural pioneer and a leading voice behind some of the most significant social and cultural movements of our time in advocating free speech, civil rights and sexual freedom." Hefner is survived by his third wife Crystal Harris and his four children from previous relationships: Cooper and 27-year-old Marston, from Hefner's marriage to Kimberley Conrad, and 62-year-old David and 64-year-old Christie, from his marriage to Mildred Williams.
RELATED STORY
Hefner's fortune was estimated to be $43 million in 2013. At the time, Us Weekly reported that Crystal Harris had signed an "ironclad" prenup before their New Year's Eve wedding in 2012 and that Hefner's pre-existing will listed "his children, the University of Southern California film school, and a variety of charities" as the beneficiaries of his fortune.
With the Playboy Mansion now officially in the hands of Hefner's neighbor Daren Metropoulous, who purchased the estate in 2016 for $100 million with the stipulation that Hefner would live there until his death, all eyes are on the future of Playboy Enterprises and how Cooper Hefner will manage the magazine and the company's other divisions, including licensing (clothing, footwear, collectibles, and accessories), TV, and nightclubs (a Playboy Club is set to open in New York City later this year).
1a. Cooper lived at Playboy Mansion until he was 18. In an interview with Business Insider in 2016, he described the place as "a sort of Indiana Jones adventure." Of the private zoo on the estate, Cooper said that during elementary school, "We used to actually have field trips up to my house. I did not realize that that was bizarre."
1b. Growing up, he and his brother Marston were "sheltered" from all the partying at Playboy Mansion. But the curiosity led him to take a peek from time to time. In the same Business Insider interview, he said, "Like any other 13-, 14-, 15-year-old, if you're upstairs and your parents are having a Christmas party, you're gonna sneak downstairs and try and figure out what's going on and why you're not invited to the party. Yeah, I had some of those nights."
2. Cooper describes himself as a liberal and earlier this year, he joined the California State Military Reserve. Speaking to The Hollywood Reporter in August, he revealed an affinity to his father's progressive views, noting that he has "a real issue with the conservative side feeling like they own the military." Still, he has no plans to run for office, so don't make plans to silkscreen those Cooper Hefner 2024 t-shirts just yet.
3. He's not a fan of Trump. "We don't respect the guy," Cooper told THR. "There's a personal embarrassment because Trump is somebody who has been on our cover."
4. He's got big plans to modernize Playboy, and you bet nudity is part of it. In 2015, approximately one year before Cooper was named CCO, the magazine decided to forgo nudity in the name of "respectability." It didn't last long. Nudity returned to the pages of Playboy for its March/April 2017 issue, featuring Playmate of the Month, model Elizabeth Elam. "I'll be the first to admit that the way in which the magazine portrayed nudity was dated, but removing it entirely was a mistake," Cooper said in a statement at the time. "Nudity was never the problem because nudity isn't a problem. Today we're taking out identity back and reclaiming who we are. This is a remarkably special moment personally and professionally that I get to share this issue of Playboy magazine with my Dad, as well as with readers. It is a reflection of how the brand can best connect with my generation and generations to come."
5a. He and actress Scarlett Byrne (Pansy Parkinson in the Harry Potter films) got engaged in 2015. Here is her ring.
5b. Naturally, he is a huge Harry Potter fan.
6. He wants Playboy to continue carrying the message of freedom and free speech. Again, in his interview with THR: "Yes, there are lifestyle components to Playboy, but it's really a philosophy about freedom. And right now, as history is repeating itself in real time, I want Playboy to be central to that conversation."
7. Cooper often seeks advice from his half-sister Christie. "She can relate to the situation more than anyone could," he told THR. Christie ran Playboy Enterprises for more than 20 years until 2009.
8. He thinks the E! reality show The Girls Next Door hurt Playboy Enterprises. "[The show] collected a young audience but didn't do a good job of conveying how Playboy is both playful and sophisticated," he told THR. The show, which inspired spinoffs including Kendra, Kendra on Top, and Holly's World, ran for six seasons and went off air in 2010.
9. He doesn't think sex is "weird." In an interview with the New York Post in April, Cooper said, "You're talking to somebody whose mom has been in the magazine. My interpretation of being comfortable with sex is different than most people's. I really don't think sex is weird until people make it weird."
10. Expect to see Cooper in his dad's iconic silk PJs from time to time. "I suit up in my dad's pajamas for our Midsummer Night's Dream party; it's a nice note to the past," he told THR. "It would be a major mistake—ridiculous—to wear them to the office. I think about the Playboy philosophy constantly, but I have my own point of view. It's what will have to carry me through."
Peggy is Cosmopolitan.com's entertainment writer, specializing in Leonardo DiCaprio, This Is Us, and the royals. She's also a proud Canadian and pug lover. When Peggy's not obsessing over Leo's latest lover or gut size, she can be found watching old episodes of Friends or Gilmore Girls. Her dream is to one day live on a pug farm and write children's books, with illustrations by her very talented husband Greg.