How Meghan and Harry's Engagement Interview Compares to William and Kate's
Did you notice these differences?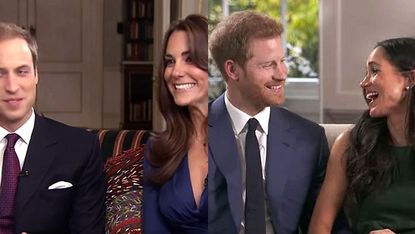 (Image credit: BBC)
Marie Claire Newsletter
Celebrity news, beauty, fashion advice, and fascinating features, delivered straight to your inbox!
Thank you for signing up to Marie Claire. You will receive a verification email shortly.
There was a problem. Please refresh the page and try again.
The SettingThe OutfitsThe AtmosphereThe Body LanguageThe Proposal StoryThe RingsThe QueenThe Children Question
Earlier today, Prince Harry and Meghan Markle sat down for their first official interview as a couple. During their conversation with the BBC's Mishal Husain, Harry and Meghan looked just as in love as Prince William and Kate Middleton did seven years ago, but there were a few differences. Here's what we noticed.
RELATED STORY
How Meghan and Harry's Engagement Photos Compare to William and Kate's
While both engagement interviews took place in an informal living room setting, William and Kate's room was full of rich colors and patterns. The striped couch and bold throw pillows surrounding Kate and William seem much more traditional than the beige couch and monochrome pillows in Harry and Meghan's interview. While it's unclear whether these are the living rooms in their personal homes, the darker hues and patterns give off a much more traditional vibe, while the lighter colors in Harry and Meghan's interview are a little more modern, much like the couples themselves.
Even though both interviews took place in a relaxed setting, William and Kate's attire was far more formal than Harry and Meghan's. William wore a classic dark suit with a pocket square, while Harry opted for a light blue suit and skinny tie. While Meghan and Kate both kept their makeup and manicures simple and wore similar loose waves in their hair, Kate's blue silk Issa dress was dressier than the dark green sleeveless dress Meghan wore.
Whether it's because they're older (36 and 33, respectively, compared to William and Kate's 28) at the time of their engagement, or there's less pressure because Harry isn't first in line to the throne, Meghan and Harry seemed much more at ease during their time in front of the camera.
Understandably, Kate seemed a little tense throughout her engagement interview. This was one of the first times she had ever been on TV, and while the future royal looks composed, you can tell she wasn't quite sure what to do when she wasn't talking. Markle appeared more comfortable and laid-back during her interview, likely due to her experience as an actress.
RELATED STORY
The Hidden Meaning Behind Prince Harry's Bizarre Hand Gesture
Throughout their interview, Prince William and Kate Middleton sat apart and rarely touched, showing their strict adherence to the precedent the Queen and the Duke of Edinburgh have set of showing virtually no displays of affection in public. When they do touch during the interview, it's limited to a few brief pats on each other's knees. Their bodies are angled toward the cameras and they address most of their answers to the interviewer instead of each other.
Meghan and Harry's interview starts with them sitting shoulder-to-shoulder with their arms intertwined. They hold hands nearly the entire time, and their bodies are angled toward each other during the interview. They often answer questions while staring into each other's eyes. This aligns with an interview Prince Harry gave in June when he revealed his commitment to "modernizing the monarchy."
Each interview started out with the couple recounting the story of their proposal, but they were quite different. While William proposed to Kate on a trip to Kenya, Harry popped the question to Meghan during a "cozy night" at their cottage.
Prince William famously gave Kate Middleton his late mother's engagement ring when he proposed. "I thought it was quite nice because obviously she's not going to be around to share any of the fun and excitement of it all," William said of his mother. "This was my way of keeping her sort of close to it all."
Harry did not choose an heirloom, instead designing a custom ring for Meghan that paid tribute to Princess Diana by including two diamonds from her personal collection.
"The little diamonds on either side are from my mother's jewelry collection to make sure that she's with us on this crazy journey together," Harry said. The center stone in the ring is from Botswana, where the couple spent time together during the early days of their relationship.
Both Kate and Meghan met the Queen before their fiancés popped the question, but the way each tell their story is quite different.
Kate's account of meeting her future grandmother-in-law at a family wedding was short and to the point: "I first met her at Peter and Autumn's [Phillips] wedding, and again, it was amongst a lot of other guests and she was very friendly," Kate said.
However, Meghan gushed about the long-standing monarch during her interview, and Harry mentioned that the Queen's corgis took to her immediately.
"It's incredible, I think, you know, to be able to meet her through his lens, not just with his honor and respect for her as the monarch, but the love that he has for her as his grandmother," Markle said. "All of those layers have been so important for me, so that when I met her I had such a deep understanding, and of course incredible respect, for being able to have that time with her... She's an incredible woman."
Both princes handled the expected questions about whether they planned on having children by saying they were taking their relationship "one step at a time."
"I think we'll take it one step at a time," Will said. "We'll sort of get over the marriage first and then maybe look at the kids. But obviously we want a family so we'll have to start thinking about that."
Prince Harry's response was a little bit more humorous.
"Not currently, no," Harry joked in response to the question. "Of course, one step at a time and hopefully we'll start a family in the near future."
Celebrity news, beauty, fashion advice, and fascinating features, delivered straight to your inbox!
Lyndsey Matthews is the Destination News Editor for AFAR; previously she was a Lifestyle Editor across all of Hearst Digital Media's brands, and a digital editor at Martha Stewart Weddings and Travel + Leisure.