Watch Lena Dunham Out-Lip Sync Jimmy Fallon with "Fat Bottomed Girls"
Who makes the rockin' world go 'round?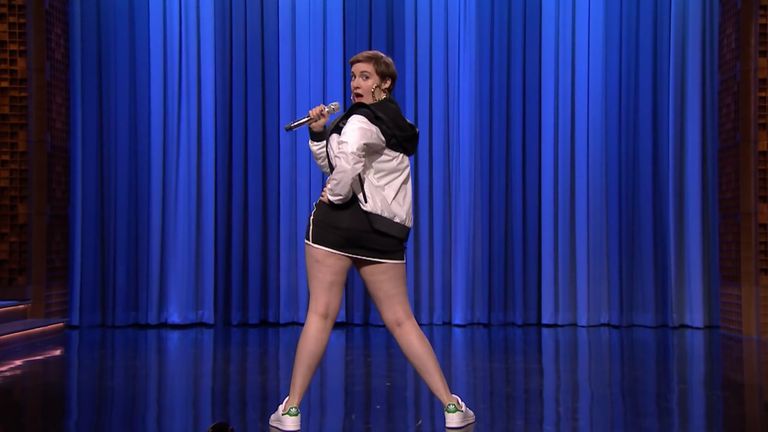 (Image credit: YouTube/NBC)
Lena Dunham came dressed and ready to rumble when she accepted Jimmy Fallon's lip sync challenge on The Tonight Show on June 12.
"You're all sporty!" exclaimed Fallon as the Girls creator and star walked onto his stage in a head-to-tie Nike outfit. ("I needed room to flex," she said.)
Long before Spike's Lip Sync Battle became a thing, it was Fallon who owned the faux musical genre with his well-rehearsed, spot-on performances—and this was no exception. The veteran chivalrously went first and proved his range of skills with Charlene's 1982 single, "I've Never Been to Me," and Run-DMC's "Run's House."
Still, Dunham managed to steal the show. What she lacked in lyrics, she made up in fierce choreography as she sang "Outside" by Calvin Harris "feat" Ellie Goulding and Queen's "Fat Bottomed Girls." She gyrated on the floor, engaged the audience, and used the whole stage to show off her own bottom, which included a close-up look for Fallon.
"You can't do that, I'm a dad!" he responded between giggles.
Yep, she slayed it.