Lady Gaga is a Couture Clad Vampire in 'American Horror Story: Hotel'
Sucking blood in YSL and Vivienne Westwood.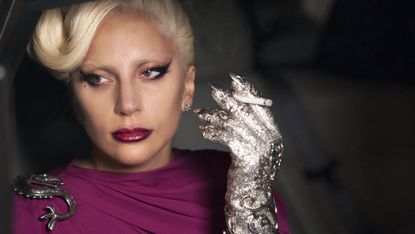 (Image credit: FX Networks)
Marie Claire newsletter
Celebrity news, beauty, fashion advice, and fascinating features, delivered straight to your inbox!
Thank you for signing up to . You will receive a verification email shortly.
There was a problem. Please refresh the page and try again.
Update, 10/3: As Countess Elizabeth on the upcoming season of American Horror Story, Lady Gaga is sure to steal the show—not only with her sick, twisted performance (as we've seen in previous trailers, she oversees a group of bloodthirsty vampiric schoolchildren), but with her character's incredible love of couture.
In a new interview with Refinery29 (opens in new tab), the series' costume designer, Lou Eyrich, talks about Elizabeth's addiction to all things designer and how Gaga's personal style influenced her fashion choices.
"We wanted her to be very elegant, sexy, seductive, mysterious, and unexpected as well. Since she's so fashion-forward, the first thing I did was look at the most recent runway shows," she tells the site. "Then, to give her that aura of timelessness, I went through archives of my favorite designers — a lot of Thierry Mugler and Yves Saint Laurent, Vivienne Westwood — and Old Hollywood costumers, like Adrian [Greenberg] from the '40s. A lot of web surfing, a lot of vintage couture shopping. I didn't do much research of other vampire movies because I didn't want to be influenced by them."
And if you're a true Little Monster, be on the lookout for a very recognizable item from the singer's own wardrobe to pop up on screen. "Well, Gaga was so generous and offered to bring pieces in from her own personal archive," Eyrich adds. "So let's just say that her fans are going to get a big treat when they see something that I'm not going to give away!"
*Please* let that "something" be the meat dress. 🙏
Update, 9/17: Correction: The titular hotel in this installment of American Horror Story serves as part murder chamber, part nightclub, part sex dungeon, part blood bank/feeding ground for vampiric schoolchildren, and part fashion-show venue. Just like the Skylight at Moynihan Station!
Also, metaphorical drugs.
Update, 9/9: Like any old Hyatt or whatever, the titular hotel in this installment of American Horror Story serves multiple functions as part murder chamber, part nightclub, part sex dungeon, and part blood bank/feeding ground for vampiric schoolchildren. Can you just imagine the TripAdvisor reviews? "Clean, modern rooms, but staff kept trying to eviscerate me. Four stars."
Update, 8/26: Working bleached brows and multiple puncture wounds to the neck, Lady Gaga covers the latest issue of Entertainment Weekly (opens in new tab) in character as the Countess.
It was a pleasure being photographed by the brilliant Michael Avedon for @EW in my Hotel 💋🔪💄👠 - xxx THE COUNTESS pic.twitter.com/JxcosdAUwSAugust 26, 2015
See more
According to the accompanying story (opens in new tab), she'll be part of the hotel's modern-day storyline, along with her two lovers Donovan (Matt Bomer) and Tristan (Finn Wittrock), Donovan's mom (Kathy Bates), and Hypodermic Sally (Sarah Paulson).
We have your first look at the new characters checking into #AHSHotel: http://t.co/aN3yv1Lay3 pic.twitter.com/TDFjKm0drEAugust 26, 2015
See more
Oh. So that explains this pic.
Your First Look at all new @AHSFX characters including @ladygaga, @MattBomer, @MsSarahPaulson http://t.co/4lgyKf7g0x pic.twitter.com/vBQeAzQFjdAugust 26, 2015
See more
Update, 8/21: We are decidedly *not* chilling at the Holiday Inn in the first teasers of American Horror Story: Hotel. There is a faceless man who won't quit looking through your peephole/thrashing around in the hallway outside. (THIS IS NOT WHAT I PAID FOR, WILL SHATNER.) There is also a clown that gets choked.
And for later tonight when you've put the covers over both your head and the putter you've brought to bed with you, here is Lady Gaga crying tears of joy on set—if you dare to stick your arm out to get your computer.
Update, 8/20: It would appear that Gaga's American Horror Story: Hotel character Elizabeth is giving off distinct Marilyn-Monroe-in-Gentlemen-Prefer-Blondes vibes. She was snapped filming at the Los Angeles County Museum of Art last night in a waist-cinching fuchsia dress and cape, as well as sparkly evening gloves.
Three words: Serving. It. Up.
Update, 8/15: We all know Lady Gaga knows how to put on a show—and apparently she does just as well on the small screen as she does on stage. Only a few days into shooting American Horror Story: Hotel, the pop star has made quite the impression on her costars and series creator Ryan Murphy.
Murphy says she's "TERRIFYINGLY GENIUS" playing Elizabeth, a "very wealthy social doyenne who is consumed with art and fashion and people."
Matt Bomer and Kathy Bates also had nice things to say about the "Born This Way" singer's acting chops.
@ladygaga is killing the game on @AHSFX! Genius, sexy, terrifying. Total pro and beautiful soul to boot. So much fun comin yo way! #inspiredAugust 13, 2015
See more
My first day shooting @AHSFX: Hotel with the sublime @ladygaga. Let's just say she rocked it. The Countess scared the crap out of Iris!August 12, 2015
See more
As for Gaga, she's beyond thrilled with her new role as well.
Thoughts on first day shooting for AHS? I say, I've died and gone to my personal heaven. 🔪💋💄🚬August 11, 2015
See more
Original story, 8/8: Attention, American Horror Story fans! Today is your lucky day, because Ryan Murphy and company just revealed a lot of new information about Hotel during the Television Critics Association Summer Press Tour. Most importantly, the season has a premiere date now: October 7. Please mark your calendars accordingly.
Ready to check-in? #AHSHotel premieres Oct 7 on FX. pic.twitter.com/1mqIjqx2MOAugust 7, 2015
See more
Ryan Murphy and his band of actors gave descriptions for many of the show's new characters, so if you want everyone's roles to be a complete surprise, stop reading now. According to Entertainment Weekly (opens in new tab), Ryan said Lady Gaga will be playing Elizabeth, a "very wealthy social doyenne who is consumed with art and fashion and people" and has a "nefarious plan" that's central to the show's plot.
Sarah Paulson, conjoined twin MVP from Freak Show, will play Sally, who she describes as a drug addict who "happens to be quite sexy." Sally's arch-nemesis is Iris, who runs the hotel, enjoys crossword puzzles, and is played by Kathy Bates. Finn Wittrock, who played Freak Show's childlike psychopath Dandy, will be a male model named Tristan Duffy. "I think he sort of finds his biggest high in Lady Gaga, and they have a lot to do together," Finn explained. "She sees all of me." Chloë Sevigny, Denis O'Hare, and Cheyenne Jackson also talked a little bit about their characters, but some of the actors' quotes implied that they don't even all know what's going on between everyone in the Hotel at any given time. That would make it too easy!
In other exciting news, Ryan confirmed that Hotel will feature "people that you have known from other seasons," so cross your fingers for the return of Jessica Lange, or maybe that murderous Santa from Asylum. He could help decorate for Christmas!
Follow Eliza on Twitter (opens in new tab).