Basketball Fans Were Chanting "Khloé" at Tristan Thompson During the Cavs Game Last Night
Basketball Fans Were Chanting "Khloé" at Tristan Thompson During the Cavs Game Last Night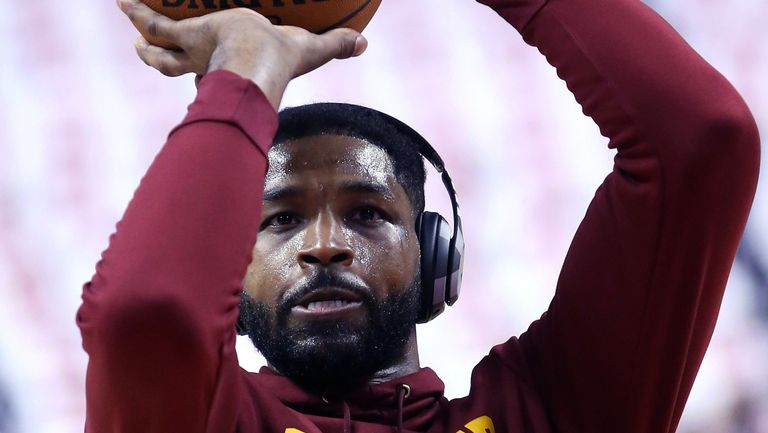 (Image credit: getty image)
No one's letting Tristan Thompson off easy since he cheated on Khloé Kardashian—including basketball fans. Thompson's team, the Cleveland Cavaliers, are in the NBA playoffs, and last night during their game in Toronto, Raptors fans started chanting "Khloé" in an attempt to mess up Thompson's free throw.
'Khloe' chants for Tristan Thompson in Toronto... pic.twitter.com/bbcZ1SNk6eMay 2, 2018
See more
Apparently, it didn't phase Thompson at all—he still made the shot. The Cavs won their first game in the semi-finals with a score of 113-112. After their one-point victory, Thompson posted a photo on Instagram with the caption: "FEELS GOOD TO BE BACK IN THE 6!!!!"
This is the second photo Thompson's posted since breaking his silence on social media after videos were released of him making out with multiple women while his girlfriend Khloé was still pregnant. The Keeping Up with the Kardashians star is still living in Cleveland and trying to make things work following the birth of their daughter, True Thompson, despite the repeated cheating allegations.
This isn't the first time fans have showed their support for Khloé—Thompson's been booed on the court, and one fan even held a sign to show Khloé love.
Even though the chants didn't work this time, it's safe to say the opposing team's fans will be trying anything to get in Thompson's head during the semi-finals.
RELATED STORIES