What Christie Brinkley Eats in a Day to Make 63 Look Like 23
You've got to try her wake-up drink.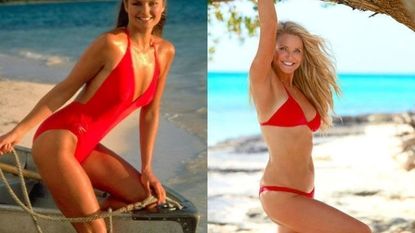 (Image credit: ARCHIVES)
This week Christie Brinkley will return to Sports Illustrated Swimsuit Issue—almost four decades since her debut in 1979 and 13 years since her last photo shoot in a swimsuit. But she's definitely still got it in 2017. In fact, the 63-year-old model makes 60-something look like 20-something. And it got us thinking: What is she eating and how in the world does she maintain that killer bikini bod? Here's everything you need to know.
She gave up dieting a long time ago.
"I tried some pretty weird diets in the beginning...everything from juice fasting to eating one kind of food at a time, to eating a grapefruit first before everything," she explained to NY Mag. "The only thing that really lasts is a well-balanced diet."
She starts every morning with warm water and lemon.
"It's something I picked up on my Instagram," she laughed in an interview with New York Magazine. Brinkley also puts a bit of manuka honey and cayenne pepper into her hot water with the juice of a whole lemon, then sips it every morning—before she even thinks about making a cup of coffee!—to get revved up for the day.
Her breakfast is very, very full.
In an interview with Harpers Bazaar, Brinkley said she loves sheep's-milk yogurt mixed with blackberries, blueberries, raspberries, papaya, chia seeds, raw oatmeal, and walnuts. And, if she wants more protein, she'll whip up an egg-white omelet with spinach and mushrooms. She's also a huge fan of avocado toast.
But a self-described flexible vegan. "Because, you know, Italy exists," she told NY Mag. "Mozzarella and pasta exist. In France, I may have to have a piece of Camembert, you know. Un petit sandwich au fromage [a cheese sandwich]." But she hasn't touched a piece of meat since she was 12 and, over the years, has fluctuated between eating different types of dairy.
Her lunch is light, but she fills up with snacks.
"I always have a salad with whatever grain or bean was left over from dinner piled on top," she explained to Harpers. Then later, in the afternoon, she'll make fresh juice using kale, lime juice, orange juice, and avocado and snack on a homemade pumpkin-seed mix made with Himalayan salt, walnuts, Brazil nuts, sunflower seeds, and dried raisins. If she's hungry before lunch, an apple—sometimes with peanut butter—is her go-to post-breakfast snack.
Christie's dinners are super colorful.
"My favorite dish is brown rice with lentils, roasted red and yellow peppers, and fennel, with a sweet potato, and a salad on the side," she told Harpers. Loads of different veggies with grains—or, as she puts it "go for as many colors as possible in a day"—is the goal. And she's not against imbibing while she eats: "I like a glass of red wine with dinner because it doesn't interfere with my sleep."
She's obsessed with chocolate.
Christie indulges in one splurge every single day: a Gnosis Pom Açai raw chocolate bar.
Follow Marie Claire on Facebook for the latest celeb news, beauty tips, fascinating reads, livestream video, and more.
Marie Claire email subscribers get intel on fashion and beauty trends, hot-off-the-press celebrity news, and more. Sign up here.