Everything We Know About Hannah B's Bachelorette Season: Release Date, Sneak Peaks, and More
We won't have to wait long for Hannah Brown's season of 'The Bachelorette' to air—but, in the meantime, here's everything we do know.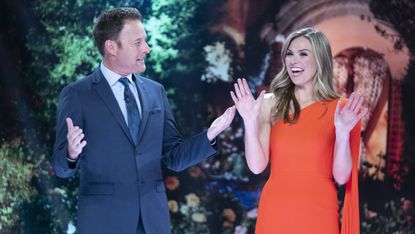 (Image credit: John Fleenor )
During the finale of The Bachelor, we got more info about Hannah Brown, the newest Bachelorette, and what her season might look like—with Chris Harrison even bringing out a few gentlemen to meet Hannah in advance (which is something he's done before and it's always a bit cringey, TBH). Good news: We won't have to wait long to see Hannah B's season of The Bachelorette (opens in new tab), which airs May 13 at 8 p.m. ET on ABC and started filming the weekend of March 16, per Reality Steve.
Here's a primer on what we know so far.
We have bios on all the men.
Here they finally are! In anticipation of meeting all of Hannah's guys on May 13, we now have more information on the 30 guys who will head to the house in search of a rose. Their bios (opens in new tab) are on the ABC website for you to peruse and debate about in advance of the big premiere. Considering that a lot of these guys go home night one, though, maybe wait a couple weeks before getting to know them. We are also getting more headshots:
And here's a collage of every single one of them (it's like Bachelorette Bingo!):
These are the men vying for Hannah's heart this Monday on #TheBachelorette premiere. https://t.co/9o9MD97frD pic.twitter.com/1jpk2XZieGMay 8, 2019
See more
Then there's also some initial B-roll footage of all the men talking about meeting Hannah and hopefully getting to know her. There are, in short, a lot of bad puns, one split-jump, some roaring (yes, it's Hannah Beast, we get it guys), and Luke talking about how he thinks he's attractive. Thank you for that, and also, yes.
Monday can't come soon enough, honestly.
This is shaping up to be the most dramatic season yet.
This newest trailer has so many things that I like. There's dudes in speedos, including Luke Parker, who's showed up in previews a lot and may be a frontrunner in the show. There's Demi and Katie, being deliciously shady about then men. The word "love" is being said a LOT (Hannah totally deserves it) and a tooooon of making out (same note as before).
Then there's some of the crazy: More of Hannah weeping, everyone calling Luke an "evil, pathological liar," and Luke himself saying he isn't sure if he can "get there," i.e., propose to her. Luke, what are you doing?? Do not blow this!
One of the bachelors might have a girlfriend?
Uh oh. People has the exclusive video (opens in new tab), but the gist is: There are fist fights! An ambulance! Two guys fighting in...kilts! A bachelor lecturing another bachelor on objectifying women! Hannah weeping a whole bunch and hugging what looks like Chris Harrison! Hannah calling someone a "freaking psycho" (hoooo boy). And, probably the most intriguing...Hannah confronts a dude over having a girlfriend and still coming on the show. Whoa. Also, I'm really glad to see that Hannah's asserting herself and fully taking control of her narrative, up to and including calling guys out when needed. You tell 'em, Hannahbama!
We also got a little teaser that's majorly Hannah-Beasty and has more footage of Luke Parker, who might do really well this season.
You can go here (opens in new tab) to learn more about Luke, but be aware of spoilers. If you want a non-spoilery look at Luke, here's his initial meeting with Hannah on the Bachelor episode during which Hannah was announced as Bachelorette:
Demi and Katie from Hannah's Bachelor season will be involved.
On April 26, ABC announced in a press release that Hannah's old Bachelor costars Demi Burnett and Katie Morton will play a big part in the Bachelorette's May 13th premiere, according to Us Weekly (opens in new tab). Apparently Demi and Katie will be spying on Hannah's men from a surveillance van during the first night of the competition. Demi and Katie will be known as "Hannah's Angels" during the stunt, and will report back to Hannah with the intel they gather during their spy-capades.
There have been more promos, with footage from the show.
The Bachelorette has given us a few tantalizing glimpses at the season yet to come. Thus far, we're getting a lot of hints that "Hannah Beast" is going to make a few appearances. We're also seeing themes that originated when Hannah was on The Bachelor and continued during Hannah's Bachelorette announcement interview with Chris Harrison: Hannah originally thought her life would be a certain way (centering around pageants, getting married young, having a lot of babies, to paraphrase her own description), and she now wants more.
We also got a glimpse at which bachelors seem to have made an impression. One of them, Luke P., tells Hannah that he's super into her (she replies that she is too, so yay Hannah!), but one of the bachelors appears to have brought out Hannah's beast mode. Oh boy. I can't wait to see what he did!
There are a few bachelors that we know about already. Go here to get a spoilery look at the frontrunners and their progress (opens in new tab).
The first promo was super dramatic (and gorgeous).
Hannah, walking through a Cinderella-esque enchanted forest, sheds all the trappings of her pageant queen past—tiara, sash, the train of her gown—to reveal a "new Hannah." The tagline for the ad is: "Think you know her? Think again."
There were initially 33 men competing for Hannah's heart.
The Bachelorette took the unprecedented step of introducing us to the 33 men who "may" be on the show, to use their words. Thirty-three gentlemen is more than in previous years, and feels like it might just be more men that might be eliminated night one? But who am I to argue? There are some cute guys in here! They range in age from 23 to 33, and there's even one from her beloved home state!
The premiere is early this year.
The season starts May 13, per ABC, and starts filming March 16, according to Reality Steve, who was absolutely right about Hannah being the Bachelorette weeks in advance. So he probably knows what he's talking about, is what I'm saying.
For those that don't keep track of this stuff, the May 13th start date for "Bachelorette" is two weeks earlier than they usually start.March 13, 2019
See more
Some of it has already been filmed in Alabama.
Hannah is a proud University of Alabama alum (you've probably heard her exclaiming "Roll Tide!" at every opportunity), and there have already been video clips of her filming some intro footage on campus (opens in new tab). If everything goes well and Hannah gets to introduce someone to her family, chances are they'll head back to the state.
But filming started in earnest in March.
Given the mid-May premiere, there's a LOT of ground to cover. Apparently the schedule might look a little something like this (opens in new tab), per Reality Steve (again, the guy who was right about the entire shock ending on Colton's season)—next week will be a couple group dates, a couple rose ceremonies, then in the following weeks a trip to Rhode Island, and then abroad.
(SPOILER UPDATE): Hannah B's "Bachelorette" season will begin filming this Saturday, not Thursday.March 12, 2019
See more
Hannah already met five of the bachelors before the show even started.
On The Bachelor finale, Hannah got a sneak peek at a few of the gentlemen competing for her heart. One of them, Connor, even brought her a stool (kind of thoughtful! Also, that is a TALL GENTLEMAN).
We got an early, spoilery look at 15 bachelors.
Thanks, again, to Reality Steve, we got advanced insight on some of the men competing for Hannahbama's heart. Their names are: Tyler Cameron, Sammy Maniscalco, Cam Ayala, Tyler Gwozdz, Luke Parker, Jed Wyatt, Garrett Powell, Connor Saeli, Luke Stone, Brian Bowles, Daron Blaylock, Joe Barsano, Chasen Coscia, Matt Dione, and Dylan Barbour.
Starting on this page (opens in new tab), there are tons of details and photos of all of them, but here are just a few for your viewing pleasure (most of the contestants have since set their profiles to private for now, but there are screenshots at that link).
I want so many good things for Hannah, so...fingers crossed!
For more stories like this, including celebrity news, beauty and fashion advice, savvy political commentary, and fascinating features, sign up for the Marie Claire newsletter.
SUBSCRIBE HERE (opens in new tab)
RELATED STORIES
Katherine's a Boston-based contributor at Marie Claire who covers fashion, culture, and lifestyle—from "Clueless" to Everlane to news about Lizzo. She's been a freelancer for 11 years and has had roles with Cosmopolitan and Bustle, with bylines in Parents, Seventeen, and elsewhere. It's "I go to dinner," not "Her huge ego," but she responds to both.