Shannen Doherty is in Remission Following Her Breast Cancer Diagnosis
The 'Beverly Hills, 90210' and 'Charmed' star revealed the news on Instagram.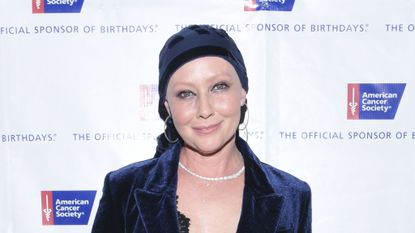 (Image credit: Vivien Killilea/WireImage)
Two years on from her breast cancer diagnosis, former Charmed actress Shannen Doherty has taken to Instagram to tell her fans that she is now in remission.
Of the happy news, she wrote: "Moments. They happen. Today was and is a moment. What does remission mean? I heard that word and have no idea how to react. Good news? YES. Overwhelming. YES. Now more waiting."
Shannen went on to say that there are still further steps and decisions to be made, but that she's eager to embrace this moment, and is grateful for being a "cancer slayer".
"As every single one of my fellow cancer family knows, the next five years is crucial," she said. "Reoccurrences happen all the time. Many of you have shared that very story with me. So with a heart that is certainly lighter, I wait.
"In the meantime, decisions. Reconstruction which is several surgeries. Decision on taking a pill for the next five years that comes with its own set of problems and side effects. I am blessed, I know that. But for now.... remission. I'm going to just breathe.

In her battle, Shannen has undergone chemotherapy, a single mastectomy, and radiotherapy, all while keeping her fans updated on her progress on social media. Yesterday, before finding out that she is in remission, the actress reminded fans on Instagram to "live life to the fullest. Cherish every second. Love fiercely."
From: Cosmopolitan