A Timeline of Prince Charles and Camilla Parker Bowles' Royal Romance
The story of their love before and after Diana.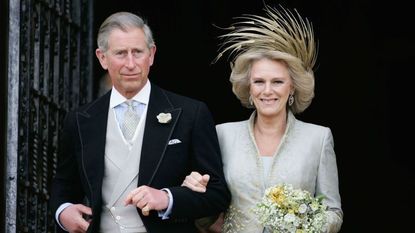 (Image credit: Getty Images)
Throughout her life, the Duchess of Cornwall has dealt with the reputation of being "third person" in the marriage between Princess Diana and Prince Charles. But her relationship with Charles, which spans four decades, is more than just a scandalous affair. Today, the two are happily married, but before reaching martial bliss, they had to tackle royal marriages, tabloid drama, and even tragedy in order to maintain their love. Here's a look back on the timeline of Charles and Camilla's romance.
1970
Prince Charles meets Camilla Shand for the first time at a polo match in Windsor. The two, who were immediately attracted to one another, start dating not long after their first meeting. The couple date up until 1971 when Charles joins the Royal Navy.
1973
In July of 1973, Camilla marries Andrew Parker Bowles, a powerful British Army officer, who had previously dated Prince Charles' younger sister Princess Anne. Actress Lynn Redgrave, a former boarding school classmate of Camilla's, once said that for Camilla, "landing a rich husband was the top of the agenda. Camilla wanted to have fun, but she also wanted to marry well because, in her mind, that would be the most fun of all."
1977
Prince Charles formally meets 16-year-old Lady Diana Spencer while in a relationship with her older sister Lady Sarah McCorquodale. Charles ended his relationship with Sarah and began courting Diana in 1980. According to Diana's biographer Andrew Morton, the two sisters remained close despite their relationships with the Prince. Sarah notably claimed responsibility for their couple saying, "I introduced them. I'm Cupid."
1981
Charles proposes to Diana on February 6, 1981, and the engagement is officially announced February 24. That summer, Charles and Diana marry on July 29 at St. Paul's Cathedral in a fairytale wedding. According to ABC's new special, The Last 100 Days of Diana, focusing on the summer before Diana's death, Camilla was present at Charles and Diana's wedding despite Diana's wishes for her not to attend. A year later, on June 21, 1982, the royal couple welcomes their first born son, Prince William and two years after on September 15, 1984, the two have their second son, Prince Harry.
1986
Despite being in high-profile marriages, Charles and Camilla resume their longtime love affair, the documentary notes. Surprisingly, Camilla isn't the first in her family to have a royal affair. Camilla reportedly idolized her great-grandmother, Alice Keppel, the famous mistress of Prince Charles' great-great-grandfather Edward VII.
1989
According to interview tapes recorded by Andrew Morton for the Princess of Wales' biography, Diana claims to have confronted Camilla at a party and says to her, "Camilla, I would just like you to know that I know exactly what is going on between you and Charles. I wasn't born yesterday." Camilla allegedly responses to Diana and says, "You've got everything you ever wanted. You've got all the men in the world to fall in love with you and you've got two beautiful children. What more do you want?" Diana responds, "I want my husband.
1992
"
In November 1992, the press manages to release private tapes of intimate phone conversations between Charles and Camilla, confirming their affections for one another. The tabloids later label the tape incident "Camillagate." A month later, Prime Minister John Major confirms martial issues between Diana and Charles and announces their separation.
1994
Two years after their separation, Charles confesses adultery in a nationally televised interview where he names Camilla as his mistress. But the Prince also defends his actions, saying he did work to remain faithful to Diana, "until it became clear that the marriage had irretrievably broken down."
1995
Camilla and her husband Andrew officially announce their divorce. The two, who had been living apart for two years, decide to end their marriage, saying, "there is little of common interest between us." Diana also admits to adultery, having had an affair with James Hewitt, a well-known polo player and Diana's former riding instructor, and opens up about Charles' affair with Camilla in a BBC interview. In the interview with Martin Bashir, Diana famously admits, "There were three of us in the marriage, so it was a bit crowded." In order to get the exclusive interview, Diana worked with Bashir to keep their interview a secret from Buckingham Palace. Bashir even went as far as to sneak into the palace to do the interview without Diana's team knowing, according to ABC's The Last 100 Days of Diana.
1997
Princess Diana is killed in a tragic car accident in Paris and the world is turned upside down by the news. The city of London took the streets to publicly mourn the Princess as Prince Charles walked with his family in the streets for the funeral procession. As for Camilla, the progress she had slowly made as new woman in Charles' life was brought to a temporary halt as the spotlight shifted once again to Diana.
1998
A year after Diana's death, Charles formally introduces Camilla to his sons, William and Harry. Due to Diana's sudden death, Charles and Camilla opt to keep their relationship out of the public eye.
1999
The couple appear in publictogether for the first time at Camilla's sister's 50th birthday party at the Ritz Hotel in London. Charles and Camilla arrive at the event separately, almost two hours apart, but leave the event together. More than 200 photographers, journalists, tourists, and fans crowd the streets around the hotel to catch a glimpse of the two, who were reluctant to be too public since Diana's death. The rare sighting of the couple together was the moment that their relationship when from a public affair to a public romance.
2000
Though Camilla starts to form a relationship with Charles' sons, she has yet to formally meet the Queen. Unwilling to acknowledge Charles' relationship with Camilla, the Queen refuses an invitation to Charles' 50th birthday due to Camilla's presence. But in the summer of 2000, the Queen decides to appear at the exclusive 60th birthday celebration for King Constantine of Greece at Highgrove, where Camilla is also present. The Queen choosing to attend the party where Camilla is a guest is seen as progress in approving Camilla and Charles' relationship.
2001
Charles and Camilla kiss in public for the first time at an event for The National Osteoporosis Society at Somerset House in London, where Camilla served as the organization's patron. According to the BBC, Camilla being able to properly greet Charles was considered an important step in the couple's public relationship. Charles coming out to support Camilla also showed an unfamiliar role reversal for the pair.
2003
Camilla officially moves into Clarence House, the residence of Prince Charles.
2005
Charles and Camilla announce their engagement in February 2005, but the news causes public controversy and difficult political decisions, including the appropriate venue for their wedding ceremony. Two months later, Prince Charles and Camilla finally marry in a civil ceremony on April 9, 2005 at Windsor Guildhall. Prince William serves as the best man, and Camilla's ex-husband and his second wife attend the ceremony. The Queen and her husband, Prince Phillip, choose not to attend the wedding ceremony, but make an appearance at the Service of Prayer and Dedication held at the St. George Chapel at Windsor Castle, as well as the reception afterwards.
2007
Camilla decides not to attend Diana's 10-year memorial service . Though Charles' wife initially planned to attend, according to a People report, the public persuaded Camilla to do otherwise. The Duchess of Cornwall released a statement, saying: "I accepted and wanted to support them, however, on reflection I believe my attendance could divert attention from the purpose of the occasion which is to focus on the life and service of Diana. I'm grateful to my husband, William, and Harry for supporting my decision."
2010
In an interview with Prince Charles, NBC reporter Brian Williams asks the Prince the question on everyone's mind: "Does the Duchess of Cornwall become Queen of England, if and when you become the monarch?" The Prince responses to Williams by saying, "That's well...we'll see won't we? That could be." Though Camilla will legally be Charles' queen, she will hold the title of Princess consort, according to the royals' own website.
2011
Camilla and Kate Middleton make headlines just a few months before Kate's wedding, as the two go out for lunch with Kate's sister, Pippa, and Camilla's daughter, Laura Lopes. According to an ABC report, onlookers of the lunch heard Camilla trying to offer motherly advice to the soon-to-be-bride. Two months later on April 29, William and Kate marry at Westminster Abbey and Camilla attends the wedding by Prince Charles' side.
2012
While Diana will forever remain the People's Princess, over time, the public opinion of Camilla and Charles changes and even the Queen begins to warm up to Camilla. In 2012, Elizabeth II expressed her acceptance of her new daughter-in-law by officially giving her a royal honor. Camilla is named Dame Grand Cross of the Royal Victorian Order. Later that summer, during the Queen's Diamond Jubliee, Camilla accompanied the Queen on a carriage ride during one of the event's processionals. This is seen as another big feat for Camilla, considering a decade ago, the Queen refused to show up to events if Camilla was there.
2015
Camilla and Charles celebrate 10 years of marriage. In honor of the day, Clarence House releases a photo of the couple at the Balmoral estate in Scotland, where the couple celebrated their honeymoon as well as their first wedding anniversary. A few months later, Camilla joins the whole family on the balcony of Buckingham Palace for the 2015 Trooping The Colour ceremony.
2017
Charles and Camilla continue to make public appearances together, including a visit to Northern Ireland in May.
Follow Marie Claire on Facebook for the latest celeb news, beauty tips, fascinating reads, livestream video, and more.
Celebrity news, beauty, fashion advice, and fascinating features, delivered straight to your inbox!