Tyler Cameron Denied He's the Father of Gigi's Baby
"Y'all are wrong in the comments..."
This season of The Bachelorette may have come to an end, but that doesn't mean that the drama swirling around it is over. In fact, Hannah "Beast" Brown's journey to find her Mr. Right is far from done—it's actually getting more complicated by the day, thanks to Tyler Cameron and Gigi Hadid.
To recap, Bachelor Nation spent the summer months watching the Alabama beauty queen interact with her chosen group of suitors. We watched her part ways with a perfect man (miss you, Mike <3), break up with the most toxic person in the Bachelor universe (we don't mention that name 'round these parts), and finally find true love...or so she thought. Hannah gave aspiring musician Jed Wyatt her final rose, which seemed like a perfectly fine choice until it was revealed that he had only come on the show to drum up publicity for his fledgling career; the entire time, Jed had a girlfriend waiting for him at home! Heartbroken, our bachelorette returned the duplicitous clout-chaser's engagement ring and asked her runner-up Tyler Cameron on a post-show date. True love prevails!
But right when we'd started to believe in the power of love (and the effectiveness of The Bachelor franchise) again, we were jolted back to reality with the news that Tyler C. was spotted in the streets of New York City hanging out with Gigi Hadid. You know, the supermodel.
Do you hear that? That's the sound of millions of hearts breaking.
With all these twists and turns in the Hannah Brown saga, it's crucial that we figure out exactly who's dating who (or not) and whether we need to abandon the #Tannah ship before it crashes. For your reference, we present this Tyler Cameron and Gigi Hadid relationship timeline. You're welcome, Bachelor Nation.
April 2020
TMZ broke the news that Hadid is reportedly pregnant with her on-off boyfriend Zayn Malik, which puts an end to the fling that was Cameron and Hadid. Malik and Hadid have been together on and off since 2015, so it makes sense that they'd end up together. Hadid is reportedly about 20 weeks along in her pregnancy; the supermodel just celebrated her 25th birthday. She and Malik have been back together since the holidays, a month after we learned that she and Cameron were officially over.
One day after the news broke, Cameron took to Instagram Live to shut down rumors that he's the father of Hadid's baby (if nothing else, guys, Malik and Hadid were posting photos of each other and very clearly back together 20 weeks ago). He read out a few of his Instagram comments, including one that said "Congrats on becoming the father," and responded: "Y'all are wrong in the comments. Y'all are terrible."
November 8, 2019
Cameron and Hadid's breakup is now Instagram official. As of November 8, the couple had officially unfollowed each other on Insta. Despite the social media snubbing, there's no bad blood between the exes.
"Tyler still thinks of Gigi as a friend," a source close to Cameron told Us Weekly. "They were really close, and he still likes and respects her, even though the romantic portion of their relationship is over."
October 28, 2019
Turns out everyone's still wondering about a) what happened between Cameron and Hadid, and b) what's Cameron's current relationship status (because of course). Cameron himself actually offered a bit of clarity—a favorite Bachelor Nation word!—about why he and Hadid broke up to People TV, although if you're looking for salacious details, you've come to the wrong place.
"Just meeting someone that was great. She's a great person, and I met a great friend," he insisted. "She's someone that I have a lot of respect for and think highly of, so I met a great person." He added, "I took it as I met a great person, a great friend." None of this is surprising or particularly out of character for Cameron. As you'll remember, Brown said he was the most respectful man she'd ever dated, so him behaving like a gentleman makes sense.
Then he alluded to a (carefully worded) reason behind their breakup. "It wasn't like a bad breakup or anything like that. It was just, we're at different parts of our lives right now. We're just friends." And just in case we're worried in might get...awkward...since they both live in the same area, apparently that's not happening because they're both on good terms.
By the way, Cameron also said in a recent interview that one day he might entertain being The Bachelor. So now that he's single, could we get a Tyler Cameron Bachelor 2021? Or, as some fans are still holding out hope, could we get a Cameron-Brown reunion? Apparently he texted her on her birthday, so the two are STILL talking.
October 4, 2019
Guys. No more need for speculation, because it's time to officially call it: Cameron and Hadid have broken up. For real. No more equivocation, or sly hints. A source close to the situation told Us Weekly, "Tyler is single...He and Gigi Hadid are no longer together." Woof. So that's that then—Hadid's been busy doing her thing at Paris Fashion Week and Cameron's working and volunteering back in NYC. Hopefully it's not weird if they see each other out in the city once she's back?
This, of course, makes me wonder if the pendulum might shift all the way to the other side again, with Cameron and Brown giving it another go. Brown's apparently gotten numerous romantic offers since she finished Bachelorette interviews and started filming Dancing With the Stars in California. She's even had to squash rumors that she's dating Alan Bersten, her dance partner. So she's doing just fine, in terms of dating, and she's also said she's reassessed her priorities and is in a really good place just being single right now.
None of the three involved parties have commented about their relationship status or about the situation since Cameron dropped a bunch of hints (below) about not being in love with anybody. And there's the whole "Brown broke Cameron's heart" and "Cameron went straight from his hookup with Brown to Hadid's place," so I feel like...there's a lot to work out, no matter what happens.
September 25, 2019
Guys, I don't even know anymore. This story has had so many twists and turns that I can't even decide how I feel. Cameron has given an interview to Entertainment Tonight's Lauren Zima (who happens to be Chris Harrison's GF, so you know she knows all the secrets). When asked about Gigi, he explained, "We're just friends, we're just friends, yeah, that's just where we're at."
He went on, just to keep things extra vague and mysterious, "Our relationship doesn't need to be public. She's good people. She's an amazing person, and we're just keeping it friendly."
He added, "I'm not in love in love with anyone." Which, may totally be something he's agreed about with Hadid to say, but if not? Way harsh, Tai. So now we have reason to doubt that things are fine? The two haven't been photographed recently together, so I have new worries that I didn't have before. Thank god Brown is too busy trying to win Dancing With the Stars to care about this news!
The full interview is below in case you want to dive into speculation and take a wild guess for yourself about what's going on.
September 9, 2019
Well, well, well. The pair showed up at the Tommy x Zendaya Runway Show at New York Fashion Week, which was also attended by Gigi's sister Bella.
They were photographed separately:
And the two didn't pose for photos while they were there. We could have gotten a public debut! But alas, the couple seemed content to spend time together inside, away from the prying cameras. It's in keeping with the private nature of their relationship, but I want pics, dammit.
September 7, 2019
This feels like an unbelievably important step—Tyler was on hand to support Gigi at her grandmother's funeral in the Netherlands, arm wrapped around her waist consoling her. You can see the pics in that link, in which the pair are seen smiling among family members. Gigi didn't mention her new BF but did speak about her grandmother on social media:
But to invite him to such a private and emotional outing seems like a huge step.
August 26, 2019
We've had more dates, including one where Gigi wore sunglasses for a nighttime post-date drive with Tyler and somehow managed to pull it off (safety be damned):
And it was initially reported that Tyler could be Gigi's date to the VMAs on Monday, August 26. Turns out he just came to the afterparty (sadly no photos), but the two kissed when they saw each other and her friends hugged him—so, yea, things are good.
August 20, 2019
According to the Daily Mail, Gigi, Tyler, and Serena Williams all left Gigi's place separately on Tuesday night and met up with pals Cully Smoller and Kendall Visser; The group went to La Esquina in New York. So, Gigi/Tyler aren't hiding their relationship, and apparently it's going so well that we're in the "meet the friends" territory. I mean, all of Bachelor Nation love(d) him, so I can pretty much guarantee it went well.
Now I have so many questions: Has he met Bella? What about the parents? How did their trip upstate go? Photos snapped of the pair looked somber, but I imagine no one really wants to get papped in the middle of a Starbucks run. Is he going to join her on red carpets now?? Like this is genuinely happening and I really don't know how to feel.
Meanwhile, according to Us Weekly, Gigi is "really into" Tyler and everyone is happy that she's doing well after her split with Zayn Malik, so I may have to take my hopes and dreams for Hannah and put them elsewhere. Hannah, may you find love (and independence!), probably not as a part of this love triangle—because it's not really looking good for you these days.
August 15, 2019
Things are getting messy (messier?), you guys. Gigi and Tyler took their relationship to the next level with a trip to upstate New York—fans spotted them grabbing coffee and buying alcohol, and it apparently looked like a weekend trip. Considering they've only been on a handful of dates, this feels super serious to me. Neither are commenting officially, of course, but I suspect that we might get more sightings of the pair soon.
At the same time, an influencer named Violet Benson came forward to explain that she also went on a date with Tyler. They had lunch, the same day he later hooked up with Hannah. This is Violet:
And she asked him about Hannah. "He kind of said 'she had her chance' but he was open to being friends and take it slow." So, by my count, that's three girls in as many weeks, ugh. But Violet and Tyler aren't seeing each other anymore, and Hannah and Tyler don't seem to be happening either. So Tyler-Gigi is going strong, I guess.
Hannah's been mum about the whole situation, no surprise. A short segment of her joining the cast on Bachelor in Paradise is about to air, so that might change the conversation away from the drama with Tyler and towards Hannah's support of BFF Demi Burnett. Hannah also just changed her handle and bio on Instagram, so I suspect she's trying to "move on" as she's previously mentioned. Basically, the message seems to be: "Let's talk about something else, K?"
August 14, 2019
Another sighting! This time, Tyler and Gigi were seen leaving her New York apartment, and then hitting up Justin Theroux's new bar, Ray's, per ET. They were joined by a couple of friends this time, including Cully Smoller, an actor friend of Hadid's.
This came hours after Hannah Brown revealed via Instagram that she was having a hard time. "Honest policy: I'm struggling. Life is so different. Since last August, I've been a pageant queen, a bachelor contestant, and the Bachelorette. I've been in love with multiple people, I got engaged, I broke off an engagement, and I shared it all with millions of people," she wrote.
In the wake of all this madness, Tyler took to his Instagram Stories to let his fans know he's apartment hunting. In New York. What?? Before we all collectively lose it, apparently he already lives there. "Tyler lives in NYC now. He has his own place, but for their dates, they hang out at Gigi's," a source told People. "He is very public about going in and out of her place—you can tell that he wants to be seen. He is enjoying the attention he gets for dating Gigi."
But, the "setting down roots permanently" doesn't feel like a coincidence, to me. Like, he definitely wouldn't be looking for another (probably bigger) apartment there if he felt like he had someone special, somewhere else. Soooo I am fully speculating here but he probably hasn't given Hannah another thought.
Of course, another source told ET that "they are still casually dating." Apparently, "Gigi went through a breakup from a serious relationship and Tyler just got off a dating show...The two are enjoying building a friendship first, going on dates and having fun. Nothing more than that right now." So, someone wants us to know that it's all just casual. Casual, but they hang out 24/7 at her place—sure.
August 12, 2019
E! reported that Tyler was spotted leaving Gigi's NYC apartment late Monday evening, with the supermodel making her exit from the same building just 45 minutes later. Ah, the old "you leave before I do so no one catches on to what's going on" move. We've all been there.
Sorry to say it, Tyler and Gigi, but we're on to you. And, methinks, so is Hannah.
August 9, 2019
Hannah, are you okay?? We got a little more insight into how the former Bachelorette is doing (as well as a little insight that she was hanging out alone this weekend, so no more Tyler hookups that I can tell). "[W]hat I want to talk about is some of ya'll are crazy," she said in her Stories, sitting on the couch, makeup free and in need of a shower, according to her. "And Jesus loves you, so I'm trying to love you. But I feel like a lot of people are looking into anything I do—you know, breathe or post, anything—and looking for a cryptic message in there of how I'm doing."
Yikes. Duly noted, Hannah! She continued: "How am I doing? I'll let you know. I have moments of mad, glad, happy, sad. I don't know if you know this, but I just went through a sh*tshow. Some of you watched, I lived it."
She finished her video series on a positive note. "But I am really excited about my future and that's what I'm focusing on. So let's all focus on that and stop wasting our time on silly stuff." I assume silly stuff = questions about Tyler, so this sounds to me like a pretty strong message that she is DONE talking about it.
No new updates from Gigi or Tyler, so everyone involved is keeping a tight lid on the situation.
August 8, 2019
No more sightings, but Tyler was still in New York as of yesterday working with kids:
Aaand since he already had two dates with Gigi that seemingly went well... Meanwhile, the model is hanging out with her sisters in her underwear, as you do:
Could that be a veiled hint to Tyler? I'm definitely reading way into this, but clearly they're both feelin' themselves.
And yet!! A source told Us Weekly, "Tyler had strong feelings for Hannah," says the source, "and wants to make it work." This love triangle is alive and well, y'all. Also, Hannah did put up on her Stories about how we should all be "uplifting women" and not comparing her to Gigi, so it looks like she's still getting a ton of questions about that particular sitch.
August 7, 2019
It took exactly one day for poor Hannah to break. Sitting down with former Bachelorettes Rachel Lindsay and Ali Fedotowski, Rachel started off the conversation with an opinion of her own about Tyler. "You're on Twitter talking about 'Hannah's the queen' and preaching about respect, but then you're being a little disrespectful by dating her in such a public way where you know it's going to get so much attention. I think that's my beef with it."
"I think that's my beef with it, too," responded Hannah. We are not dating-dating, at all, we hung out, but we also had conversations of both, like, knowing that there's still something there...When you are in the public eye, you do have to just be respectful of each other. And yeah, I wish I would've got a little bit more than two days. But, you know, it is okay."
And then she went full-on with the shade a little later in the interview: "I mean, I think he likes to date around, so maybe he would be a good Bachelor." HA!
August 5-6, 2019
By now, the news about Tyler and Gigi's date had spread across the internet like wildfire, so someone had obviously dropped the information in Hannah's iMessages to let her know what was going on across the country. While we can't imagine that she was too pleased to hear about her ex/future boyfriend dating a literal supermodel (Tyler probably got straight roasted in the Bachelorette group chat that I'm 95 percent sure exists, complete with the appropriate gifs), Hannah took the news like a champ. When asked how she felt about the potential Tyler/Gigi hookup, the bachelorette had a very chill response. "I have feelings, but I'm also single, and he's single," she told a reporter on Monday. "I wanna keep my options open, and he can keep his options open." Such a millennial answer...relatable!
"I am single, and people slide into my DMs if they want to, but I just got out of an engagement and dating 30 men. [Dating] is not really not my sole focus right now," Hannah continued. "I'm working on Hannah and loving Hannah, and so you know, if that means going to have a drink again with somebody else, then I'm all for it."
That very same evening, Tyler and Gigi went on their second date, this time on a group date to Frames Bowling Lounge in New York City. Things must have gone swimmingly, because Tyler was photographed leaving Gigi's NYC apartment early this morning. Sorry, Bachelor Nation, but TyGi/Gyler (ugh, it just doesn't roll off the tongue) might be an actual thing.

We're pretty sure that this love triangle hasn't seen its last days just yet. Who knows? The situation could get even more complicated—Peter the pilot could come back in the picture, if he ultimately doesn't become the Bachelor, that is. Watch this space.
August 4, 2019
This was just emailed to me on IG by (IG: artsandfood_nyc). No idea if it's true, if others saw, or if there's pics coming. But this person is claiming she saw them. Just wanted to put it out there for all to see. Hannah and Tyler fans - thoughts and prayers. pic.twitter.com/37d09ZQKRvAugust 5, 2019
See more
Here's my personal philosophy for The Bachelor franchise: if you're rooting too hard for any particular person on the show, things are probably not going to work out for them. I learned this lesson the hard way while watching season 13 of The Bachelorette; as the self-appointed president of the "Rachel and Peter 4Eva" fan club, my hopes were dashed to the ground when Big Rach got engaged to Bryan instead (still not over this). I felt that same sting when seasons later Colton sent America's sweetheart Tayshia packing so he could jump the fence for Cassie. Bottom line? Remain as detached from these people as possible to avoid getting your heart broken.
That being said, I still had some hopes for Hannah and Tyler to make things official, but Miss Hadid definitely threw a wrench in that fantasy. E! followed up with yet another update about Tyler's love life, reporting that he was seen in New York City on a date with Gigi just two days after his highly-anticipated meet-up with Hannah.
"Gigi is definitely interested in Tyler," an inside source told the outlet. "They met for drinks last night at Soho and they got along really well. It was very casual but they were laughing and had a very engaged conversation."
...what???
July 30, 2019
During the season finale of The Bachelorette, a newly single Hannah came face-to-face with Tyler, who expressed to our leading lady that he still had strong feelings for her. More accurately, he pretty much proposed to her. Not surprisingly, Hannah reciprocated his feelings and asked him out for drinks, leading fans to believe that their love connection was officially back on. Jed? Who's that? We don't know him.
July 24, 2019
It's not shocking that this season of The Bachelorette has caught the attention of so many celebrities. Chris Harrison called it the "most dramatic season ever," and for once, he actually wasn't exaggerating. The reality dating franchise is held near and dear to the hearts of A-listers like Daniel Radcliffe, Anna Kendrick, Dakota Fanning, and apparently even Gigi Hadid. The supermodel followed Tyler C on Instagram in late July (after spoilers leaked that he was not going to be Hannah's final choice), and the Florida general contractor naturally followed back. Duh—it's Gigi Hadid!
Seeing that both Gigi and Tyler are models, though Gigi is clearly more established in the industry, many speculated that it was more than just a simple thirst follow. As models, they probably have mutual friends in the field who might have connected them somehow. Still, the social media connection had fans wondering if Tyler was back in the dating game. After all, since Hannah didn't give him her final rose, he was technically a free agent. And dating a supermodel wouldn't be a bad look whatsoever.
Besides, Tyler wouldn't be the only Bachelor alum to ever flirt with a celebrity; Mike Johnson and Demi Lovato are clearly shooting their shots on social media, and Modern Family actress Sarah Hyland is engaged to Wells Adams. Anything is possible!
For more stories like this, including celebrity news, beauty and fashion advice, savvy political commentary, and fascinating features, sign up for the Marie Claire newsletter.

RELATED STORIES
Celebrity news, beauty, fashion advice, and fascinating features, delivered straight to your inbox!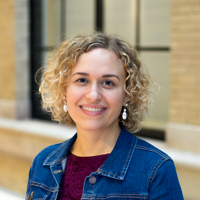 Katherine's a Boston-based contributor at Marie Claire who covers fashion, culture, and lifestyle—from "Clueless" to Everlane to news about Lizzo. She's been a freelancer for 11 years and has had roles with Cosmopolitan and Bustle, with bylines in Parents, Seventeen, and elsewhere. It's "I go to dinner," not "Her huge ego," but she responds to both.