Bradley Cooper and Abbie Cornish Talk about Love
The Limitless costars reveal their thoughts on first dates, intimacy with strangers, and why women fall for lovable jerks. Plus, check out the photos from their cover shoot and our rundown of their hottest on-screen romances.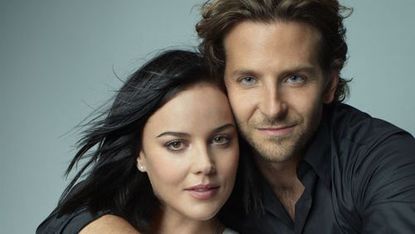 (Image credit: Peggy Sirota)
They play a couple in this month's Limitless, but when they showed up for their MC interview at L.A.'s Sunset Tower Hotel, Abbie Cornish and Bradley Cooper hadn't seen each other in months. Since wrapping their film, Cornish, 28, has shot Sucker Punch, a fantasy-action chick flick, out later this month, and W.E, directed by Madonna. Cooper, 36, arrives fresh from his first day of shooting The Hangover Part II. He's 45 minutes early and, exhausted, decides to catch a nap on a couch in the lobby — much to the delight of several giggling hotel patrons. By the time he wakes up, a newly brunette Cornish has arrived, and the three of us sit down to chat.
MC: Bradley, your character in Limitless is Eddie, a down-on-his-luck writer who discovers a superhuman drug, and Abbie, you play his girlfriend. Is it hard to create a sense of intimacy on-screen with someone you don't know very well?
BC: The first scene we shot together was probably the most difficult in the movie. Eddie's at his lowest in terms of getting off the drug, and Abbie and I had only just met the day before, so it was like, Bam! I'm falling all over her, and she's cradling me. I think we were able to bond because all we really had was each other in that experience.
AC: We were in this tiny, little office and there are a hundred people you don't know and the hallway is, like, thisbig, so you're literally bumping into everyone, saying excuse me.
BC: We're rehearsing this emotional scene, and everybody's all around.
AC: It's one way to get to know someone pretty fast.
Story continued below.
MC: Bradley, this part is a big departure in terms of the work you're known for. You've broken out as this comedic actor — you play these jerks, and yet everyone falls in love with you. It doesn't quite make sense.
AC: Until you meet Bradley, and then it makes sense.
BC: Aww, that's nice. To me, Phil, the guy I play in The Hangover, is nothing like the guy I play in Wedding Crashers. I don't actually think Phil is a jerk. He's a good dad who just likes to let off some steam.
MC: How was Bradley to work with on set?
AC: Trouble.
MC: Really?
BC: I wish. I'm so boring.
MC: This was the first time either of you had worked with Robert De Niro, who plays mega-mogul Carl Van Loon. What was that like?
BC: Aw, man. I mean, he's one of the reasons I became an actor. I never used to say that because everybody says that. But the truth is he was the reason I wanted to become an actor. I always felt so emotionally connected to what he did. There are certain actors you watch in a movie, and you think, Wow, that guy is very skilled. But to be able to actually work with De Niro was beyond anything I could have imagined.
AC: It's beautiful, too, how much of himself he brings to a role. It's like he draws from different parts of himself and explores them rather than trying to create something from the outside.
MC: And [Abbie] you just wrapped a film directed by Madonna, right?
AC: Yeah. It's called W.E. I play a woman in an unhappy marriage who's trying to figure out what true love is. For me, it was a hard gig — I had to be so present with no inhibitions and just place my trust in "M." Richard [Coyle, who plays Cornish's husband] and I did this domestic fight scene that we shot over two days — I break a picture frame on him; I pull his hair. Everything in the room was destroyed. When we wrapped, I made Richard a trophy that said "Marital arts — best domestic fight scene ever."
MC: Sounds rough. Speaking of marital arts, this is Marie Claire'sCouples Issue. Do you guys have couples whom you particularly admire?
BC: My parents have been together since 1963, so that's something.
MC: Do either of you remember the first date you ever went on?
AC: I believe mine was under the modular buildings in primary school. In year one or two, when I was 6 or 7. I remember crawling along the ground and meeting the boy there; it was dark, and we were nestled in the dirt. There were no kisses, a lot of silence. I think he may have pinched me ... then the school bell rang.
BC: The first date I ever went on was in Ocean City, New Jersey. I was 13, and I took this girl I knew to a seafood restaurant on the boardwalk and ordered clams on the half shell — not really a great first-date meal. I was dressed like such a dork, plus it's not very appealing to watch your date suck down 24 raw clams on a hot summer night, but that's how I laid it on.
MC: What do you think the key is to a happy relationship?
AC: A love for one's self, trust, communication, compassion, intimacy, giggles ... and the occasional tickle fight.
Read the rest of Marie Claire's exclusive interview with these two stars in our April 2011 issue, on newsstands March 22.
Celebrity news, beauty, fashion advice, and fascinating features, delivered straight to your inbox!