November Cover Star Natalie Portman Stuns at 'Thor: The Dark World' NYC Premiere (PHOTOS)
Wearing a new hairstyle and Harry Winston jewels, Natalie Portman dazzled at the Thor: The Dark World premiere in New York City.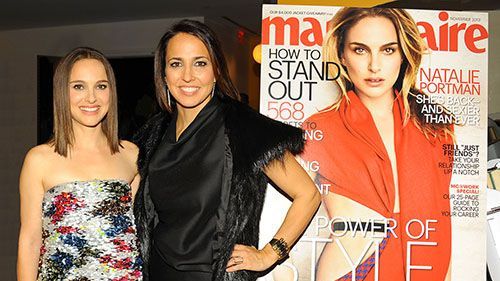 (Image credit: Courtesy of Getty)
Natalie Portman made a rare appearance on Wednesday night to promote her latest film, Thor: The Dark World. Wearing Harry Winston jewels and a new haircut, our November cover star dazzled as she made her way down the red carpet at the New York City screening hosted by the Cinema Society with Dior Beauty and Marie Claire.
"We just tried it today," Portman said of the blunt cut that appeared to be freshly chopped. "You can probably still smell my dye if you get close enough."
The young mom, who is also preparing for her directorial debut with the film, A Tale of Love and Darkness, plays astrophysicist Jane Foster alongside Chris Hemsworth as Thor (yes, we're jealous). The sequel opens nationwide on Thursday and is expected to be as successful a hit as the 2011 superhero movie about the Norse god of thunder.
Portman's superhero status on and off screen made her a natural choice for Marie Claire's power women issue, Editor-In-Chief Anne Fulenwider said on the red carpet. "At Marie Claire, we love superheroes, super women, and power women. Natalie is just that."
Following the screening, guests partied at the new Marlton Hotel and sipped on Qui Tequila cocktails, aptly named Thor and Loki.