15 Powerful Women Share Their Secrets for How to Be Confident
Because even they lose their way.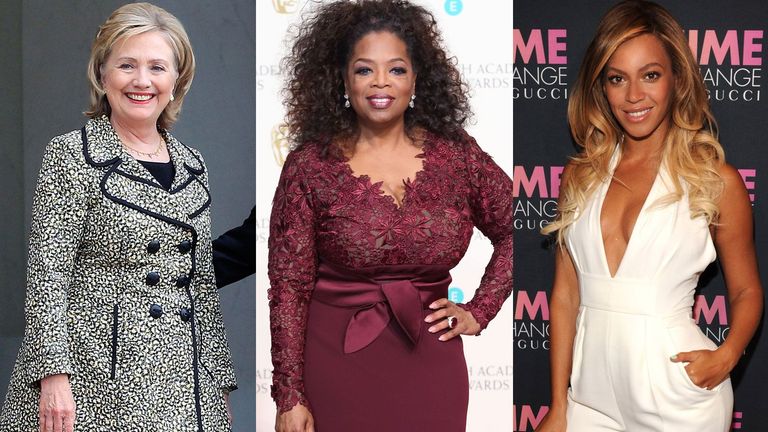 (Image credit: Getty images)
A few months ago, I found myself losing confidence at work. I still haven't gotten it back, and I'm not quite sure how I will. But I've never been one to shy away from asking for help. I reached out to a few female power players and scrubbed the Internet for some insight from my favorite celebrities and female CEOs to see what they do to get a quick boost of courage. Here, their answers.

Photo: Getty Images
"When I'm not feeling my best I ask myself, 'What are you gonna do about it?' I use the negativity to fuel the transformation into a better me."
—Beyoncé Knowles, Complex
"Power posing! I do it before any appearance and recommend it to everyone. Gold!"
—Sally Kohn, political commentator and founder/CEO of the Movement Vision Lab
"Three things work for me: 1, bright lipstick, 2, the thought: 'If I don't try, I'm guaranteed to get nowhere,' 3, thinking: 'Why the hell NOT me?'"
—Stacy London, stylist and fashion consultant

Photo: Getty Images
"I remember looking in the mirror as a kid and it would be like for an hour at a time, and I'd be like: 'Im just so beautiful. Everybody is so lucky that they get to look at me.' And of course that changes as you get older, but I may have held on to that little-kid feeling that was me alone in my bathroom."
—Lena Dunham, Marie Claire UK
"Have a go-to pump up song. Mine is Shakira's 'Waka Waka' from the 2010 World Cup (don't judge). Play it only when you're ready to turn into your most badass self."
—Kathryn Minshew, founder and CEO, TheMuse.com
"Nothing makes me feel more confident than great hair and sexy shoes. It makes me feel ready to strut!"
—Nicole Sanchez, CEO of VIXXENN

Photo: Getty Images
"Think like a queen. A queen is not afraid to fail. Failure is another stepping stone to greatness."
—Oprah Winfrey, Business Insider
"My co-founder and great friend Glynnis MacNicol is only a chat box away and gives me the support (and tough love!) needed to remember who I am and what I'm worth. You can't be your own cheerleader all of the time. Be there to support your friends and let them support you."
—Rachel Sklar, cofounder of The Li.st
"I go into every business meeting thinking that I'm going to get a 'Yes.' Even if I have gotten 100 'Nos' in the past, eventually I'll be right and get a 'Yes!'"
—Carrie Hammer, CEO of Carrie Hammer Clothing

Photo: Getty Images
"When you look at the challenges of being a change-maker and being willing to buck the establishment, it's important to learn how to take criticism seriously but not personally, and that you have to be willing to hear what others who are your critics are saying and to evaluate where they are coming from."
—Hillary Clinton, Politico
"Speak out. Establish your knowledge base and be confident in it as a leader."
—Indra Nooyi, CEO of PepsiCo, BlogHer Keynote Address

Photo: Getty Images
"Just believe in yourself. Even if you don't, pretend that you do and, at some point, you will."
—Venus Williams, ABC News
"I always did something I was a little not ready to do. I think that's how you grow. When there's that moment of 'Wow, I'm not really sure I can do this,' and you push through those moments, that's when you have a breakthrough. Sometimes that's a sign that something really good is about to happen. You're about to grow and learn a lot about yourself."
—Marissa Mayer, CEO of Yahoo, CNN.com

Photo: Getty Images
"Sometimes I give myself a break. So I will retreat a moment from the fray, just to breathe. Because what I've learned is that my immediate reaction cannot be the deciding reaction. So sometimes I just sort of step back a second, and while I'm stepping back, I talk. I reach out to my friends, my mom, my girlfriends; I vent, I release, I have sounding boards, I get pep talks from colleagues and staff, and then I go back in. We each have to find our own coping mechanisms—and this isn't just in terms of the hesitation of finding our voice, but in how we deal with our own stress. It's almost like sports. You have to learn how to play through a loss, play through pain, play through an embarrassing decision on the field. Maybe you get a time-out, you go on the sidelines, but you're going to get back in."
—Michelle Obama, Womens Health
"When I need a boost of confidence, I pop in to one of the play days we host at GoldieBlox with little kids. There is nothing better to boost my confidence than to see first-hand the effect our products are having on kids, and to laugh at the amazingly creative and hilarious things they come up with."
—Debbie Sterling, Founder of GoldieBlox
Related: That One Time I Lost All My Confidence
Related: I Came Undone: One Woman's Horrifyingly Real Experience With Burnout