Kate Hudson's Red Carpet Retrospective
The Hollywood veteran has grown up in the spotlight, and she has the fashion hits and style misses to prove it!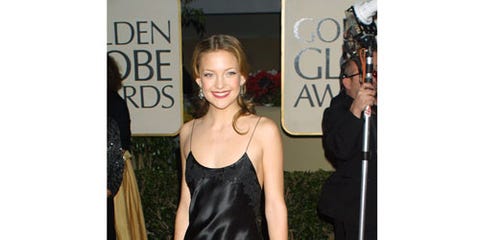 The Hollywood veteran has grown up in the spotlight, and she has the fashion hits — and style misses — to prove it! Plus, read our interview with the star and check out the photos from her cover shoot.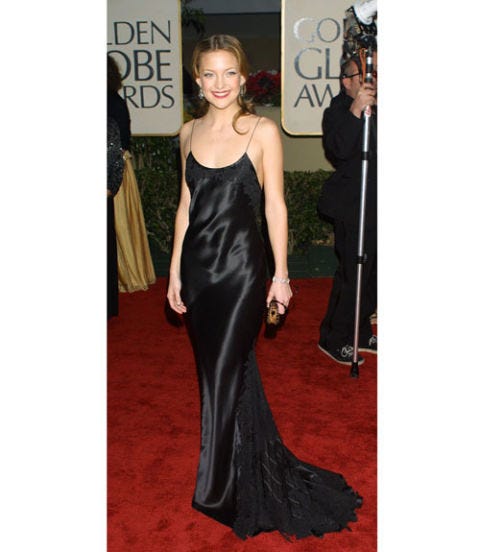 January 2001
Even all dressed up, Kate maintains her relaxed California-girl spirit. She showed up at the Golden Globes looking radiant in a slip dress - and left with a statuette for her supporting actress role as Penny Lane in Almost Famous.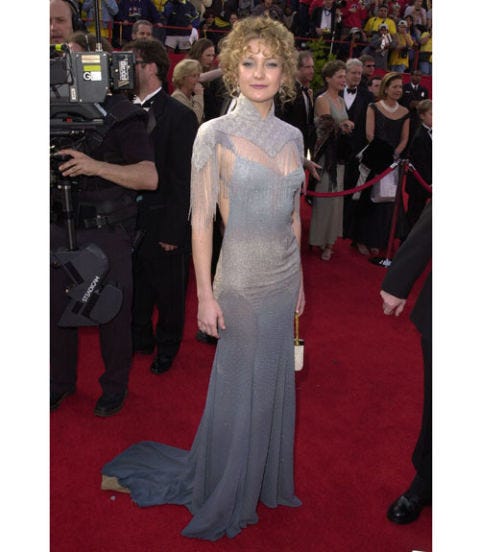 March 2001
For the 73rd Academy Awards, Kate chose an icy blue Chloé by Stella McCartney dress topped with a beaded capelet and a wild, curly updo. It was an uncharacteristic style choice for her (and the designer, for that matter), and the look has been popping up on "Worst Oscar Fashion" lists ever since.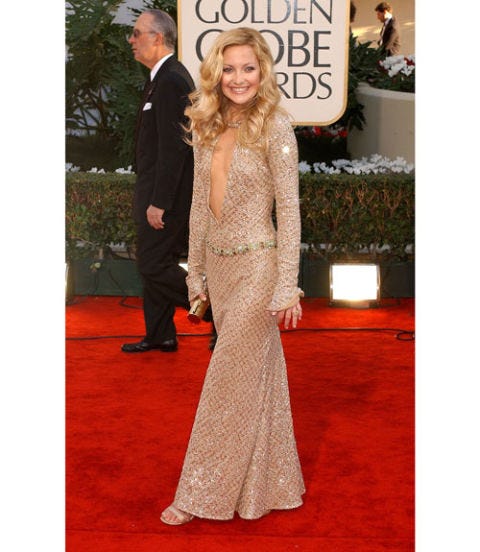 January 2002
"I have small breasts, obviously… It's nice to be able to wear a plunging neckline and have it be elegant," the actress proudly declared at the 2002 Golden Globes, while sporting a stunning Versace sparkler cut down to her navel.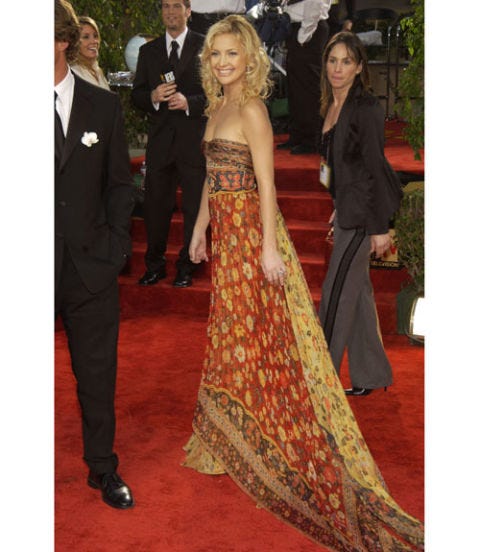 January 2003
The following year, Kate was back to her boho roots in a bright and flowy ethnic-print Valentino gown. We can't imagine this dress looking so perfect on any other star.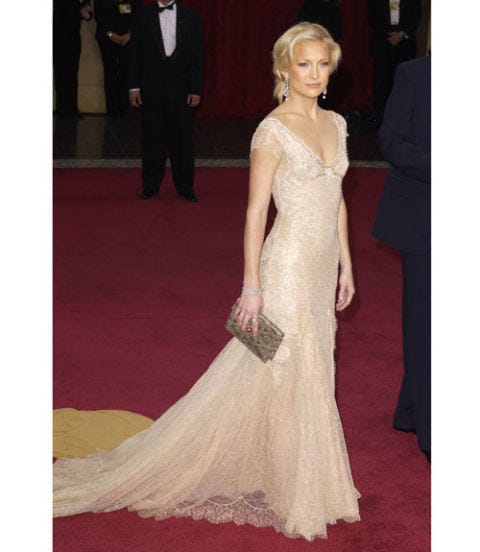 March 2003
Kate redeemed herself after the disastrous 2001 Oscars and then some with this knockout lace and chiffon Versace. It's one of the best Academy Awards looks of all time.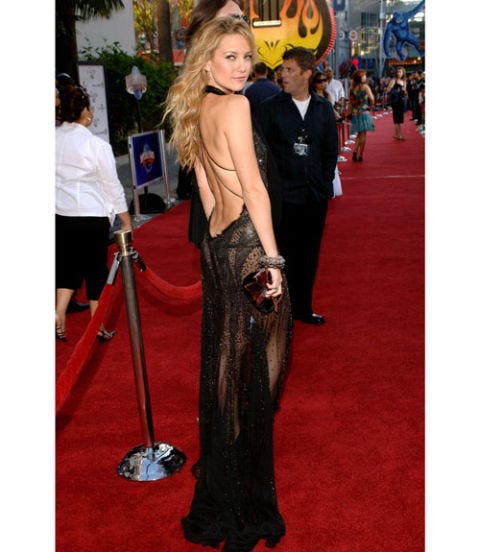 August 2005
In Versace again, Kate flashed some serious skin at the premiere of The Skeleton Key. She later told PEOPLE Magazine, "I was walking out of the house and realized the dress was see-through. I said, 'You know what? I feel fine."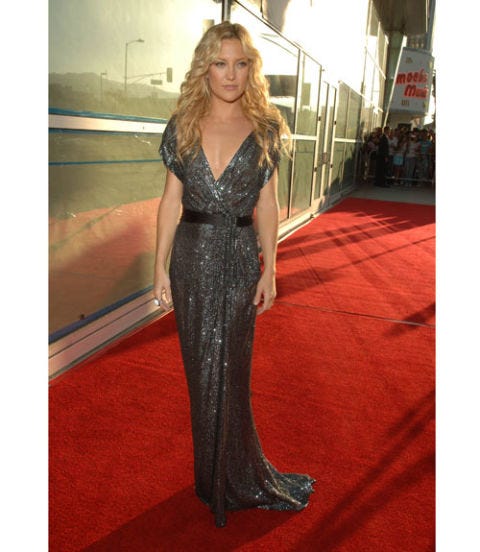 July 2006
The actress rocked a slinky metallic Diane Von Furstenberg and beach-inspired waves at the premiere of her film You, Me, and Dupree. Her fondness for the plunging neckline apparent yet again.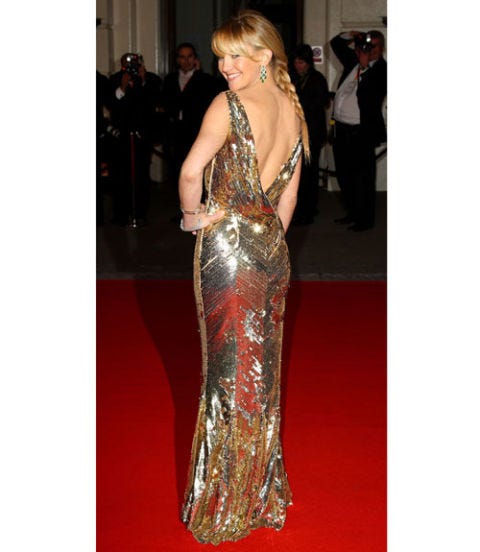 February 2008
With a low-cut back, a metallic sheen, and a curve-hugging cut this Dior dress (which Kate wore to the BAFTAS) packed all of the actress' style trademarks into one gorgeous, glittery package.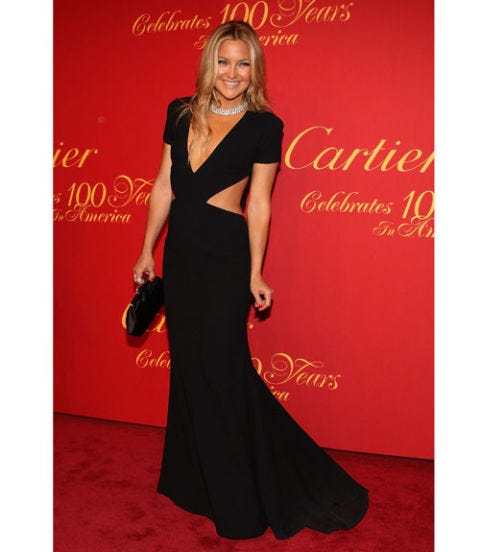 Bryan Bedder/Images Entertainment
April 2009
Even when she dons black, demure isn't usually Kate's thing. In this Rachel Roy cut-out gown, Kate deftly balanced elegant and sexy.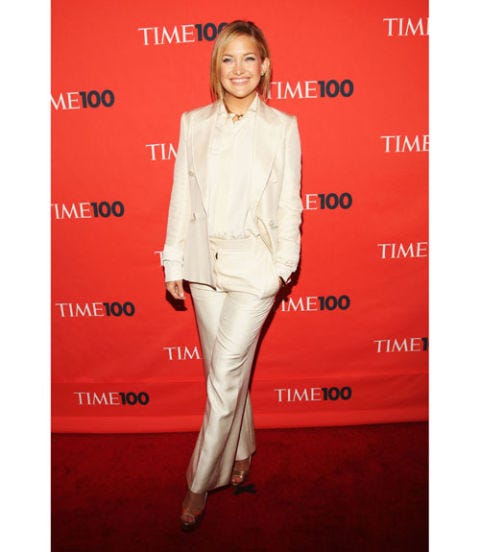 May 2009
She's all buttoned up: At the Time 100 Most Influential People gala, Kate opted for a conservative white silk pantsuit glammed up with a pair of sexy gold peep-toes.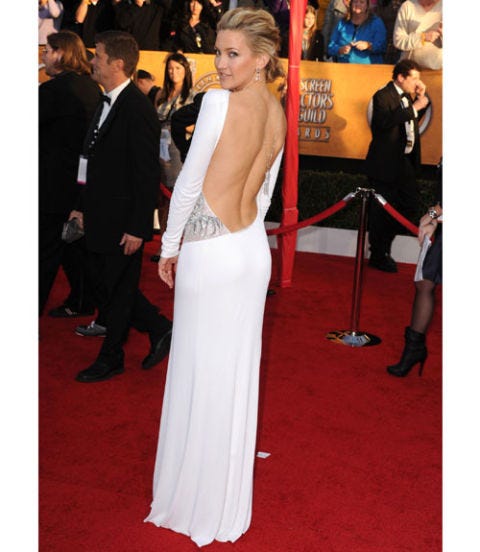 January 2010
Another awards circuit, another stunning backless gown — this time, a head-turning, long-sleeved Pucci.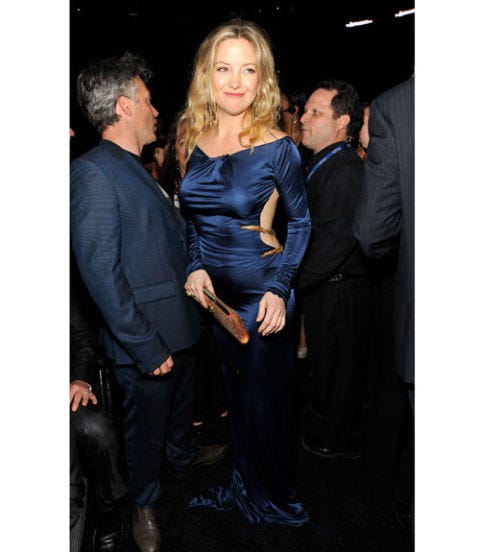 January 2011
Proudly showing off her newest baby bump in a skin-tight Roberto Cavalli, Kate was all smiles at the Grammys, where her fiancé Matthew Bellamy picked up a trophy.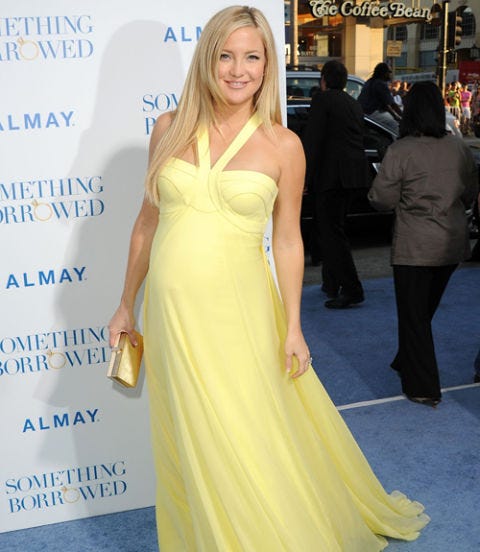 May 2011
In a yellow gown reminiscent of the one she made famous in "How to Lose a Guy in 10 Days," Kate keeps on proving just how super-hot you can look while sporting baby bump.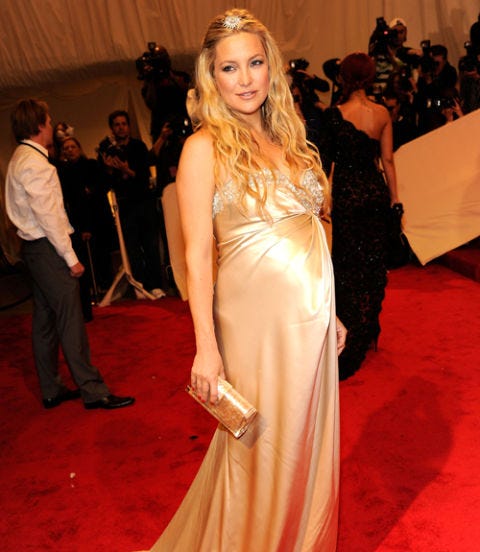 May 2011
The actress shined in a metallic Stella McCartney at the Met Gala — and, even at such a fancy affair, stayed true to her bohemian aesthetic with beachy hair and a flower-child accessory.
This content is created and maintained by a third party, and imported onto this page to help users provide their email addresses. You may be able to find more information about this and similar content at piano.io