59 Celebrities Who Posed for Playboy
From Kim Kardashian and Lindsay Lohan to Heidi Montag.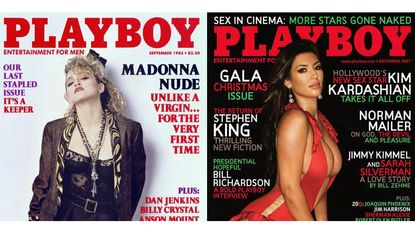 (Image credit: Playboy Magazine)
For many icons, from Madonna to Naomi Campbell, a Playboy cover is a rite of passage. The photos are visceral, tantalizing, and for many celebrities, incredibly empowering. Marilyn Monroe kicked off the trend in 1953 as the first-ever Playboy cover star, and dozens of icons since have adorned the cover of the magazine, now a byword for unapologetic sexiness. If you forgot about the icon covers from Kim Kardashian, Anna Faris, Brooke Shields, and more, well—we're here to remind you. Let's take a trip down memory lane, shall we?
1/59
Marilyn Monroe
Issue: December 1953
Marilyn Monroe became the first-ever Playboy cover girl for the magazine's inaugural issue.
2/59
Jayne Mansfield
Issue: June 1963
Mansfield's peek-a-boo cover is iconic—and not even her first appearance in the magazine. She was also Miss February 1955.
3/59
Raquel Welch
Issue: December 1979
Welch's tight red swimsuit might have kept her technically covered up, but was insanely sexy nonetheless.
4/59
Steve Martin
Issue: January 1980
Yes, men can post for Playboy too—as comedian Steve Martin proved in 1980.
5/59
Bo Derek
Issue: March 1980
Bo Derek has always been a perfect 10—so she was a natural fit for Playboy.
6/59
Kim Basinger
Issue: February 1983
Bassinger covered the February 1983 issue with flowing curls and sultry bedroom eyes that epitomized her sex appeal.
7/59
Joan Collins
Issue: December 1983
Joan Collins was full Dynasty glam on her December 1983 Playboy cover.
8/59
Goldie Hawn
Issue: January 1985
Goldie Hawn posing in a giant champagne glass? We'll toast to that any day.
9/59
Madonna
Issue: September 1985
Madonna's Playboy cover line? "Unlike a virgin..." We see what you did there, Hef.
10/59
Brooke Shields
Issue: December 1986
Brooke Shields showed off her babydoll face and perfect pout on the December 1986 cover of Playboy.
11/59
Vanna White
Issue: May 1987
We'd like to buy a WOW for this Vanna White cover.
12/59
Vanity
Issue: April 1988
Prince's protégé covered Playboy in April 1988 and May 1985.
13/59
Cindy Crawford
Issue: July 1988
Cindy Crawford and her iconically sexy mole covered Playboy in July 1988.
14/59
La Toya Jackson
Issue: March 1989
LaToya Jackson was the epitome of rock star glam on her 1989 cover.
15/59
Sharon Stone
Issue: July 1990
Sharon Stone will do down in history as one of the biggest sex symbols in Hollywood history. Her 1990 Playboy cover illustrates why.
16/59
Sherilyn Fenn
Issue: December 1990
Sherilyn Fenn's December 1990 cover mixed sexy and classy perfectly.
17/59
Shannen Doherty
Issue: March 1994
Shannen Doherty has never done anything that wasn't unique and her doves-on-knees Playboy cover was no different.
18/59
Elle Macpherson
Issue: May 1994
Elle Macpherson covered the May 1994 issue in nothing but a pair of black pantyhose. The cover, naturally, went down in Playboy history.
19/59
Robin Givens
Issue: September 1994
The Head of the Class actress posed in nothing but a beaded choker in 1994.
20/59
Pamela Anderson
Issue: November 1994
Pamela Anderson's brand of sex appeal was tailor-made for Playboy, as evidenced by her November 1994 cover.
21/59
Drew Barrymore
Issue: January 1995
Drew Barrymore went meta for her cover shoot, donning a Playboy bunny shirt, a coy smile, and a lacy pair of pink panties.
22/59
Farrah Fawcett
Issue: December 1995
Farrah Fawcett proved she was most definitely ready for her close up with her December 1995 cover.
23/59
Geri Halliwell
Issue: May 1998
Geri Halliwell was there to help Playboy readers spice up their lives in the May 1998 issue.
24/59
Lisa Rinna
Issue: September 1998
Lisa Rinna made a slouchy sweater sexy as hell in the September 1998 issue.
25/59
Charlize Theron
Issue: May 1999
Even Oscar winners have covered Playboy. Case in point: Charlize Theron's May 1999 cover.
26/59
Naomi Campbell
Issue: December 1999
Naomi Campbell was a barely-wrapped gift to the world on the December 1999 cover of Playboy.
27/59
Kiana Tom
Issue: May 2002
The original fitspo, Kiana Tom, covered Playboy in gold underwear in 2002.
28/59
Kristy Swanson
Issue: November 2002
The OG Buffy the Vampire Slayer lit the November 2002 cover on fire with a fully-naked pose.
29/59
Dita Von Teese
Issue: December 2002
Burlesque queen Dita Von Teese went full pin-up for the December 2002 issue.
30/59
Tia Carrere
Issue: January 2003
Tia Carrere was a sultry, damp-haired goddess on the January 2003 cover.
31/59
Daryl Hannah
Issue: November 2003
Splash star was the sexiest of mermaids on her November 2003 cover.
32/59
Jaime Pressly
Issue: February 2004
Jaime Pressly's wet silk slip on the February 2004 cover looked painted on—in the sexiest way.
33/59
Rachel Hunter
Issue: April 2004
Stacy's Mom herself, Rachel Hunter, wore a classic red teddy for her April 2004 cover.
34/59
Charisma Carpenter
Issue: June 2004
Buffy and Angel alum Charisma Carpenter was pure sex in her fully nude cover shot.
35/59
Denise Richards
Issue: December 2004
Denise Richards was dripping in diamonds on her December 2004 cover.
36/59
Jenny McCarthy
Issue: January 2005
Jenny McCarthy went full bunny for her 2005 cover.
37/59
Teri Polo
Issue: February 2005
Teri Polo wore nothing but a sheet accessorized with a single strawberry for her February 2005 cover.
38/59
Paris Hilton
Issue: March 2005
Paris Hilton wore the sexiest fishnets in the photo for her 2005 cover.
39/59
Bai Ling
Issue: June 2005
Bai Ling was a sexy bondage lady for her cover shoot in 2005.
40/59
Tricia Helfer
Issue: February 2007
Battlestar Galactica star Tricia Helfer's sexiness was out of this world on her February 2007 cover.
41/59
Mariah Carey
Issue: March 2007
Mariah Carey's tan cut-out one-piece was perfection on her March 2007 cover.
42/59
Amanda Beard
Issue: July 2007
The Olympian posed in nothing but bikini bottoms for the July 2007 issue.

43/59
Garcelle Beauvais
Issue: August 2007
Garcelle Beauvais donned a sheer, multi-colored dress that looked like sexy, sexy body paint for her 2007 cover.
44/59
Kim Kardashian
Issue: December 2007
Kim Kardashian took the world—and the cover of Playboy—by storm in 2007.
45/59
Anna Faris
Issue: September 2008
The House Bunny star covered Playboy in September 2008 in a pink, two-piece ensemble.
46/59
Carmen Electra
Issue: January 2009
Carmen Electra's bedroom eyes took centerstage in her 2009 cover.
47/59
Aubrey O'Day
Issue: March 2009
Aubrey O'Day was all legs on her March 2009 Playboy cover.
48/59
Olivia Munn
Issue: July/August 2009
Olivia Munn was peak sexy geek in a red bikini on her summer 2009 cover.
49/59
Heidi Montag
Issue: September 2009
Heidi Montag got dirrrrty in a pure white bikini for her Playboy cover.
50/59
Chelsea Handler
Issue: December 2009
Funny lady Chelsea Handler's December 2009 cover was definitely no laughing matter.
51/59
Tara Reid
Issue: January/February 2010
Tara Reid took the smoky eye to the next level on her 2010 Playboy cover.
52/59
Winter Zoli
Issue: March 2011
Winter Zoli wore the sexiest pair of black lace panties for her cover.
53/59
Taryn Manning
Issue: April 2011
Taryn Manning's abs were as intense as her bangs and her black fishnets on her 2011 cover.
54/59
Karina Smirnoff
Issue: May 2011
Karina Smirnoff showed off her amazing dancer's bod on the May 2011 cover.
55/59
Lizzy Jagger
Issue: June 2011
Mick Jagger's daughter graced the cover of Playboy in 2011.
56/59
Lindsay Lohan
Issue: January/February 2012
Lindsay Lohan let her inner Mean Girl out for her 2012 turn on the cover of Playboy.
57/59
Kate Moss
Issue: February 2014
Kate Moss donned the iconic Playboy bunny suit for the magazine's 60-year anniversary cover in 2014.
58/59
Azealia Banks
Issue: April 2015
Azealia Banks' colorful cover was as unique as she is.
59/59
Kylie Jenner
Issue: September 2019
Travis Scott took Kylie Jenner's 2019 Playboy cover.
Kayleigh Roberts is a freelance writer and editor with more than 10 years of professional experience. Her byline has appeared in Marie Claire, Cosmopolitan, ELLE, Harper's Bazaar, The Atlantic, Allure, Entertainment Weekly, MTV, Bustle, Refinery29, Girls' Life Magazine, Just Jared, and Tiger Beat, among other publications. She's a graduate of the Medill School of Journalism at Northwestern University.