53 Cute Pictures of Prince Harry and Meghan Markle During Their Time as Royals
As of April 1, the duo are no longer senior working royals.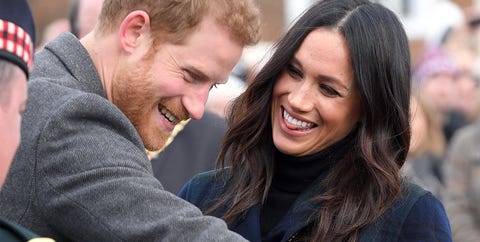 On April 1, Prince Harry and Meghan Markle will no longer be working senior royals. The couple announced back in January that they would be stepping back to focus on their own nonprofit and their new life with their son, Archie. The decision came as a surprise to a lot of people, especially other members of the royal family. But in the end, family is family, and a new plan came to be of the soon-to-be-ex royals.
Naturally, here at Marie Claire, we like to reminisce, especially when it's a couple as hopelessly in love as Harry and Meghan. Therefore, to celebrate their new life (and so we could mourn all the great fashion moments of the past), we gathered every single adorable exchange the two lovebirds have shared since they were first photographed together at the Invictus Games all the way back in 2017. Yes, in 2017!
As the pair settles into their new life in Los Angeles with Markle's mother Doria Ragland, click through to take a trip down memory lane, and relive all Meghan and Harry's sweetest moments.
This content is created and maintained by a third party, and imported onto this page to help users provide their email addresses. You may be able to find more information about this and similar content at piano.io