Meghan Markle's Invictus Games Style Evolution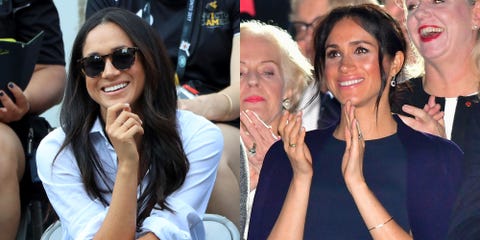 Meghan Markle and Prince Harry are currently in Australia for their first official royal tour. The couple's trip also coincides with the 2018 Invictus Games, which are being held in Sydney. The Invictus Games were started by Prince Harry and are an international sporting event for wounded and sick veterans. Meghan has been attending Invictus-related events with Harry since they went public with their relationship in 2017.
Here's a definitive look at how the Duchess of Sussex's Invictus style has evolved over time.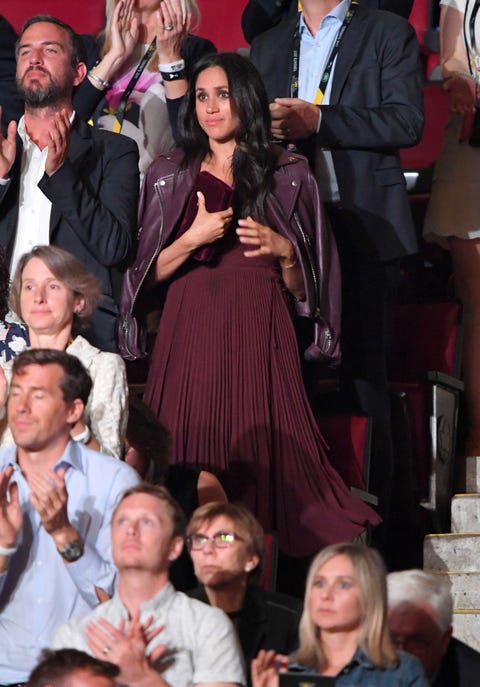 September 23, 2017
Meghan wore a long, flowing burgundy dress to the opening ceremony of the 2017 Invictus Games in Toronto, back when she and Prince Harry were just dating. She draped a purple leather jacket over her shoulders and carried a burgundy clutch that matched her dress.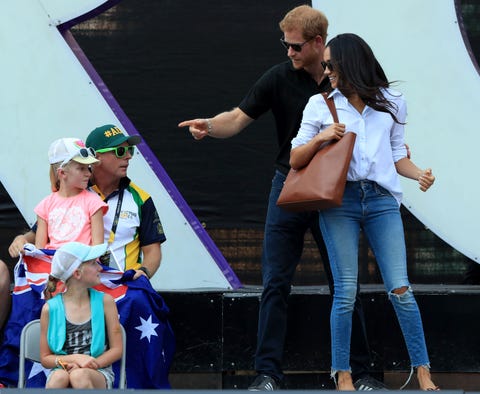 September 25, 2017
Harry and Meghan made their first public appearance together as a couple watching a wheelchair tennis match at the 2017 Invictus Games in Toronto. Meghan kept it REAL casual in a white button-up shirt and ripped jeans—a look that has now become iconic.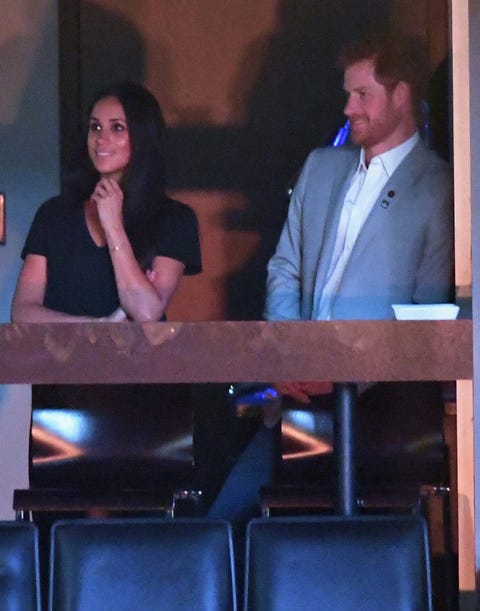 September 30, 2017
Meghan watched the closing ceremony of the 2017 Invictus Games with Harry (and friends and family, who got to meet her future husband at the event) and wore a very simple black top and black pants.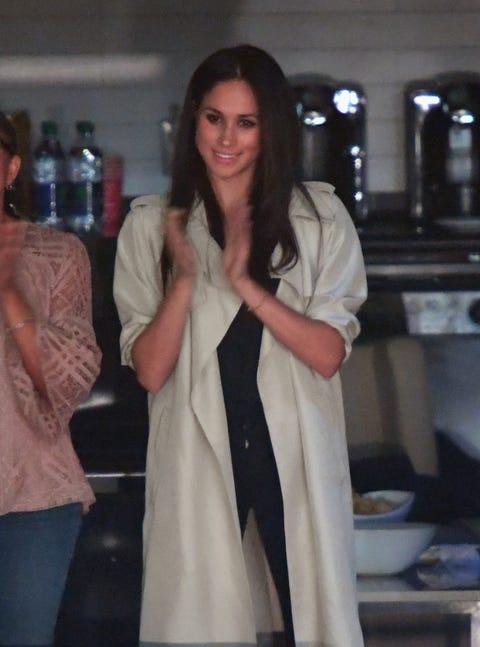 September 30, 2017
In some shots from the 2017 Invictus Games closing ceremony, Meghan can be seen wearing a loose-fitting white coat over her black-on-black ensemble.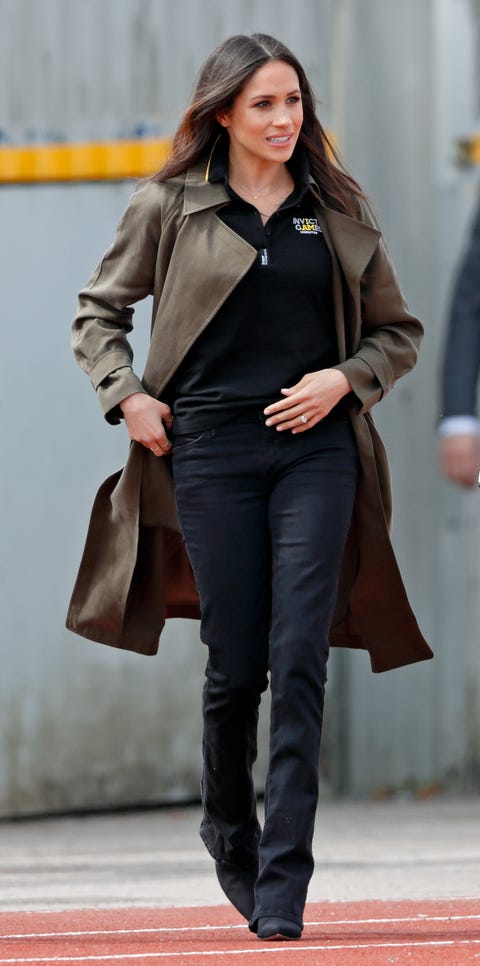 April 6, 2018
In April 2018, Meghan made her first Invictus-related appearance as Harry's fiancée and she looked casual, but on-brand in dark jeans and an official Invictus Games polo shirt. Meghan wore a dark brown coat over the look, which was for the UK team trials for the 2018 Invictus Games in Sydney.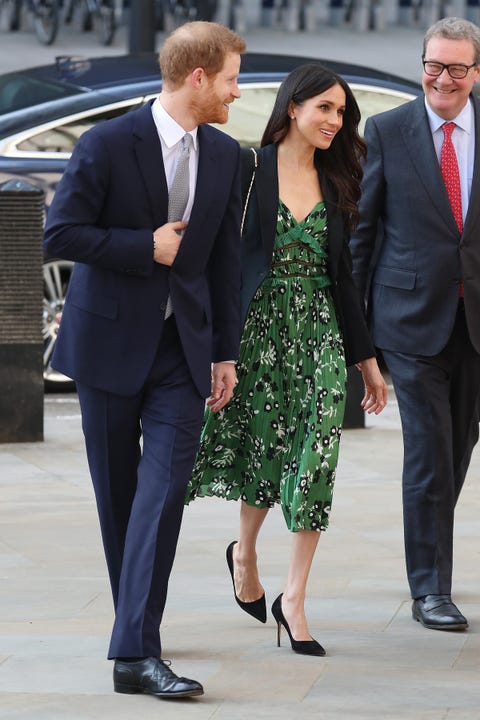 April 21, 2018
For the first time since the opening ceremony of the 2017 Invictus Games in Toronto, Meghan wore a dress for an Invictus event. She wore this green, floral dress with heels and a blazer to an Invictus Games reception at Australia House in London.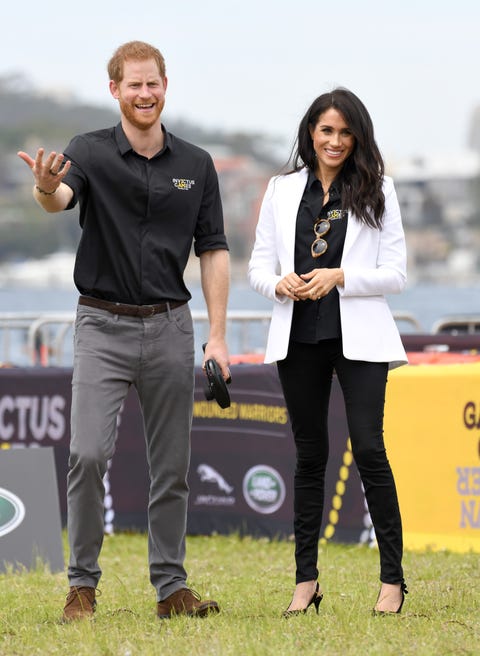 October 20, 2018
The 2018 Invictus Games in Sydney were scheduled to coincide with Meghan and Harry's royal tour of Australia, New Zealand, Fiji, and Tonga. Meghan and Harry both wore official Invictus Games polos to the 2018 Jaguar Land Rover Driving Challenge, a kickoff event for the Games, in Australia. Meghan accessorized her version of the look with a white blazer.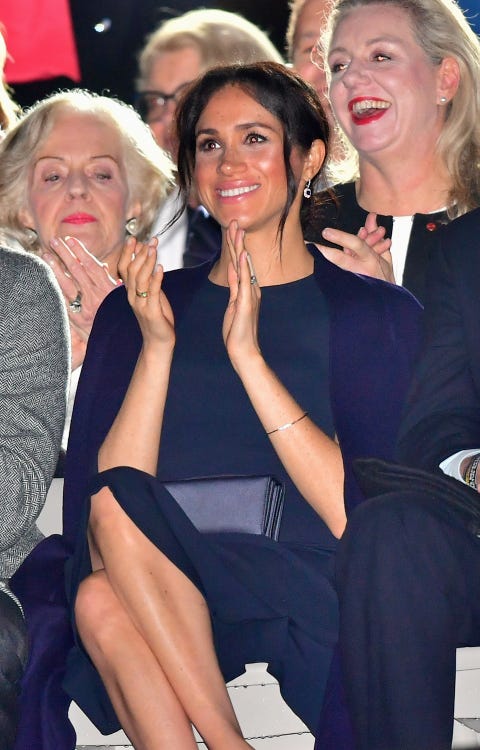 October 20, 2018
Meghan got more dressed up than she ever has before an Invictus-related event for the 2018 Invictus Games opening ceremony. This makes sense, of course, since it's a huge moment for the games and her first time attending as Harry's wife and an official member of the royal family.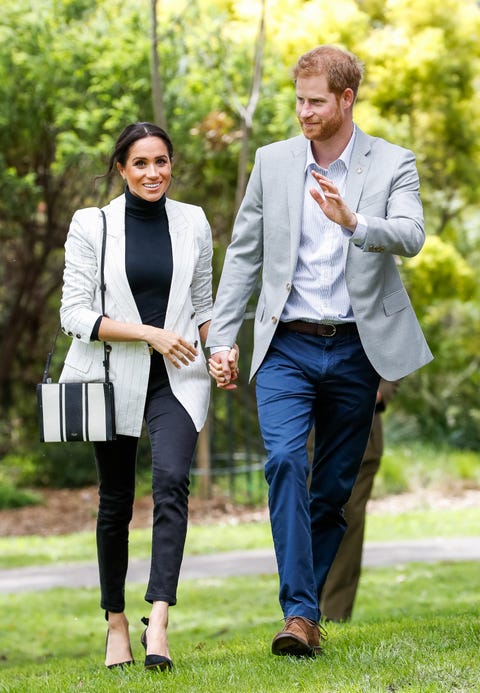 October 21, 2018
Meghan wore black pants, a black tank top, and a white and black striped blazer to a reception hosted by the Prime Minister of Australia and then kept the look for some Invictus-related duties in a park later in the day.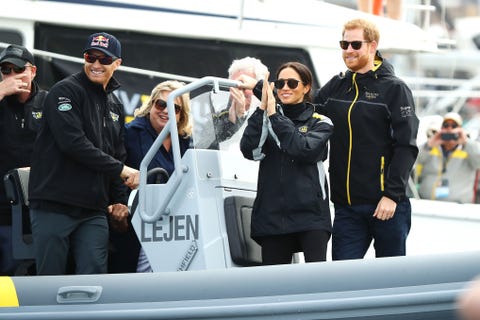 October 21, 2018
Meghan and Harry wore matching Invictus Games gear yet again as they cheered on sailors during day two of the 2018 Invictus Games in Sydney. Meghan wore a waterproof Invictus Games jacket, along with black leggings and white sneakers for her most casual and sporty Invictus look yet.
This content is created and maintained by a third party, and imported onto this page to help users provide their email addresses. You may be able to find more information about this and similar content at piano.io