Where Your Favorite Celebrities Went to College
Yes, they're just like us.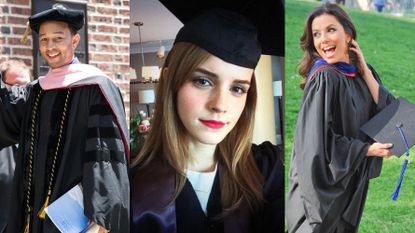 (Image credit: Getty Images)
Sometimes we forget that celebrities are just like us. At one point in their life, they likely went to college, where they studied and often earned degrees in a variety of subjects—yes, besides acting. Ahead, we take a look back at celebs and their alma maters. They too pulled all-nighters, drank too much alcohol, and griped about their meal plans.
1/55
Lady Gaga
New York University
Before she became Lady Gaga, 17-year-old Stefani Germanotta was accepted to the Collaborative Arts Project 21, a music school at NYU's Tisch School of the Arts, and lived in an NYU dorm. She withdrew during the second semester of her sophomore year to focus on her music career.
2/55
Beanie Feldstein
Wesleyan University
Sister of Jonah Hill and childhood BFF to Ben Platt (both attended high school at Harvard-Westlake School in Los Angeles), actress Beanie Feldstein graduated from Wesleyan University in 2015 with a degree in sociology.
3/55
Carrie Underwood
Northeastern State University
Before Carrie Underwood won American Idol, she attended Northeastern State University in Tahlequah, Oklahoma. She graduated magna cum laude with a Bachelor's degree in mass communications with a concentration in journalism.
4/55
Dylan and Cole Sprouse
New York University
The Sprouse brothers chose not to study acting, and attended the Gallatin School of Individualized Study, where students design their own major. Cole majored in archaeology and Dylan majored in video game design.
5/55
Kenny Chesney
East Tennessee State University
Although Kenny Chesney graduated with an advertising degree, he spent his free time at the university in the ETSU Bluegrass Band, where he started writing songs and continued working on his music. He played at bars and fraternity parties, recording his first demo album in Bristol, Virginia, in 1989.
6/55
Kerry Washington
Georgetown University

Before becoming an incredible actress, Washington lived in Washington, D.C. and attended Georgetown University. The actress graduated in 1998 after creating her own major with a combination of psychology, anthropology, and sociology.
7/55
Sandra Bullock
East Carolina University

Bullock graduated from East Carolina University in Greenville, North Carolina, in 1986, where she studied acting in the theater production school.
8/55
Steven Spielberg
California State University
Despite dropping out of college in 1968, director Steven Spielberg ended up finishing his education at California State University 34 years later.
9/55
Reese Witherspoon
Stanford University
After landing her first major role at the age of 15 in The Man in the Moon, Witherspoon enrolled at Stanford University as an English Literature major. The actress did not complete her degree, as her acting career became too demanding, but her love of books would translate to later success with her production company.
10/55
Jessica Chastain
The Julliard School

Chastain graduated from The Julliard School, where she was training in theater, in 2003. The actress was able to attend the performing arts university due to a full scholarship from Robin Williams, who himself graduated from there in 1976.
11/55
Matt Damon
Harvard University
Although Damon dropped out of Harvard in 1992, his time there wasn't a total waste. The actor drew inspiration from his time at the Cambridge university for his Oscar-winning screenplay, Good Will Hunting. The school later granted the famous actor an honorary degree.
12/55
Jennifer Garner
Denison University
When Garner first arrived at Ohio's Denison University in 1990, she was enrolled as a chemistry major. The actress later changed her focus to theater, worked during the summer months for various acting companies, and graduated with her B.A. in theater in 1994. Recently, Garner delivered the commencement address at her alma mater.
13/55
Lupita Nyong'o
Yale University
After graduating from the prestigious Yale School of Drama, Lupita Nyong'o snagged her first major role in 12 Years a Slave, which earned her an Oscar for Best Supporting Actress.
14/55
Alec Baldwin
New York University
Baldwin started college at George Washington University, but transferred to New York University after deciding to study acting. The talented comedian graduated with a degree from the prominent Tisch School of the Arts.
15/55
Octavia Spencer
Auburn University
Spencer graduated from Alabama's Auburn University in 1994, and two years later landed her first role in the film, A Time to Kill.
16/55
Kathryn Hahn
Northwestern University

The comedian attended two prestigious institutions. First, she received her B.A. in Theater from Northwestern University, and then she attended Yale University's School of Drama.
17/55
Ken Jeong
Duke University
The former doctor studied pre-med at Duke University before obtaining his medical degree at the University of North Carolina at Chapel Hill. The physician-turned-comedian told students during a speech at the University of Miami that "everybody has a right to pursue what they want. Whatever reality gives you, you make the most of it and make it your own."
18/55
Kate Beckinsale
Oxford University
Beckinsale landed her first major film roles while studying French and Russian literature as a student at Oxford University. According to a former classmate, journalist Victoria Coren, the actress was "whip-clever, slightly nuts, and very charming," during her time at University. Beckinsale dropped out before her final year as her acting career was picking up, though the actress has recently voiced her desire to finish her degree.
19/55
Téa Leoni
Sarah Lawrence College
Leoni attended the liberal arts college in Bronxville, New York, but did not complete her studies. Instead, the actress moved to St. Croix in the Caribbean and later decided to pursue a career in acting. In 1989, she landed a major role in the television show Santa Barbara and a few years later appeared in A League of Their Own.
20/55
Topher Grace
University of Southern California

After attending boarding school in New Hampshire, where he was actively involved in theater, Grace attended the University of Southern California. However, the actor didn't complete his degree. In 1998, when he was 20, Topher dropped out of USC to play Eric Foreman on That '70s Show.
21/55
Amy Poehler
Boston College
Poehler graduated from Boston College with a Bachelor's degree in media and communications. She was a member of the college's improvisational comedy troupe called "My Mother's Fleabag."

At the 2014 Golden Globes, Poehler made a joke about her time at Boston College when she linked it to a nominee of the award she was giving. "Masters of Sex is the degree I got from Boston College," she said, high-fiving Tina Fey.
22/55
John Legend
University of Pennsylvania
After succeeding in many areas in high school (he was student body president and prom king), Legend was offered admission to Harvard University and given scholarships to Georgetown University and Morehouse College. However, he decided to attend the University of Pennsylvania, where he studied English with an emphasis on African American literature. At college, Legend served as president and musical director of a co-ed jazz and pop a cappella group called "Counterparts."
23/55
Kristen Bell
New York University
Bell studied musical theater at New York University's Tisch School of the Arts and made her Broadway debut while still a student in a musical version of The Adventures of Tom Sawyer.

Bell, who is an advocate on the importance of openness and acceptance when suffering from depression, first started feeling unlike herself while in college.
"I was at New York University, I was paying my bills on time, I had friends and ambition—but for some reason, there was something intangible dragging me down," Bell said. "Luckily, thanks to my mom, I knew that help was out there—and to seek it without shame."
24/55
Giuliana Rancic
University of Maryland
Rancic received a Bachelor's degree in journalism from the University of Maryland, College Park, and a Master's degree in journalism from American University. During this time, she worked for a Capitol Hill news bureau covering stories related to the U.S. government.
25/55
Ben Stiller
University of California, Los Angeles
Stiller enrolled as a film student at UCLA, but after nine months he left school to move back to New York City, his hometown. "I was the guy who dropped out and moved back in with his parents," Stiller said in a 2016 interview.
26/55
Mindy Kaling
Dartmouth College
At Dartmouth College, Kaling majored in theatre. She created her own comic strip, "Badly Drawn Girl," and performed with the Dog Day Players, an improv group. She also took a semester off to intern for Late Night with Conan O'Brien.
In an interview with New York Magazine, Kaling said, "At Dartmouth College, I was freakin' Jaws in a community swimming pool. I wrote plays, I acted, I sang, I was the student newspaper cartoonist."
She followed with advice for students who were not particularly a "star" at their high school.
"I recommend going to college in the middle of nowhere. I got all the attention I could ever have wanted. If I had gone to NYU, right now I'd be the funniest paralegal in a law firm in Boston."
27/55
Lily Collins
University of Southern California
Collins studied broadcast journalism at the University of Southern California before she got her big break at 20 years old, playing Sandra Bullock's daughter in The Blind Side.
28/55
Lil Wayne
University of Houston
Dwayne Michael Carter Jr., a.k.a. Lil Wayne, attended the University of Houston where he majored in political science. In a 2005 interview with MTV, Lil Wayne talks about his decision to go to college.
"I'm not going back to school," clarified Wayne, who's been making music professionally since he was nine years old and recently acquired his GED. "I'm really going to school for the first time."
29/55
Anne Hathaway
Vassar College & NYU
Hathaway spent several semesters studying as an English major and women's studies minor at Vassar College before transferring to New York University's Gallatin School of Individualized Study. She has referred to her college enrollment as one of her best decisions because she enjoyed being with others who were trying to "grow up."
30/55
John Krasinski
Brown University
Krasinski planned to be an English major and deferred his first semester of college to teach English in Costa Rica. He then attended Brown University and graduated as a playwright with honors.
31/55
Brooke Shields
Princeton University
Shields attended Princeton University to pursue her Bachelor's degree in French literature. She was a member of the Princeton Triangle Club and the Cap and Gown Club. Her autobiography, On Your Own, was published in 1985, three years before she graduated.
In recent years, Shields has opened up about losing her virginity to her college sweetheart, the future TV Superman Dean Cain.
32/55
Emma Watson
Brown University
Watson received her Bachelor's degree in English literature from Brown University. Unlike some celebrities who became famous post-college, Watson had been famous (very famous) for years. In an interview with NY Daily News, a source stated that sometimes Watson's classmates "would respond [to her answer] with a quote from 'Harry Potter.'" The most popular choice was "Three points for Gryffindor."
"I was in denial," Watson said in an E! News interview. "I wanted to pretend I wasn't as famous as I was. I was trying to seek out normality, but I kind of have to accept who I am, the position I'm in and what happened."
33/55
Denzel Washington
Fordham University
Washington earned a B.A. in drama and journalism from Fordham University. During his time there, he played basketball as a guard under coach P.J. Carlesimo.
In 2011, Washington gave $2 million to Fordham University to endow the Denzel Washington Chair in Theatre, and also a gift of $250,000 that established the Denzel Washington Endowed Scholarship, which is dedicated to an undergraduate student studying theatre.
34/55