Spoilers for Michelle Young's 'The Bachelorette' Season: What We Know
Who wins Michelle Young's 'Bachelorette' season and gets engaged to her in the end? Ahead, all the spoilers we have from Reality Steve and others.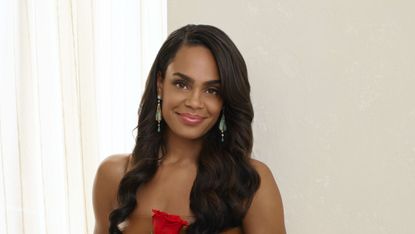 (Image credit: Sami Drasin)
You'd be forgiven for not remembering everything that's happened in Bachelor Nation in 2021. Michelle Young's season of (opens in new tab)The Bachelorette (opens in new tab) caps off an unforgettable year for the franchise—and not in a good way. From the departure of Chris Harrison (opens in new tab) to the racism that swallowed up the season starring Matt James, (opens in new tab) the franchise's first Black Bachelor, it's been...a lot. But Michelle Young, (opens in new tab) the college basketball player-turned-teacher, has been one of the best parts of a turbulent year. Fans are rooting hard for the new Bachelorette to find love...so, does she? If you're here because you're wondering if Michelle got engaged—or if you just crave spoilers in general—you're in the right place.
First, a refresher: Michelle came in second on Matt's season, later explaining that she was denied closure after Matt broke up with her on their final one-on-one date. "I had to walk away without closure, and I had to fill in the gaps of what our relationship really was," she told Matt at the After the Final Rose special early this year.
Announced as one of two Bachelorettes at the special, Michelle filmed her season between July and September this year (a schedule planned so that she could return for the new school year). Hers was the first season in almost two years that involved international travel, with Michelle and her final contestants flying to Mexico for the final few dates.
Does Michelle get engaged?
So, let's get down to it. Does Michelle find her perfect match—bad basketball pun intended—and get engaged at the end of her season?
Yes!
Michelle is engaged to Nayte Olukoya.
Per Reality Steve, (opens in new tab)Michelle leaves the season engaged to Nayte, a 27-year-old sales executive who lives in Austin, Texas. (Michelle lives and works in Minnesota, so there's likely a cross-country move in the works.) Per Nayte's ABC bio (opens in new tab): "He has a smile that sparkles like the stars, he is always the life of the party; and to boot, he is a 6-foot, eight-inch Adonis of a man."
When she first met Nayte, Michelle was "honestly very attracted to him," she told E!. (opens in new tab) "I think the biggest part was when we sat down, we just had a natural conversation."
The love story at the crux of the season—presumably between Michelle and Nayte—"unfolds beautifully," co-host Tayshia Adams told E!. "It's like a fairy tale, which is different, I think...You guys will understand that word at the end." Of Nayte and Michelle's immediate connection, Tayshia said: 'There was just an unspoken chemistry there, which was really cool to watch.'"
As for Michelle's runner-up, that's a guy named Brandon Jones, per Reality Steve. Here he is:
While social media sleuths speculated that Reality Steve might be wrong and Michelle might actually be engaged to another man—Joe Coleman (opens in new tab), a fellow college basketball player who lives close to Michelle and was spotted with her at a basketball game—it seems likely that Michelle and Joe just ran into each other at the local game, and that Michelle is very much engaged to Nayte.
And if you're curious about the many, many men that Michelle sent home before narrowing the field to Nayte and Brandon in Mexico, here's our guide to Michelle's cast of men. (opens in new tab)
RELATED STORIES