Who Every 'Big Little Lies' Cast Member Is Dating IRL
If you thought their onscreen love lives were good, just wait.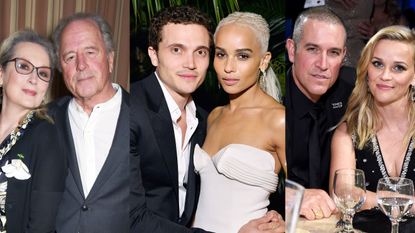 (Image credit: Bridget Burns)
The second season of Big Little Lies is almost back, and I can't wait to see what's about to go down in Monterey. At the end of last season the women all came together, someone close to them died, and their quaint little town was turned upside-down. I'm living for the drama, but also for Meryl. The icon herself is joining the cast for the second season, and it can't be June 9 soon enough. To hold us over for the last few weeks, I dug around to see who the cast spends time with when they aren't filming. Spoiler: these badass women and men work hard and love even harder.
1/12
Nicole Kidman
Kidman is married to country singer Keith Urban. They met at the 2005 at the G'Day USA gala in Los Angeles, and four months later he called. Urban said he "had things to take care of" before he could ask Nicole out. The pair have now been married for 12 years. Kidman credits their success to focusing on the "us". "I think it's knowing that you have to keep contributing to what we call the 'us.' You go, 'Does this work for us?'" she shared with People. Together they share two daughters, Sunday Rose and Faith Margaret. And yes, they really are that nauseatingly cute IRL.
2/12
Reese Witherspoon
Witherspoon is married to Hollywood agent Jim Toth. The pair met at a party where he helped Reese with a drunken admirer. He literally saved her from a drunk guy hitting on her and getting in her face. I mean, hero?!? The pair began dating in January of 2010. Reese shared with Elle how the pair fell in love. "Jim said 'I'm gonna show you every day what a good partner is, what a good person is. I'm going to take care of you. I'm gonna do this so much that you're gonna get used to it. 'I was like 'What are you talking about?' I've never had anybody like that in my life."
The two married in March of 2011. Jim is a constant support for Reese. "I get a lot of support from my husband," she told Marie Claire. "He cares deeply about equality and always tells me,'Why wouldn't you call the person in charge of a company and have a personal relationship with them?' He's encouraged me to be outspoken."
On September 27, 2012 they welcomed a son, Tennessee James Toth. Tennessee is Witherspoon's third child; she also has daughter Ava and son Deacon from her previous marriage to Ryan Philippe.
3/12
Shailene Woodley
The actress currently has no official romantic ties. She was linked to rugby player Ben Volavola starting in 2017, but their status is currently unknown. The pair went IG official in 2018 and he attended a few fashion shows together.
Recently, Woodley has been vocal about how hard it is to date. She shared her love of sex in a recent InStyle interview. "I mean, I love sex. I love the power of emotional connection via physicality. Who doesn't? But now I'm only interested in those unexpected impactful connections." Still, the actress believes "love is scary".
4/12
Meryl Streep
Streep and sculptor Don Gummer met in March of 1978. Streep was mourning the death of her boyfriend John Cazale when she leaned on Gummer, a friend of her brother's, for support. They dated six months before their September garden wedding, according to People.
Together they have four children. Musician Henry Wolfe, 36, actresses Mamie, 32, Grace, 29, and model Louisa, 24.
Meryl thanked Don in her 2012 acceptance speech for Best Actress in Iron Lady. "First I'm going to thank Don, because when you thank your husband at the end of the speech they play him out with the music," she said. "And I want him to know that everything I value most in our lives you've given me."
5/12
Zoë Kravitz
Kravitz is engaged to fellow actor Karl Glusman. Introduced by mutual friends, they began dating in 2016.
Zoë announced their engagement in October 2018 to Rolling Stone. "Oh yeah, I'm engaged," she shared to her interviewer. The pair had been secretly engaged since February.
6/12
Laura Dern
Dern typically keeps her love life under wraps. She publicly dated ex-husband Ben Harper for close to a decade, and they have two children, Ellery and Jaya.
Most recently, Dern has been tied to former NBA player Baron Davis. The pair made waves in December of 2017 with some adorable PDA pics. Though rarely seen out in public, Laura mentions her boyfriend in interviews.
7/12
Alexander Skarsgård
The Swedish hottie played husband to Kidman on BLL. You were captivated by his intense demeanor and also completely terrified of him. Things IRL definitely move at a different pace for the Skarsgård brother.
The actor has been linked to designer Alexa Chung in recent years. The pair has been on-and-off again since 2015. In the past few months Skarsgård has made it clear he's currently single and looking for a wife. A British wife, according to an interview with The Times. "From a very early age, I've always thought I'll end up with a Brit. There's something about the mentality. Brits have a sensibility that I respond to. They make fun of themselves in a way that I really appreciate."
8/12
Adam Scott
You know him from the show as Reese's husband Ed. When he isn't acting, he's a very committed father and husband. Scott has been married to Naomi Sablan since 2005. His wife also works in Hollywood as a producer. Together the couple has two children. Son, Graham, and daughter Frankie.
9/12
10/12
Jeffrey Nordling
You may remember him as Renata's calm husband. He's just as loyal to his family off-screen. The actor is married to Francia Demise. Together, they have three children: Twins Eloise and Iris were born in 1996 and daughter Miranda two years later in 1998.
11/12
Larry Sullivan
Sullivan plays character Oran in Monterey, and in real life married to David Monahan. The two have been together for close to two decades. Together, they're fathers to son Cooper. Cooper and dads went viral after appearing in a Campbell's commercial. The ad led to the pair being People's Sexiest Pitchmen Alive in 2015.
12/12
Santiago Cabrera
You may remember him as Reese's sexy BLL hookup. (We're all still thinking about it.) The actor is married to Anna Marcea. The pair met studying at London's Drama Center. Married in 2003, they welcomed a son Kilian in 2016. Cabrera refers to his son as his "pride and joy".
Krystyna was the former Social Media Editor of Marie Claire where she oversaw all things social media and connected with MarieClaire.com readers. She came to Marie Claire from Racked.com, where she was the Community Manager. Before that, Krystyna was at Latina Mag and Cosmo for Latinas. She graduated with a Marketing major from Fordham University.