The Best 'Normal People' Sex Scenes, Ranked
Warning: Extreme steaminess ahead.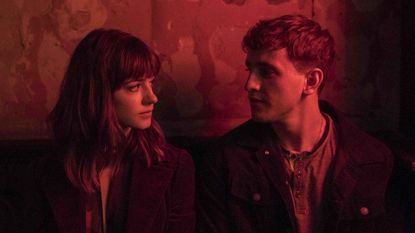 (Image credit: Hulu)
Hulu's newest original series, Normal People, is an exploration of first love and all of the ups and downs (and ups again) that come with it. Based on the 2018 novel by Sally Rooney, Normal People follows young lovers Marianne and Connell through the tumultuous early years of their romance. Its brutal honesty isn't limited to the way Marianne and Connell emotionally ravage each other; there's plenty of physical ravaging, too, by which we mean...sex. The show has a lot of sex scenes depicted in a refreshingly honest and real way that isn't typically shown on television thanks to the help of an intimacy coordinator and, well, great acting. Here, a definitive ranking of the best Normal People sex scenes from the 12-episode season. (P.S. You can sign up for a free Hulu trial here to start watching.)
Marianne's First BDSM Relationship — Episode 7
Normal People explores many facets of sex from the beautiful to the awkward to the uncomfortable. In episode seven, Marianne reveals that her current relationship with Jamie involves BDSM elements. Even though the show makes it clear that Marianne consents to and even seeks out BDSM relationships, it's not entirely clear in the scene that follows how much she enjoys it (Jamie dominates a fully-clothed Marianne and pulls her hair), making this one of the least sexy sex-filled moments in the series.
Marianne's Second BDSM Relationship — Episode 9
After ending things with Jamie, Marianne initiates a BDSM relationship with her boyfriend, Philip. The move is clearly positioned as a way to save the relationship, which she tells him directly she isn't satisfied with. Unfortunately, Marianne finds herself with another partner who doesn't make her feel safe and satisfied while exploring submissive sex.
Marianne's "You're Not the One" Sex — Episode 5
In episode five, we get a brief glimpse of Marianne's unsatisfying sex with her college boyfriend. Unsurprisingly, she dumps him not long after this clearly meh sex.
Marianne Asks Connell to Try BDSM — Episode 11
In the penultimate episode of the series, Marianne and Connell reunite, sexually, after several episodes (and, in the timeline of the series, several years) of platonic friendship. The moment is emotionally raw and real, but things take a turn when Marianne asks Connell to engage in BDSM with her and he declines. She quickly spirals into shame and the sexual reunion is over as quickly as it started.
The Car Sex Montage — Episode 2
The Emotional Intimacy Bang — Episode 2
You know that moment when you feel comfortable enough with your partner to start having Big Serious Talks during sex? Marianne hits that milestone in episode two when, while still straddling her secret boyfriend Connell, she directly asks him if he has a crush on anyone else. Major bonus points for her honesty and guts.
The Morning Quickie — Episode 6
After an uncomfortable evening involving an unsuccessful threesome proposition from one of Marianne's friends, Marianne and Connell try to work through the awkwardness with some morning sex—which starts as mutual masturbation and escalates to an intense quickie.
Connell and Helen Make Love — Episode 9
Aside from Marianne, Connell's only longterm relationship on the show is with Helen. Their relationship is, for the most part, healthy and loving, and their sex life is intimate and tender, as seen in episode nine.
The "We're So Insatiable" Hookup — Episode 2
Once Marianne and Connell start having sex, they're ALL. IN. In the second of four sex scenes in the show's second episode, they embrace all of their urges and clearly become comfortable exploring each other's bodies. So many fire emojis.
The First Time — Episode 2
The first episode of the series features zero sex scenes, but the second episode more than makes up for it with a whopping four sex scenes in a single 28-minute piece of TV magic. Of all the sex scenes in the episode, the first is the best. Not only does it capture the awkward beauty of high school love, but it also serves as a masterclass in enthusiastic consent. Connell not only confirms verbally with Marianne that she wants to have sex, but makes it explicitly clear that she can—and should—tell him to stop at any point if she's uncomfortable or changes her mind.
The Second First Time — Episode 5
After the devastatingly painful demise of their high school love, Marianne and Connell reunite in college and, eventually, decide to give things another chance. After several weeks of sexual tension, they finally give into their desire. The sex has all of the passion of their first time with none of the awkwardness.
The Last Time — Episode 12
Older, wiser, and finally back together, the last episode of the series finds Marianne and Connell reunited and feeling so, so good. They've always understood each other's bodies and now they're both, finally, as emotionally open with each other as they are physically. They fluidly switch positions like they're dancing to a special sex choreography only they know. It's tender and passionate and comfortable in a way that their sex with other people (and sometimes each other) rarely seems to be.
•••
For more stories like this, including celebrity news, beauty and fashion advice, savvy political commentary, and fascinating features, sign up for the Marie Claire newsletter.
Kayleigh Roberts is a freelance writer and editor with more than 10 years of professional experience. Her byline has appeared in Marie Claire, Cosmopolitan, ELLE, Harper's Bazaar, The Atlantic, Allure, Entertainment Weekly, MTV, Bustle, Refinery29, Girls' Life Magazine, Just Jared, and Tiger Beat, among other publications. She's a graduate of the Medill School of Journalism at Northwestern University.