The Best Love Triangles In Movie History
From Gone With the Wind to Mean Girls, these are cinema's most fraught love triangles.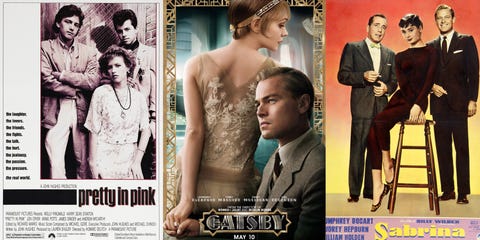 Shutterstock + Everett Collection + Getty Images
What will make a love story even more dramatic? Add another person. Love triangles have been a cinematic go-to since the days of silent films. These three-way love connections have the power to turn casual viewers into full-on stans and transform movie watching into a competitive experience. From the classic good guy versus bad boy dynamic of movies like Titanic to modern-day vampire lust in Twilight, we've rounded up some of cinema's most fraught love stories.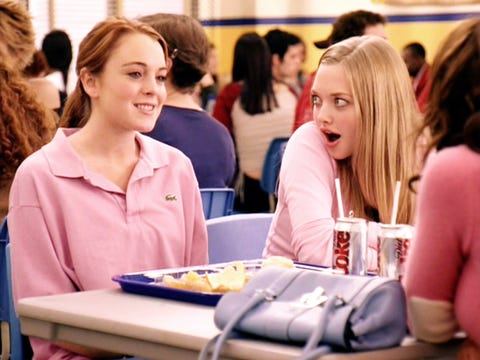 CBS Photo Archive
Getty Images
Mean Girls
Released: 2004
Triangle: Cady, Aaron, and Regina
Mean Girls is a case study in girl-on-girl bullying—and proof that Aaron Samuels' hair looks sexy pushed back. In Tina Fey's high school comedy classic, frenemies Cady (Lindsay Lohan) and Regina (Rachel McAdams) compete over, among other things, the affection of Aaron "Terrible at Math" Samuels (Jonathan Bennett).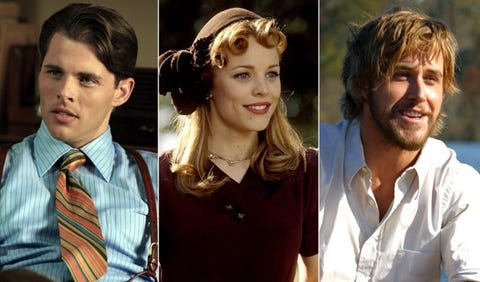 The Notebook
Released: 2004
Triangle: Noah, Allie, and Lon
The Notebook is a story of love-almost-lost. And no complicated and winding path to happily ever after is complete without a detour down Triangle Lane. Before Noah (Ryan Gosling) and Allie (Rachel McAdams) end up together, she comes *this close* to marrying nice guy Lon (James Marsden).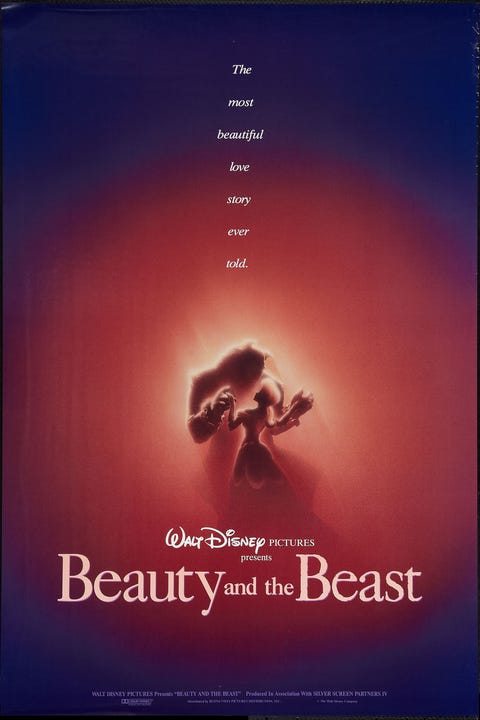 ©Buena Vista Pictures/Courtesy Everett Collection
Beauty and the Beast
Released: 1991
Triangle: Gaston, Belle, and the Beast
You know that feeling when the popular jerk wants to marry you, but you would rather be the prisoner/eventually wife of a literal monster? Belle does. The Disney princess was pursued romantically by two very different suitors in this Disney favorite.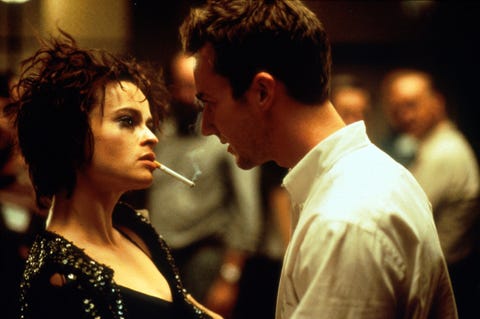 Fight Club
Released: 1991
Triangle: The Narrator, Marla Singer, and Tyler Durden
Like everything else about the movie, Fight Club's twist on the love triangle between Edward Norton, Helena Bonham Carter, and Brad Pitt's characters is definitely unique.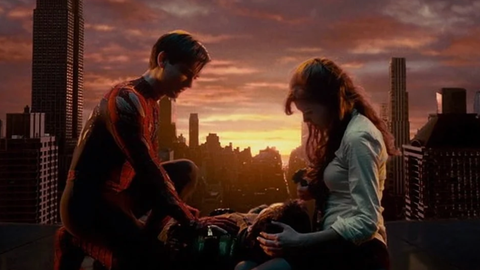 Spider-Man
Released: 2002
Triangle: Peter, Mary Jane, and Harry
Before Sony and Marvel were battling it out over Spidey's future, before Andrew Garfield and Emma Stone fell for each other IRL while filming their own version of the story, there was the OG Spider-Man movie, which came complete with a love triangle between Peter Parker (Tobey Maguire), his OTP Mary Jane Watson (Kirsten Dunst) and his BFF/future nemesis Harry Osbourn (James Franco).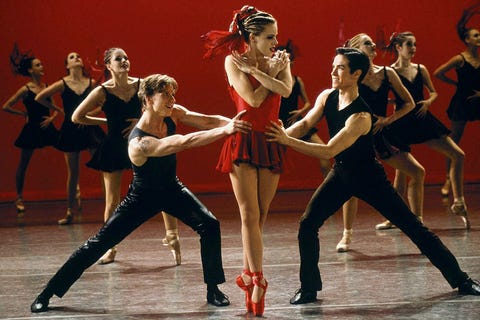 Center Stage
Released: 2000
Triangle: Cooper, Jody, and Charlie
Lots of movies include love triangles (clearly), but how many turn them into epic ballet/hip-hop/interpretative dance hybrids for their finale? At least one. In Center Stage, unlikely ballerina Jody (Amanda Schull) is torn between professional dancer/bad boy Cooper (Ethan Stiefel) and nice guy (and also a fellow dancer) Charlie (Sascha Radetsky).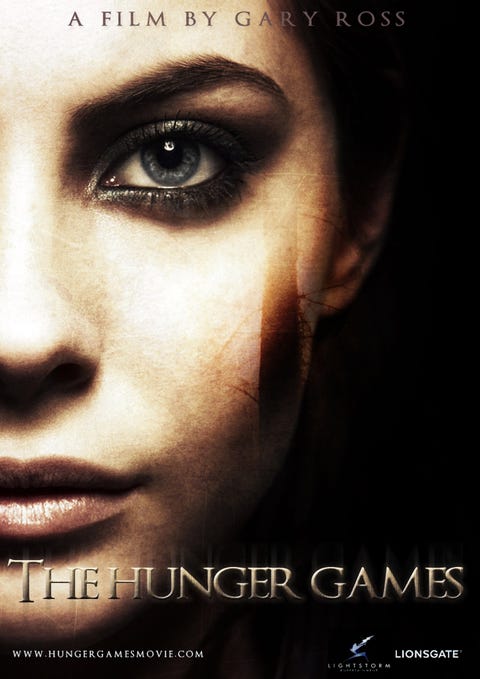 ©Lions Gate/Courtesy Everett Collection
The Hunger Games
Released: 2012
Triangle: Peeta, Katniss, and Gale
The Hunger Games is proof that, even when characters are literally fighting for their lives, fans also want to see them fight for each other's hearts. In the Hunger Games series, Katniss (Jennifer Lawrence) is caught between sweet, always-loyal Peeta (Josh Hutcherson) and brooding, strong Gale (Liam Hemsworth).
Titanic
Released: 1997
Triangle: Jack, Rose, and Cal
Titanic is one of the most epic love stories ever committed to film, so it's easy to forget sometimes that the movie is also a member of the love triangle society. Even though Jack (Leonardo DiCaprio) and Rose (Kate Winslet) are clearly tragic soulmates, we can't forget that Jack is, technically speaking, a sidepiece, since Rose is officially with Cal (Billy Zane) when they meet.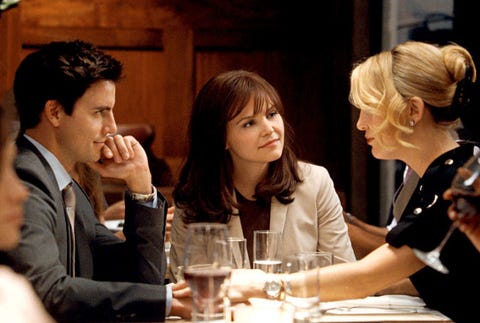 Warner Bros. Pictures/Courtesy of 2011 Alcon Film Fund, LLC
Something Borrowed
Released: 2011

Triangle: Rachel, Dex, and Darcy

Rachel (Ginnifer Goodwin) loves Dex (Colin Egglesfield), who happens to be engaged to her best friend, Darcy (Kate Hudson). Talk about inconvenient. But when Rachel and Dex realize their feelings for each other can't be ignored, Rachel wavers between playing the role of supportive friend and backstabbing temptress. While we don't condone actively ruining relationships, this is one instance where we're rooting for the other woman.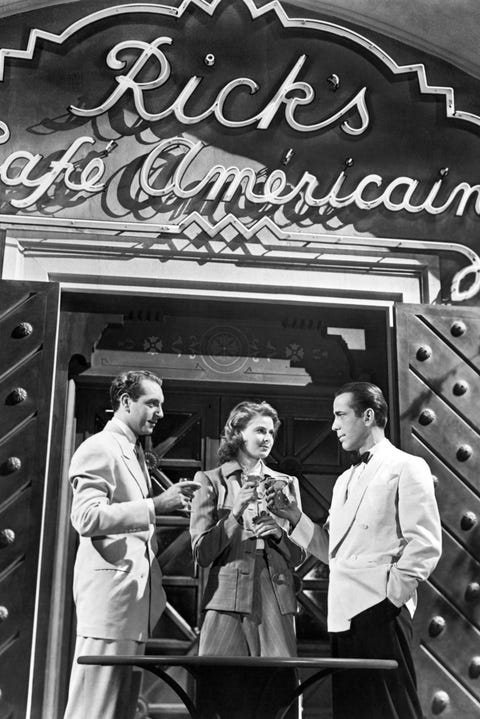 Underwood Archives
Getty Images
Rick's Café Americain
Released: 1942
Triangle: Rick, Ilsa, and Victor
After roaming around Europe, expat Rick (Humphrey Bogart) has made himself a new life in Casablanca. Rick obtains some valuable war documents, which leads him to meet Czech resistance leader Victor (Paul Henreid). Accompanying Victor is his wife, Ilsa (Ingrid Bergman), who just happens to be Rick's former lover who abandoned him in Paris. Victor needs the documents Rick is entrusted with to escape Morocco, but Rick refuses to hand them over. We don't blame him—what kind of guy gives up both the girl and the goods?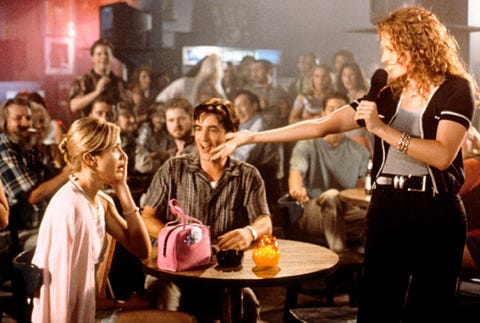 Sony Pictures Entertainment/Photofest
My Best Friend's Wedding
Released: 1997
Triangle: Julianne, Michael, and Kimberly
Best friends Michael (Dermot Mulroney) and Julianne (Julia Roberts) promise to wed if neither are attached by the time they're 28. Days before her fateful birthday, Julianne receives the news that Michael is set to marry a young, hot blonde. If that's not enough of a letdown, Michael's fiancée, Kimberly (Cameron Diaz), is, well, perfect. Chaos ensues, including Julianne's futile attempt to explain that while Michael is Jell-O, Kimberly will always be crème brûlée. Who knew dessert could be so enlightening?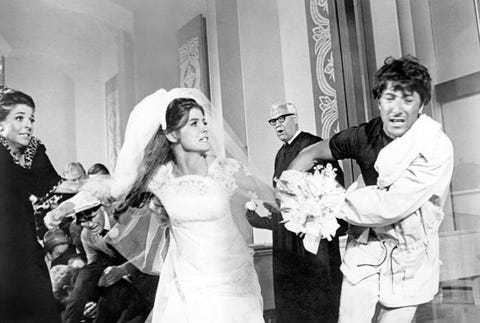 Embassy Pictures Corporation/Photofest
The Graduate
Released: 1967
Triangle: Mrs. Robinson, Benjamin, and Elaine
Long before the term "cougar" entered the lexicon, Mrs. Robinson (Anne Bancroft) was setting the standard for MILFs everywhere. College grad Benjamin (Dustin Hoffman) finds himself in a sticky situation when he begins an affair with the much-older wife of his father's business partner. To make matters worse, he finds himself dating—and falling for—her age-appropriate daughter, Elaine (Katharine Ross). Talk about keeping it in the family. We're just glad Grandma wasn't thrown into the equation.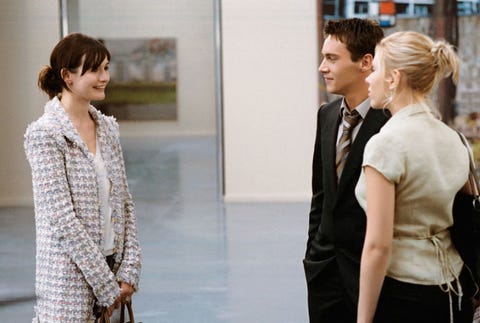 Match Point
Released: 2005
Triangle: Nola, Chris, and Chloe
Chris (Jonathan Rhys Meyers), a former tennis pro turned instructor, is introduced to friend Tom's little sister, Chloe (Emily Mortimer). She sparks Chris' interest but doesn't catch his eye quite like Tom's girlfriend Nola (Scarlett Johansson). Proving he's as skilled at juggling women as tennis balls, Chris carries on an affair with Nola soon after marrying naive Chloe. Nola then throws a curveball at her lover, resulting in a catastrophic ending for both. Put simply, this Woody Allen thriller makes us thankful for background checks.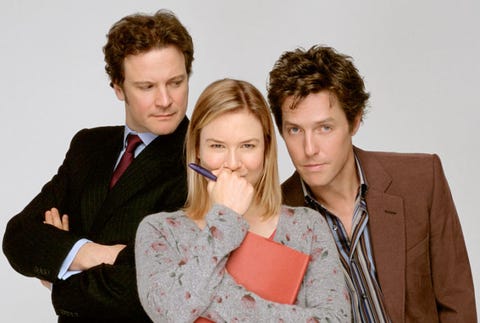 Jason Bell/Miramax Films/Universal Pictures
Bridget Jones's Diary
Released: 2001
Triangle: Mark, Bridget, and Daniel
Finally, a damsel in distress with real-life woes we can relate to. Insecure with her weight, career, and imperfections, Bridget (Renée Zellweger) makes a resolution to journal the truth and nothing but the truth. Things soon get complicated when she must juggle the affections of her seedy boss Daniel (Hugh Grant) and the much-too-uptight Mark Darcy (Colin Firth). All ends well with Bridget's story, reassuring us that you don't have to be perfectly poised to find Mr. Right.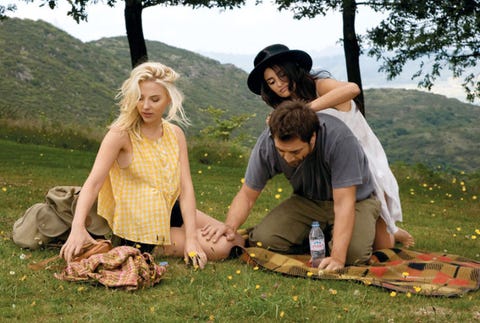 The Weinstein Company/Photofest
Vicky Cristina Barcelona
Released: 2008
Triangle: Cristina, Juan Antonio, and Maria Elena
Surprise! Yet another movie where ScarJo finds herself mixed up in a romantic trio. Risk-taker Cristina (Scarlett Johansson) and modest Vicky (Rebecca Hall) travel to Spain and meet artist Juan Antonio (Javier Bardem). He boldly asks them to spend a weekend together, and the women agree. Juan's serious baggage—in the form of his psychotic, knife-wielding ex-wife, Maria Elena (Penélope Cruz)—joins the bunch and, naturally, complicates things further.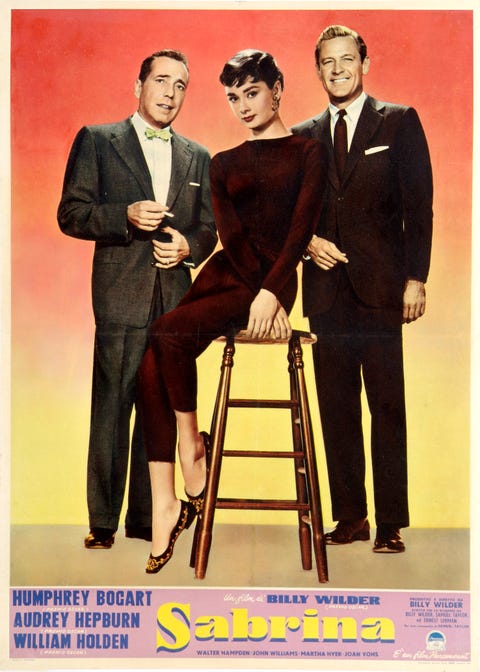 Movie Poster Image Art
Getty Images
Sabrina
Released: 1954
Triangle: Linus, Sabrina, and David
Ultimate bachelor David (William Holden) has ignored the affections of young, shy Sabrina (Audrey Hepburn) for years. After a brief stint in Paris, Sabrina returns a new woman, catching the eye of her womanizing former crush. David's brother, Linus (Humphrey Bogart), recognizes the relationship's threat to David's upcoming wedding and business deals, so he decides to split up the two by making Sabrina fall in love with him. Easier said than done, especially in the case of bad boy versus Mr. (Kind Of) Nice Guy.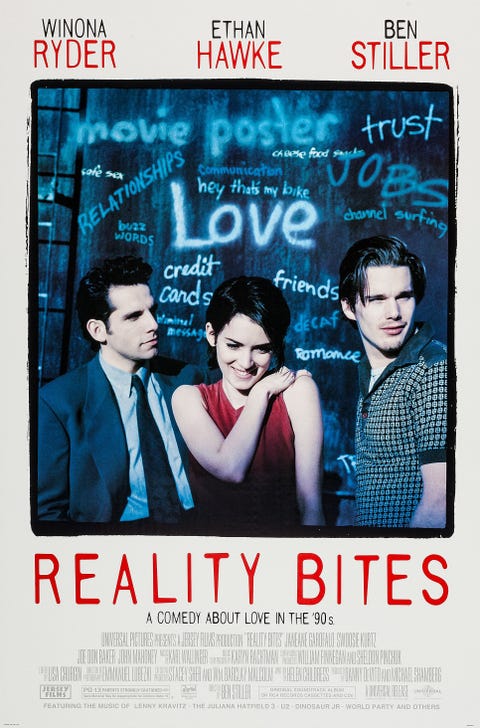 ©Universal/Courtesy Everett Collection
Reality Bites
Released: 1994
Triangle: Troy, Lelaina, and Michael
Ah, the '90s: Lelaina (Winona Ryder) is an aspiring filmmaker documenting the lives of her roommates, including long time friend Troy (Ethan Hawke). Although the unspoken attraction between the two once led to a drunken night together, Lelaina begins dating TV exec Michael (Ben Stiller) after he crashes into her car. The two soon fizzle, and Lelaina finds herself in the unassuming arms of Troy yet again. But things get dramatic when Troy doesn't return her calls, proving to us even angsty, artsy types are guilty of bad-boy behavior.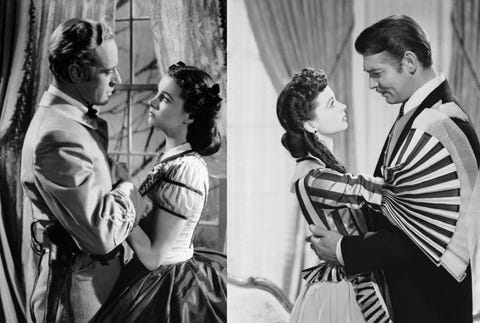 Gone With the Wind
Released: 1939
Triangle: Rhett, Scarlett, and Ashley
In the midst of the Civil War, Scarlett (Vivien Leigh) is desperate (and may we add, a little selfish?) for the affections of two different men: new suitor Rhett (Clark Gable) and longtime love Ashley (Leslie Howard). Several years, marriages, children, and (sheesh!) deaths later, Rhett becomes fed up with Scarlett's indecisiveness and chooses to leave her with one of the most famous lines in movie history: "Frankly, my dear, I don't give a damn!"
This content is created and maintained by a third party, and imported onto this page to help users provide their email addresses. You may be able to find more information about this and similar content at piano.io