The Cast of 'Ginny and Georgia': Your Guide
Get to know everyone in Wellsbury (and beyond).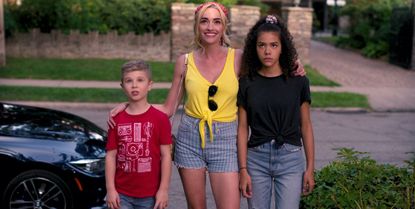 (Image credit: Netflix)
Marie Claire Newsletter
Celebrity news, beauty, fashion advice, and fascinating features, delivered straight to your inbox!
Thank you for signing up to Marie Claire. You will receive a verification email shortly.
There was a problem. Please refresh the page and try again.
Ginny and Georgia, which first premiered on Netflix in February 2021, starts with the same basic premise (and similarly alliterative title) as Gilmore Girls, then turns the craziness up to 11. The drama revolves around a young mother and her angsty teen daughter—and her young son, though he's sadly excluded from the show's title and most of its drama—who move to a small New England town. And that's pretty much where the similarities to Gilmore Girls end: In its first season, Ginny and Georgia proceeded to introduce a tangle of increasingly more intense plotlines that encompass everything from love triangles to childhood trauma to systemic racism to an ongoing murder investigation. The Lorelais could never!
Now that season 2 of Ginny and Georgia has finally hit Netflix, it's the perfect time for a refresher on all of the residents of Wellsbury, Massachusetts, who are much nuttier and more diverse—and have way more skeletons in their closets—than anyone you'll meet in Stars Hollow. To help you keep track, here's your guide to the cast of Ginny and Georgia.
1/18
Antonia Gentry as Ginny Miller
Like her counterpart in the Amy Sherman-Palladino universe, 15-year-old Ginny finds herself taking on the role of the responsible adult in her household all too often. When she's not mothering her mother, she's coming to terms with her biracial identity, exploring her sexuality, and realizing that there are way more secrets in her family's past than she could've ever imagined.
Ginny and Georgia is a breakout role for Gentry, who graduated from Emory University the same week she auditioned for the show. Prior to this, she appeared in the Netflix film Candy Jar and in an episode of the streamer's series Raising Dion.
2/18
Brianne Howey as Georgia Miller
As a 30-year-old mom of two, Georgia's main focus is giving her kids the stable, loving childhood she never had. Unfortunately, this becomes more and more difficult as secrets from her past begin coming to light in the wake of her husband's mysterious death.
With more than a decade in Hollywood behind her, this definitely isn't the first time you've seen Howey on your TV screen. Most recently, the California-born actress has appeared in Dollface, The Passage, and Batwoman, and in the 2019 rom-com Plus One.
3/18
Diesel La Torraca as Austin Miller
Though tragically excluded from the show's title and his mom and sister's matching G names, 9-year-old Austin is here, too! His main character traits seem to be a deep obsession with Harry Potter and an uncanny ability to pull off his very round, HP-inspired glasses.
He hasn't yet reached double digits, but La Torraca already has quite a bit of experience under his belt. He got his start in 2019's Little Monsters, opposite Lupita Nyong'o, and has since appeared in the TV shows Lambs of God and The Secrets She Keeps. He'll next star in Netflix's upcoming animated film Back to the Outback.
4/18
Jennifer Robertson as Ellen Baker
Ellen lives next door to the Millers' new home, and is a quintessential "wine mom." She's the mother of twins Maxine and Marcus, both of whom become fast friends with Ginny.
Robertson is easily most recognizable from her role as Jocelyn Schitt on Schitt's Creek, but the Canadian has also appeared in a ton of films and TV shows throughout her 20-year career, including several episodes of Degrassi: The Next Generation and, next up, the film Hello, Goodbye, and Everything in Between.
5/18
Sara Waisglass as Maxine Baker
Ellen's daughter Maxine is bold, outspoken, and the coolest girl in school, and she quickly takes Ginny under her wing—though an ill-fated crush soon drives a painful rift between them.
Like her onscreen mom, Waisglass is also a Canadian with Degrassi on her resume: She starred as Frankie Hollingsworth in The Next Generation, Next Class, and even the Degrassi TV movie Don't Look Back. More recently, she's held recurring roles on Suits, Holly Hobbie, and October Faction.
6/18
Felix Mallard as Marcus Baker
Though troublemaker Marcus is basically the exact opposite of his twin sister Maxine, Ginny finds herself equally drawn to him—which is made a whole lot trickier by the existence of Marcus' girlfriend Padma.
Like many of his Australian brethren, Mallard got his start on the long-running soap opera Neighbours and several of its spinoffs before making his way to Hollywood. Since then, he's landed main roles on Happy Together, Locke & Key, and Zoey's Extraordinary Playlist.
7/18
Scott Porter as Paul Randolph
As the mayor of Wellsbury, Paul is your classic small-town nice guy. He's too busy trying to secure reelection—and a bit too clueless—to realize he might be getting taken advantage of by Georgia.
In "I feel old" news, the man now playing a charming 40-something is probably still most recognizable in our clear eyes and full hearts as a high-schooler, Jason Street from Friday Night Lights. In between then and now, he's also popped up in Hart of Dixie, Scorpion, Why Women Kill, and more.
8/18
Raymond Ablack as Joe
Georgia also can't keep herself from starting up a flirtation with Joe, a local restaurateur who seems gruff on the outside but is really just a big softie under those plaid shirts. (Remind you of anyone, Gilmore Girls fans?)
Another Canada native with Degrassi on his resume, Ablack played Sav on The Next Generation before going on to land roles in Orphan Black, Shadowhunters, and Narcos. Fun fact: He got his start as a child star, playing young Simba in stage productions of The Lion King in Toronto.
9/18
Mason Temple as Hunter Chen
Hunter is Ginny's new boyfriend, with whom she's able to open up about being biracial in a very white town. His awkward but sweet nice guy persona might pale in comparison to Marcus' dangerous, exciting one, but here's a tip, Ginny: Always choose the guy who willingly reads Pride & Prejudice for you.
Ginny & Georgia marks Temple's big break: The Canadian had previously only appeared in one episode each of iZombie and Six. Since season 1, he's appeared in V.C. Andrews' Landry Family, the Lifetime adaptation of Andrews' Ruby Landry novels.
10/18
Katie Douglas as Abby
Abby has been BFFs with Max since they were kids. Though she bristles when Ginny's first brought into the group, they eventually find some common ground in relation to their tumultouos home lives.
Douglas is a Canadian actress whose been working in TV since she was young. You may recognize some of her prior shows, including the Hulu drama Saving Hope, the dystopian show Defiance, and the Freevee original Pretty Hard Cases. She also played the titular role in the Lifetime movie Believe Me: The Abduction of Lisa McVey.
11/18
Chelsea Clark as Norah
Norah is the last member of MAN—Maxine's, Abby's, and her clique. (When Ginny shows up, MAN evolves into MANG.) She's the least dramatic of the foursome and tends to go with the flow, which puts her in a bind when an explosive secret blows up the group.
Clark was born in Toronto and started her career on the stage, appearing in local musicals and operas including "Legally Blonde," "Carmen," and "La Boheme." In addition to her roles on shows like Rookie Blue and the CW's Kung Fu, she's another Degrassi alum from Next Class.
12/18
Tameka Griffiths as Bracia
Bracia extends a friendly hand to Ginny when she first arrives. Though they didn't hang out much in season 1, the duo become closer in the new episodes.
Ginny & Georgia is Griffiths' first major TV role, though she previously appeared in episodes of the DC superhero show Titans and the Netflix drama Grand Army.
13/18
Sabrina Grdevich as Cynthia Fuller
Every small town has the local queen bee, and Cynthia Fuller was the HBIC of Wellsbury before Georgia rolled into town. The character was solidly a villain in season 1—things got ugly when she was running for mayor against Paul—but the new season shows a more complex side of the Wellsbury mom.
Grdevich has been prolific in the acting world for three decades, and she's appeared in well-known shows and movies including Secretary, A.I. Artificial Intelligence, Designated Survivor, and Kim's Convenience. Fun fact: She also was the original English voice actress for Sailor Pluto from Sailor Moon!
14/18
Dan Beirne as Nick
Nick is Paul's Cornell-educated second-in-command at the mayor's office, where he and Georgia eventually hit it off. He's her friend who will get real and say what needs to be said, but he still often clashes with Georgia's unconventional ways.
If Beirne looks familiar, you may have seen the actor and writer pop up on some of the past decade's best shows, including Fargo, The Handmaid's Tale, You're the Worst, The Bold Type, and Mrs. America.
15/18
Alex Mallari Jr. as PI Gabriel Cordova
When Georgia's deceased husband's ex-wife wants to take Georgia's inheritance, she hires a private investigator to dig up dirt. Enter Cordova, who may be better identified by Jesse, the fake name he uses while he's snooping around Wellsbury.
Mallari was born in the Philippines and later moved to in Canada, where he got into acting. His previous projects include the 2014 reboot of RoboCop, the Syfy series Dark Matter, and the Netflix blockbuster The Adam Project. Next up he'll co-star in the new Jennifer Lopez action rom-com Shotgun Wedding.
16/18
Nathan Mitchell as Zion Miller
Ginny's cool dad Zion has worked as a traveling photographer, but at the end of season 1 he decided to put down roots in nearby Boston to be closer to Ginny. Fans get to see more of the father-daughter duo's loving dynamic in the new episodes.
Ginny & Georgia is a chill change of pace for Miller, whose credits are full of superhero and action roles. The actor and former sparring champion has acted in shows including The Tomorrow People, Arrow, Supernatural, and iZombie. His most recent role was actually behind a mask; he played Black Noir in the past three seasons of The Boys(!).
17/18
Nikki Roumel as Young Georgia
Throughout the show, we see flashbacks of the rough past that made Georgia the forceful, slightly-terrifying woman she is. Playing Georgia in those flashbacks (in a stellar example of teen-adult dual casting), is Toronto-born Roumel. The Netflix hit is Roumel's first major role, through she previously appeared on episodes of Designated Survivor and Holly Hobbie.
18/18
Aaron Ashmore as Gil
In season 2, we meet Austin's father Gil, who has been released from jail. He eventually shows up in Wellsbury, where he tries to re-enter his son's life despite Georgia's request for boundaries.
Joining the show as Georgia's shady ex is Ashmore, who's best known for appearing on shows including Smallville, Veronica Mars, Killjoys, and Netflix's Locke & Key among others. Fun fact: his twin brother Shawn Ashmore is also an actor, who played Bobby Drake a.k.a. Iceman in the X-Men film franchise.
Celebrity news, beauty, fashion advice, and fascinating features, delivered straight to your inbox!
Andrea Park is a Chicago-based writer and reporter with a near-encyclopedic knowledge of the extended Kardashian-Jenner kingdom, early 2000s rom-coms and celebrity book club selections. She graduated from the Columbia School of Journalism in 2017 and has also written for W, Brides, Glamour, Women's Health, People and more.