'Selling Sunset' Season 7: Everything We Know
The O Group never rests.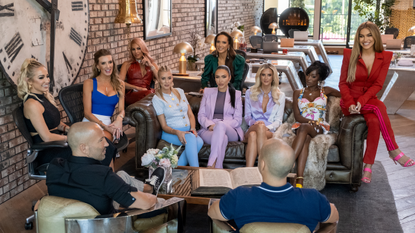 (Image credit: Netflix)
Can you believe it's already been four years, two months, and six seasons since Selling Sunset first premiered on Netflix? The docusoap about the Oppenheim Group has evolved from a guilty-pleasure hit about selling luxury real estate, to a mega-hit reality franchise that has launched many a social media discourse. Season 6 of Selling Sunset just arrived on Netflix this weekend, but those of us who have already binged the whole thing know that season 7 is already on the horizon. Here's everything we know about the next season of fashion, drama, and real estate so far.
When 'Selling Sunset' season 7 be released?
Entertainment Weekly exclusively reported today that new episodes of the reality hit will arrive on November 3, 2023—just six months after season 6's premiere. The report also included the reveal that the Sunset cast will be headed to Cabo after Selling the OC's trip. The quick getaway will be filled with drama, with Chrishell herself admitting that "she definitely am in a few of the s--- shows, if I'm being honest."
"At one point, we're all in Cabo on vacation together and ... it doesn't really make for an easy situation," she told the outlet. "I think there are a few s--- shows that happen and I do as best as I can to just kind of, you know, state my opinions, but it gets messy."
The reality hit was renewed for both seasons 6 and 7 in June 2022, and the big news came from Chrishell Stause herself. The star shared the news on Instagram, and also revealed that filming would begin that summer. Several cast members have since shared updates from filming, including Heather Rae El Moussa and Nicole Young.
Is there a trailer for 'Selling Sunset' season 7?
The first look at season 7 hints at tons of drama soon to come, teasing a couple of new feuds as well as the ongoing fights which began in season 7. Chelsea and new agent Bre are still at odds, while Chrishell's beef with Nicole is actually put on the back burner to introduce new strife between Chrishell and Jason's new girlfriend, Marie-Lou Nurk. While the two have lunch together, Marie-Lou says, "I just feel like maybe there's feelings left," before Chrishell says, "'m losing brain cells on this conversation," and abruptly leaves the table. We also see a dinner attended by both the Sunset and O.C. offices, and we hear Jason, via voiceover, alluing that the Sunset agents are slacking against the O.C. group. Maybe some inter-office competition could bring all the Sunset agents together?
Who will be in the cast of 'Selling Sunset' season 7?
Netflix has yet to confirm the full season 7 cast, but the show's main cast is all but assured to return, including Stause, Jason and Brett Oppenheim, Mary Fitzgerald, Amanza Smith, Emma Hernan, Chelsea Lazkani, and Davina Potratz (who did appear in season 6, albeit in less scenes). New additions Young and Bre Tiesi were also guaranteed to appear in season 7 when their castings were announced, and they both have continuing storylines to wrap up in upcoming episodes.
One longtime cast member who will likely appear much less this season is Heather Rae El Moussa, who went on maternity leave after welcoming her baby boy, Tristan. On January 14, she shared a behind-the-scenes peek from a filming day inside her home on an Instagram story, saying that the scene will be featured in season 7. She then went on maternity leave after giving birth on Jan. 31. In a late-March interview with E! News, she revealed that she had yet to hear back from the Selling Sunset crew about her return.
"Season 7 is filming right now, but I've been off maternity leave and I've been excited to get back to work. And so far, I've not been called back," she told the outlet, describing the situation as "a little frustrating."
Another big season 7 question is whether any of the O Group's former brokers will return. Christine Quinn has said on the record that she wouldn't return to the show "in a million years," and Vanessa Villela is unlikely to pop up as she has joined a rival LA brokerage. But Maya Vander is still on good terms with the O Group, and it would be lovely to see her in a future episode.
What will happen in 'Selling Sunset' season 7?
Spoilers for season 6 ahead. The season 6 finale hinted at big changes ahead for the O Group, even before the season 7 teaser. Bre and Chelsea are at an agree-to-disagree impasse after not getting along all season. Nicole and Chrishell are potentially headed for a legal fight, after their season-long feud blew up into a big accusation and subsequent drug test. Also, Chrishell and Mary's friendship seems to have reached a point of no return, and without Jason or Mary as close friends, Chrishell is seriously considering taking time off to join G Flip on their Australia tour.
The teaser for season 7 mostly includes flashes of extravagant parties and extravagant homes, one clip shows Nicole making it clear that she thinks Chrishell "gets away with murder." Nicole also claims via voiceover that someone has a plan to "take [her] down, in any dirty manner possible," as we see Chrishell and Emma have a photo session involving a leash. We also see Chrishell crying and saying "I knew something was wrong," as the teaser cuts to Jason and his girlfriend Marie-Lou (though this could be a case of creative editing). The clip ends with Chrishell and Nicole having an argument where Nicole accuses Chrishell of saying "horrific things" about her and Chrishell responds, "Everything I say about you is true."
What has the cast been up to since season 6 was filmed?
Let's get into a couple updates of what we know has gone down since cameras stopped rolling on season 6. Heather is a new mom, and she and husband Tarek El Moussa have debuted a new HGTV show, The Flipping El Moussas. Jason Oppenheim and Marie Lou Nurk recently broke up after 10 months of dating, with Jason hinting that they decided to part ways after Nurk moved back to France, per Page Six. Also, Chrishell is newly married to G Flip! The couple tied the knot in a whirlwind Vegas ceremony, which they've confirmed won't be part of season 7.
One surprising update in the wake of season 6's premiere is a simmering feud between Chrishell and Amanza (!?!). The surprising tension was confirmed via Amanza's response to a comment on one of her Instagram posts, where she revealed that she had blocked Chrishell on social media, per People. After a fan called Smith out for "uncalled drama," she wrote back: "I've never given any reason as to why I blocked Chrishell to anyone because I don't think anyone has asked so far. Don't worry I'm happy to share in due time."
In a new update on the Monday after the season premiered, Amanza opened up about her health status following a Season 6 moment in which she spoke about a possible cancer scare. The realtor confirmed that she is cancer free and "happier than [she's] been in forever," before reflecting on her experience losing loved ones to the disease and mentioning Chrishell, who previously lost both her mother and father to lung cancer.
"I know that it is very public that Chrishell and I have our own little feud right now however, I also know that she too, has suffered a great deal of pain by losing loved ones from this terrible awful disease," Amanza wrote. "It affects everyone involved in a very heartbreaking way. Let's celebrate life on this post and I urge you to please if you are going to comment make this one, the one that you bite your tongue and only make it positive."
While the news came as a surprise for many fans, there's a chance that Amanza and Chrishell have been on the outs following Chrishell's feud with Nicole, who's a longtime friend of both Amanza and Mary. In fact, Smith responded to another fan addressing the feud, mentioning that viewers did not see any strife between herself and Chrishell on season 6.
Amanza wrote (while referring to Chrishell as T), "Nicole has been my dear friend for 11 years and T and Nicole's beef has nothing to do with me. No one even sees anything between T and I on season six so definitely don't worry, my loyalty lies with the people that I believe are honest, genuine, and kind. I'll leave it at that."
Despite the surprising news, any arguments between Chrishell and Amanza may end up on the cutting room floor. In an interview with SiriusXM's Hits 1 LA, Chrishell opened up about her and Amanza's feud for the first time, explaining that the colleagues got into an argument over a design project and since she didn't want her partner, G Flip, involved in the drama, Chrishell decided to step away from filming, which led the project to getting cut from the show.
Chrishell added that she still "loves" Amanza despite what happens, and hopes she'll learn to put everything in the past. "I literally love her, so I think that right now she's in her feelings because she wanted to get something on the show, but at some point, she has to understand this is my partner. I'm very protective," Stause said.
Celebrity news, beauty, fashion advice, and fascinating features, delivered straight to your inbox!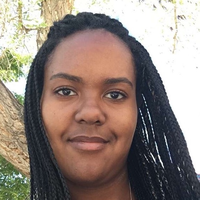 Contributing Culture Editor
Quinci LeGardye is a Contributing Culture Editor who covers TV, movies, Korean entertainment, books, and pop culture. When she isn't writing or checking Twitter, she's probably watching the latest K-drama or giving a concert performance in her car.