Which Couples From 'Too Hot To Handle' Season 5 Are Still Together Now?
Lana has her work cut out for her this season.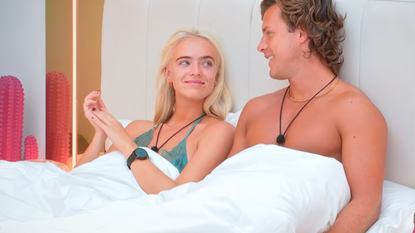 (Image credit: Netflix)
After four seasons, the core tenets of Netflix reality series Too Hot to Handle are easy to identify among even the most casual viewers. A group of sex-crazed singles who think they're signing up for a debaucherous vacation (and the influencer fame that follows) are instead met with Lana, a sentient cone who challenges them to form meaningful relationships rather than fleeting hookups. The contestants have differing responses to the prize fund reveal; one noble soul becomes the cone cop, trying to make sure the pot stays up (and at the same time blocking their own chances at winning the money), while the people who rule-break with abandon get most of the screen time. After so many installments where even the workshops don't change much, each season lives or dies on the personality and charms of the main cast.
The first four episodes of season 5 arrived on Netflix on July 14, and so far the season 5 cast of Too Hot to Handle has been focused on lustful competition. Each couple that has formed has been relatively fleeting, as screen time focuses on groups of contestants competing for a person's affection, and moments of sweet chemistry are hard to find. However, there is a chance that a standout couple could emerge from all the chaos of the initial episodes. (Look at season 4's Kayla and Seb, who are still together as of June 2023). Read on for our breakdown of season 5's couples, and any clues we could find of who's still together after filming.
Elys and Alex
Swiss contestant Elys Hutchinson finds herself at the center of a love triangle from the start, as she quickly becomes interested in both British lad Alex Snell and Arizona boy Hunter LoNigro. Alex approached Elys first on the yacht day, but Elys admitted that his attempts to flirt were a bit awkward, and all the pair did was chat. After that, Hunter made his move, and though their conversation was also awkward, he secured a kiss, after which Elys decided to share a bed with him.
Though Alex was still interested in Elys, he decided to also get to know his fellow Brit Megan Thompson, and they began to hit it off. However, though Alex thought Elys and Hunter were happy, she really was having second thoughts once she saw Alex paying attention to Megan. This all culminated in Lana sending Hunter and Elys on a date, in the middle of which Lana told Elys to decide between the two men once and for all. Elys chose Alex, leaving a disappointed Hunter to return to the villa alone.
On Alex's end, Lana informed him of the decision Elys made and asked him to choose between her and Megan. He chose to go on the date with Elys, leaving a dejected Megan alone in the villa. With all that drama out of the way, new couple Elys and Alex began sharing a bed midway through episode 4. However, as they got to know each other more, Elys still remained in doubt that she would actually get to a place where she could open up with him. When Lana gave the group the green-light bracelets, Elys felt like she would never get a go-ahead, and decided to take matters into her own hands. That night, she and Alex kissed for 12 minutes straight, angering Lana enough that she gave them a $36,000 penalty, multiplying the usual kiss fine by six as she equated their kiss to six of the usual THTH kisses.
Lana wasn't done yet, and she decided to give them a unique challenge: they had 12 hours to make a meaningful connection and get a green light on their watches. If they failed, they would both be going home. Put under the pressure (and with the help of a workshop that helped her vocalize her feelings), Elys was able to express her feelings for Alex and they got to stay on the show.
You'll never guess what comes next: another Lana test. Along with Linzy, an Aussie named Bryce Saltmarsh arrived as a newcomer to be sent on a date with Elys. The pair got along well on the date, with Elys mentioning that Australian men were her weakness and Bryce saying that he was ready to step on some toes for her. Back at the villa, Alex chose not to swap Elys out on the date, saying that he trusted his partner. When Elys got back to the house, she went back to Alex with open arms, and things seemed great. Alex has a bit of cold feet at being tied down, but once Elys tells him that she would love to travel the world with him, she asks him to be her boyfriend and he says yes. Then, after Alex is the second person to receive the $25k to walk offer, he chooses to stay with Elys. In the finale, Elys becomes one of the two finalists and wins the pot, offering to split it with the runner-up, Dre. Alex even tells Elys that he loves her, the first-ever "I love you" of the series.
So what happened to Elys and Alex after the show? It turns out that the couple did not join the ranks of the long-lasting THTH couples. (There have been two, Kayla and Seb and Emily and Cam.) In a recent interview, Elys told Elite Daily that she's currently single, saying, "Right now, I'm focusing on my career... I'm open to going on dates, meeting people, and seeing where it goes, but I'm very happy being single and doing my own thing." Though she didn't share how long she and Alex dated after filming ended, their Instagram history shows that the pair appeared to travel to separate locations earlier this year, with Alex posting from Croatia and the Canary Islands while Elys spent time in Ibiza and back home in Switzerland. However their relationship ended, the pair seem to be on good terms, as they both follow each other and often share friendly comments on their posts.
Christine and Louis
British contestant Louis Russell turned heads from the first moments of the season, and he quickly caught the interest of three women: Londoner Megan Thompson, California girl Hanna Brooke, and Houston hottie Christine Obanor. The cast was left to their own devices during a daylong yacht outing, and each of the three took the initiative to talk to Louis. Each encounter was a bit more escalated: Megan just chatted with Louis, Christine had him apply sunscreen to her bum, and Hannah gave him a massage and kissed him. All three of them also asked him to share a bed that night, and he said yes to all three. However, at the end of the night, he chose to keep the promise he made to Hannah, to Christine's frustration.
The next day, Louis seemingly continued to think with another appendage besides his brain, and even made a kissing pact with Isaac where the two did a double rule break, both kissing their partners in an attempt to split the blame. Once Lana revealed that Hannah and Louis had kissed multiple times, Christine became more upset and determined. She invited Louis out to the beach that night, where the two shared a kiss, and Louis promised her that he would change his bed partner soon after letting Hannah down easy. And then he still kissed Hannah when they were in bed together.
Lana exposed Louis before he could get a chance to come clean to Hannah, and both women ended up angry at how he played with both of their emotions. In the aftermath, Louis had to decide which woman he wanted to pursue a connection with, and he realized that he wanted to try with Christine. Still mad, Christine decided to give him another chance, and they started to get deeper emotionally while sharing a bed and participating in the first workshop. However, a big twist comes when Lana sends Christine on a date with new arrival Trey, a Chicago-based model, and announces that the rules don't apply.
In the second week of episodes, we learned that Christine did not kiss Trey, instead going back to Louis and showing that she's committed to their coupling. (As committed as anyone can get on this show.) Unfortunately, Christine and Louis celebrated the development with a night of kissing and "prolonged, mutual gratification," which the cost the group $48,000. Lana then gave the pair the fantasy suite challenge, and the task of staying abstinent fell squarely on Louis, as Christine was very down and tempts him all night. Somehow, they made it through the night with no rule breaks, and the lost money was returned to the pot.
Soon after, the couple were met with their third test, with Lana sending Louis on a date with new arrival Linzy Luu. She tested the limits of Louis's restraint and found they were flimsy, as Louis took her up on her offer to feel her boobs. (I wish I was kidding.) Luckily, back at the villa, Christine had been given the option to trade out Louis for another cast member, and once she heard about Linzy's assets, she traded Louis for Dre. (Cue the clip from the teaser of Christine saying, "Lana please give me my man back." Louis told her that nothing happened on the date, but that night at the villa, Linzy arrived and admitted to the group that she felt a sexual connection during her date with Louis. Christine noted that, wondering what happened to make Linzy feel that connection, but Louis dispersed the conversation before the two women could really talk.
It didn't take long for Christine to learn the truth about Louis in the final batch of episodes. Linzy broke the news the day after, and Christine was immediately pissed not just that Louis had broken her trust, but also that he'd made her feel bad for not trusting him and sending in Dre. When Louis and Christine finally talked at the party that night, Louis became defensive without apologizing, and Christine broke things off. Eventually Louis did apologize after an emotional workshop, where he admitted that he didn't like to connect emotionally with people because then there's a chance of losing them. Christine decided to move forward with him and keep up her guard, but then there's the season's big twist: Lana offered him $25,000 to leave the show without Christine, or stay and commit, but lose the chance to win the overall pot of (now) $100,000. After some deliberation, he chooses to stay with Christine. And of course, it turns out he is still eligible to win $100k (because what is this show if the rule-breakers aren't ultimately rewarded?).
Though Christine and Louis don't become finalists, the pair are still together by the end of the finale. However, they aren't currently dating, and things may have ended on a dramatic note. Before the finale, Louis followed Christine on Instagram but she didn't follow him back, and as of July 31, they don't follow each other at all. In a Daily Mail interview, Christine does confirm that she's single, and even revealed that she didn't have sex for nine months after the show. "Right now, I'm focusing on my career... I'm open to going on dates, meeting people, and seeing where it goes, but I'm very happy being single and doing my own thing," she told the outlet.
Isaac and Hannah
New Jersey resident Isaac Francis may not be the biggest rule breaker of the season, but he supplied a steady amount of drama throughout the first seven episodes. At the start of the season, he connected with Houston contestant Courtney Randolph, and the pair stayed coupled through the first three episodes. They mostly kept a low-drama profile; they did break some rules, and they were the other couple involved in the double rule-break pact, but most of the heat (rightfully) landed on Louis. Everything seemed like smooth sailing for them, as they also weren't caught up in any lust triangles.
However, everything changed when Lana sent Isaac on a rule-free date with new contestant Yazmin Marziali, a bottle girl originally from Montevideo, Uruguay. Isaac quickly fell for her, saying Latina women were his weakness, and he kissed her during the clandestine date. He also wrapped his arm around her once they return to the villa, and quickly ended things with Courtney to share a bed with Yazmin.
Though Isaac was initially happy with Yazmin, it gradually became clear that the pair had different priorities. Yazmin decided to go by Lana's rules in order to hopefully build a strong emotional connection with her new beau, while Isaac was still open to breaking rules. That's when Hannah entered the picture, and chose to pursue Isaac after failing to hit things off with Trey Rogers. Isaac responded to Hannah's flirty physical attention, and she eventually secured a promise that he would end things with Yazmin and switch bed partners. Not only was Isaac giving into his playboy ways, he dumped Yazmin in a disrespectful way, where he sat on their bed at the last minute, whispered to her that he was going to switch, and then immediately crawled into bed with Hannah. The next morning, the rest of the contestants roasted him for his behavior, rightfully so.
Things stay good between Hannah and Isaac, but their time on the show turned out to be short-lived. By episode 8, they were getting impatient ready to break some rules, even almost kissing while dancing at an evening party. However, that's when Lana broke everything up and sent the pair home, telling them, "Since arriving at my retreat, you've ignored my rules, dismissed my teachings...and pursued your own desires at the expense of those around you." In their final testimonials, Hannah admitted that she seeks attention from men and needed to work on that, while Isaac went straight to thinking about everything he and Hannah could do outside of the retreat.
So did these two change their ways and start a committed relationship that continues even today, months after filming the show? No. The pair are currently on good terms, as they've hung out since the show's premiere, but Isaac has posted several TikToks hinting that he's single, including one where he disappears in response to the caption "when the connection starts getting genuine." In another, he's seen holding his chin and thinking as the text reads "oh man i need an excuse to leave this girl." When the text changes to, "we're not married," he smiles at the camera. However, in response to a viewer's comment that says, "He's gunna [sic] be single forever," Isaac wrote, "wasn't single after the show," hinting that there may have been more to their relationship after filming.
Hannah later confirmed in an interview that she and Isaac did try to date after the show, and that he's still her closest friend out of all the guys from the season. "To be fair, we did give it a shot after the show," she told the outlet. "It was just hard because of the distance, we live across the country. We talked for a while. We met up once for an extended amount of time. But then after that, it was the distance and things fizzled out. So now we're just good friends."
Marie Claire email subscribers get intel on fashion and beauty trends, hot-off-the-press celebrity news, and more. Sign up here.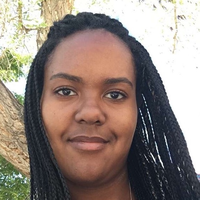 Contributing Culture Editor
Quinci LeGardye is a Contributing Culture Editor who covers TV, movies, Korean entertainment, books, and pop culture. When she isn't writing or checking Twitter, she's probably watching the latest K-drama or giving a concert performance in her car.