The Lazy Day Outfit
Catherine Hageman, the voice behind Small Town, Big Wardrobe reveals how to look put together when facing your closet feels like too much to bear.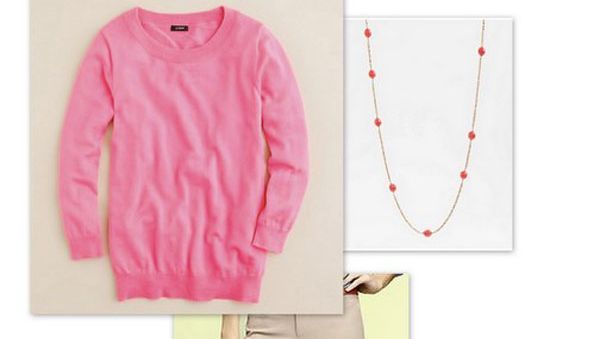 (Image credit: Archives)
Do you ever have days when you just hate everything in your closet, those mornings when even the idea of putting an outfit together is too much? I do, at least once a week. I stare at my clothes, swearing to my boyfriend, my dogs and anyone else who will listen that I seriously have nothing to wear.

That's when I call on my lazy-day work pieces, those clothes I don't even have to think about. These outfits aren't boring and really do take five minutes to pull together.



The biggest secret to looking like you made an effort is color - both in the clothes and the accessories. Crewneck sweaters in bright pink and green go with simple trousers in neutrals like dark grey and camel tan. My favorite J. Crew Tippi sweater is such a fun color that it goes with everything, and lifts the blah-est of moods.
Accessories are just as important. I've gotten more into belts lately, especially since my favorite brands are making them in brighter colors. A skinny belt in a contrasting color (try orange or yellow with pink) gives a pair of work pants a fun pop. Likewise, a long beaded necklace in the same color family (I chose red) dresses up the sweater even more.

Finish the whole outfit with leopard-print flats. I am a sucker for leopard-print shoes (okay, leopard-print anything), mostly because they work with so many different looks.



Effortless style isn't effortless. It's knowing what colors complement each other and buying simple pieces in those colors. And okay, setting out your clothes the night before helps too.

Catherine Hageman dispatches fashionista tendencies fit for a corporate career on Small Town, Big Wardrobe.