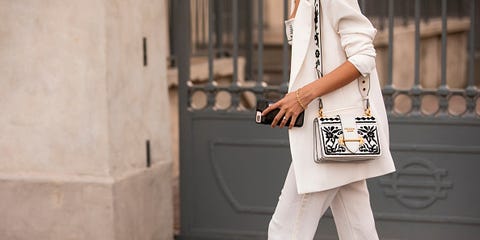 If you're like most of us New Yorkers your version of "color" is black, light black, charcoal and occasionally grey, why not just throw in the towel? Really. White - technically the absence of color - is nearly as low maintenance as black, with the advantage of being particularly striking in the spring and summer (or on the dec of Kylie Jenner's yacht).
Giving up never looked as good as these all-white looks, take a page out of some of your favorite fashion girls books. Here are some style tips to help you accomplish all the looks you're striving for.
Everyone's familiar with the blue denim-on-denim look, so take the traditional and twist it, opting instead for white denim, an oversized white tank and white leather mules for chill-girl dressing at it's finest. Transitional weather makes for tricky dressing, but not when a cream-colored sweater pairs seamlessly with a silky midi dress and white ankle boots that takes next to no effort to put together. The LWD (little white dress) is a summer staple, so take a cue from your boyfriends work wardrobe and invest in one of these oversized shirt dresses that can be worn with matching chunky sneaker and cinched at the waist with a belt for a look that is anything but boring
To complement your all-white outfit, choose neutral accessories, such as sunnies, bags or jewelry. These pieces add style without distracting the eyes from you crisp, clean ensemble.