How to Wear All-White Outfits, No Matter the Time of Year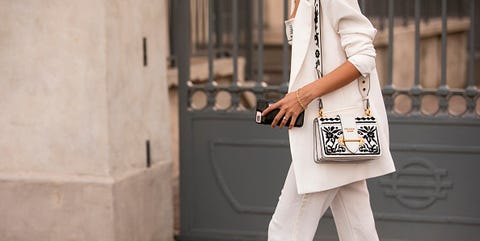 If you're like us New Yorkers, your version of "color" is black, light black, charcoal, and occasionally gray. Exciting, right? But before you call it quits on wearing color for good, however, here's a thought: Try a white-on-white outfit. White, which is technically the absence of color, is equally as versatile as black or gray, with the advantage of being particularly striking in the spring and summer (or on the deck of Kylie Jenner's yacht).
How to pull off an all-white ensemble, though? We looked to the streets for inspiration and took a page right out of our favorite fashion girls' books. For example, everyone's familiar with the traditional blue denim-on-denim look. Take this classic outfit and twist it, opting instead for white denim, an oversized white tank, and white leather mules for chill-girl dressing at its finest. Another all-white style tip we love? The LWD (little white dress) is a summer staple, so take a cue from your boyfriend's work wardrobe and invest in an oversized shirt dress that can be worn with white chunky sneakers and a belt for a look that is anything but boring. To complement your all-white outfits, accessorize with neutral pieces like sunnies, bags, or jewelry. These items add style without distracting the eyes from your crisp, clean ensemble.
Want even more inspo? Giving up your darker hues never looked so good with the all-white looks, below.
This content is created and maintained by a third party, and imported onto this page to help users provide their email addresses. You may be able to find more information about this and similar content at piano.io