Mad for Estée Lauder
The return of Mad Men isn't the only exciting thing for those entranced by the 1960s. Elizabeth Dehn is gaga for Estée Lauder's Mad Men collection.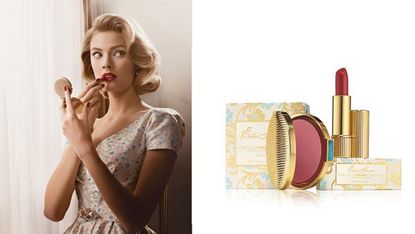 (Image credit: Archives)
After this week's season premiere, I'm right back to where I left off: clamoring for the classic beauty those Mad Men women radiate right through the television. They make me rethink my entire beauty routine. I mean, who needs smoky eyes and a bronzed complexion when there's milky white skin and red lipstick?
I may never enter Christina Hendricks territory, but I'm certainly going to try, starting with Estée Lauder's Mad Men Collection (opens in new tab). They had me at the packaging: vintage florals and gold foil that remind me of all the pretty potions on my grandmother's vanity. I must have the Evening Rose Crème Rouge (opens in new tab), a blush that looks like a million bucks in that fancy gold compact and is sure to yield the era's iconic rosy cheek. There's also a creamy, cool-based Cherry lipstick (opens in new tab) that has my name — and a dirty martini — written all over it. Shaken, not stirred, ladies.
Elizabeth Dehn is the editor-in-chief of Beauty Bets (opens in new tab), an award-winning blog chock-full of product reviews, wellness tips, and DIY ideas.