30 Cozy and Covetable Blanket Scarves to Wrap Up In
The cold-weather accessory feels like a hug.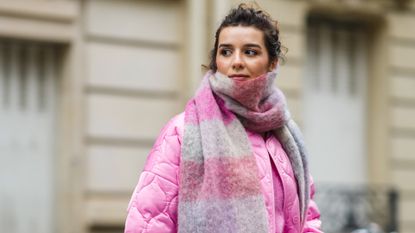 (Image credit: Getty Images)
We hate to be the ones to bring it up, but blistering cold temps are on the horizon and will make it that much harder to pry yourself from the covers. But what if you could take a trusty, oh-so-cozy security blanket out into the elements with you? Enter the blanket scarf. The perfect hybrid between an outerwear accessory and a comforter, these scarves are actually large enough to use as a blanket. They're the perfect travel companion and do double-duty trapping heat and adding style to your everyday wardrobe. Whether you love soft-to-the-skin cashmere scarves, bold plaid patterns, or gravitate towards the season's puffy trend with padded numbers, we've rounded up the best blanket scarves out there. Scroll on for our favorite cozy, covetable options.
Cashmere Blanket Scarves
Trust us: a cashmere scarf is always well worth the investment. And why not double down? Layer your new cozy warp atop your best cashmere sweater for optimal cold-weather protection.
Plaid Blanket Scarves
This quintessential scarf print will complement all of your cold-weather corduroys and tweeds. Opt for a traditional tartan motif or a larger check pattern with bold, primary color schemes.
Chunky Knit Blanket Scarves
Swap your sweater sets for a chunky scarf that you can match to your cable knits. Equal parts luxe and cozy, you may even get away with wearing your heavy knits in place of traditional outerwear.