The 19 Best Knit Dresses for the Ultimate in Comfort Dressing
An effortless head-to-toe solution for any occasion.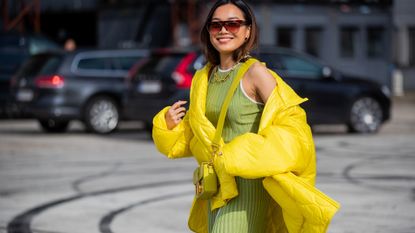 (Image credit: Getty)
When the temperatures plunge, getting dressed to impress can take on a whole new struggle factor—but bulky coats and lumpy sweaters don't have to define your cold-weather style. Swap out your cute summer dresses for one of the season's best knit dresses, paired with knee-high boots and a fun statement earring. Feeling bold? Play with proportion by wearing a calf-length style over your fave denim. Trust us, it works!
Elizabeth von der Goltz, former global buying director at Net-a-Porter and current chief commercial officer of MatchesFashion, explains why a knit or sweater dress is your new no-brainer investment piece. "Knitting was one of the earliest ways to make clothes. The earliest known knitted items date back to the 11th century in regions of Egypt," she tells Marie Claire of the knit's origins.
Citing a resurgence among consumers, von der Goltz says, "Nanushka's Cruise 2019 knitted knot dress sold out within three weeks." Since, the brand has continued to debut new (and highly coveted) versions each season, like its mock-neck Canaan wool-blend midi and collard Flora maxi. Many brands are doing the same, like Jacquemus, Victor Glemaud, Proenza Schouler, Simon Miller, Hanifa, A.L.C., and many more.
But outside of just being trendy, knit dresses are an enduring style for being "easy to wear and comfortable," says von der Goltz. "It's the best way to look chic and pulled together in an effortless way." Moreover, the investment is always worth it when you find a well-made version to suit your lifestyle. "A good knit dress will not go out of style," the retail expert continues. "I love bringing them on trips; they're easy to pack for a day-to-night look."
What should you look for in a knit dress?
When styling one for fall, von der Goltz suggests "pairing a knit dress with a great slouch or shaft boot and a menswear-inspired coat draped over [your] shoulders." Keep your favorites in rotation through winter by adding more layers, like a warm puffer coat and cashmere scarf. Then, come spring, peel off the coats in favor of a light jacket, such as a blazer or anorak, with pretty flats or ankle boots to finish. And in summer—yep, they work year-round!—opt for a lightweight cut-out design with sneakers? Or, go with a simple tank silhouette and your favorite sandals.
From heavyweight wool and warm cashmere to lightweight ribbed designs, keep scrolling to shop the best knit dresses currently topping our lists.