Big Girl in a Skinny World: The Best Boots for Large Calves
Best Boots for Large Calves- Full Figure Fashion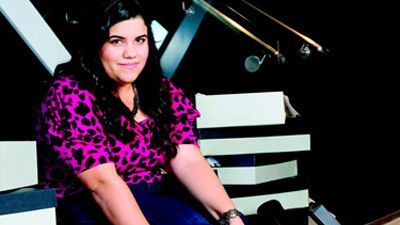 (Image credit: Greg Kessler)
I live for heels. At last check, I had 75 or so pairs, so many that my walk-in shoe closet could easily pass muster with the MTV Cribs crowd. As a plus-size fashionista, I've always had an exceptionally difficult time finding trendy off-the-rack clothes. But thanks to my 9 1/2 shoe size, I can slip on a pair of this season's Manolo stilettos or Prada platform pumps and strut around with as much attitude and confidence as the style mavens I worship in glossy fashion mags.
That's not to say that big girls like me never run into problems in the shoe department. Shopping for boots is an utter bitch. Not long ago, I spotted a pair of black riding boots made of baby-bottom-soft kid leather. They looked as though they'd been plucked right out of a Parisian vintage shop. At first, I tried to gently tug one up my calf. When that didn't work, I broke a sweat trying to jimmy it up. Fifteen fitful minutes later, I conceded defeat and left the store empty-handed.
The truth is, most boots are designed for girls with matchstick calves who can daintily tuck their jeans into everything from Uggs to Wellies. Women like me, with calves like ham hocks, are usually out of luck. Even a petite size 8 with athletic calves has likely experienced the embarrassing moment when the sales associate flashes her the pitiful look that reads, Honey, step away from the box, they ain't gonna make it up. Some salesgirls scatter when they see me lift a boot for closer inspection, keenly aware that waiting on me will involve countless trips to the stockroom and likely won't yield a sale. Once, after several minutes spent trying to wrench my leg out of a boot, I had to hobble over to a salesclerk and sheepishly ask her to help me pry it off.
Despite these occasionally soul-crushing experiences, I've still managed to amass a tidy collection of boots. My most recent conquest was a pair of chocolate Kors by Michael Kors flat boots, which slide right up to my knee, no questions asked. A fluke, to be sure, since designer labels rarely work for me. But that's the thing about boot shopping — there's no one brand or style guaranteed to accommodate an ample calf. You've got to be open-minded and try on everything, exasperated clerks be damned.
A few other simple rules when trawling for the perfect boots: If the zipper won't zip, quit trying. There's no such thing as sucking in your calf. Don't be afraid to go up a size — you can always wear thick socks to keep your feet snug. And be sure to test-drive some ankle booties. Big girls tend to shun them, fearful that they'll accentuate the widest part of the leg. Nonsense! I pair mine with skinny jeans and a blazer, or tights and a floral frock — youthful, hip looks that every girl should have in her fashion arsenal. Here, a few of my must-have, wide-calf boot picks this winter. Let me know how it goes!
ASHLEY RECOMMENDS:
SUDINI, $209.95; endless.com.
NINE WEST, $189; ninewest.com.
ROCKPORT, $189.95, endless.com.
Want more fashion advice? Check out The Best and Worst Fashion Trends of 2009