The 15 Best Online Jewelry Stores in 2023
Your next favorite piece is just a click away.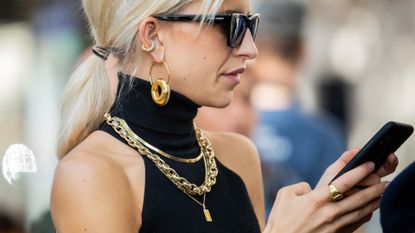 (Image credit: Christian Vierig/Getty Images)
Marie Claire Newsletter
Celebrity news, beauty, fashion advice, and fascinating features, delivered straight to your inbox!
Thank you for signing up to Marie Claire. You will receive a verification email shortly.
There was a problem. Please refresh the page and try again.
Jewelry is as personal of a preference as our favorite foods. I, for one, am obsessed with dainty necklaces and can't go a day without my go-to earring stack. Meanwhile, other fashion girls are rocking this season's biggest jewelry trends with chunky bangles and drop earrings. Whatever your personal style, there are quite literally hundreds of jewelry brands across the world wide web to choose from when looking to add a new piece to your collection. But shopping for jewelry online isn't nearly as daunting of a task as it may seem, we promise.
Us bauble-lovers at MC did the work for you, searching high and low through the endless offerings to bring you our guide to the best online jewelry stores. These brands and retailers offer a wide range of exquisite styles, impeccable customer service, and the best materials you could want in an investment piece—because, let's be real, jewelry is an investment. No matter the occasion or your personal style, this list is your ultimate guide to finding your next favorite necklace, ring, bracelet, and more. We've also included some affordable jewelry brands for those of us on a budget.
What to Look For in Online Jewelry
Materials. When you can't get a look or feel for a jewelry piece IRL, the best indicator of quality is going to be materials. For fine jewelry, consider 14k gold, platinum, silver, or cobalt, for a piece that'll last decades (when cared for properly) as these metals are especially durable. For a more affordable option, look towards gold-filled jewelry instead of gold-plated since these pieces are bonded to the base, and are therefore much more durable. Additionally, jewelry with stainless steel as the base is a great option as stainless steel is more resistant to the elements.
Customer Service. Just like with fashion, you never really know how a piece of jewelry is going to look in person, so it's always a good idea to shop from brands with excellent customer service. Before hitting "purchase" on a piece, especially an investment piece, make sure the brand you're shopping from is communicative with their customers and that their shipping and exchange policy works for you. Some brands (like a few listed below) even offer virtual consultations if you need extra help with picking out a special piece. All in all, a little extra research when buying jewelry online will go a long way.
The Best Online Jewelry Stores
Mejuri
Well-known by celebrities, influencers, and editors alike, Mejuri makes the kind of fine jewelry pieces you can wear every single day. Each stunning piece is created by their in-house design team and is a minimalist's dream. Mejuri also has a two-year warranty on its pieces and is committed to being a sustainable jewelry brand—currently, the brand uses 80 percent recycled gold and 20 percent newly mined gold from responsible sources, with an ongoing mission to ensure 100 percent of its gold is traceable.
BaubleBar
BaubleBar is an excellent choice for those looking for budget-friendly, yet fun pieces. The brand's extensive range of necklaces, earrings, bracelets, rings, and more all have a cheerful touch, whether it be through vivid colors or playful designs. Most pieces won't cost you more than $100, but they also have a fine jewelry line with pieces made from 14k and 18k gold, which rings in at under $200. Many designs can be personalized, making this brand a great gifting option.
Gorjana
If you want to exude that effortless California cool girl vibe, this is the jewelry brand for you. Each of Gorjana's pieces is easily stackable to suit your fancy, taking out the hard work of styling. And if you really struggle to come up with your own stack, the brand offers bundles of expertly curated pieces for an easy look. The brand's more affordable 18k gold-plated pieces range from $30 to $150, while their fine jewelry line made from 14k gold ranges from $150 to $4,500, depending on the gemstones used.
The Last Line
Calling all color lovers! The Last Line's extensive collection is a myriad of rainbow-colored necklaces, huggie hoops, charms, and more. Each piece is made of 14k gold, and precious and semi-precious gemstones, which means these fine jewelry pieces are sure to last a lifetime. In fact, the brand's motto is "this is the last line of jewelry you'll ever need."
Brilliant Earth
Brilliant Earth makes fine jewelry you'll feel good about wearing. The brand is wholly committed to ethical sourcing, transparency, and sustainability. From their conflict-free diamonds and their 93 percent recycled gold down to their recycled wooden packaging, Brilliant Earth's brand mission is something to support. It also doesn't hurt that their huge selection of diamond and gemstone rings are out-of-this-world gorgeous
Bonbonwhims
Feast your eyes on the funkiest, coolest jewelry line you've ever seen. Founded by Clare Ngai in 2020, this brand offers up original pieces inspired by Y2K trends and a heavy dose of nostalgia. Think chunky resin rings, enamel charms, and campy beaded bracelets all under $200. I strongly believe that it's impossible to be sad while wearing a piece from Bonbonwhims.
Jennybird
Hailey Bieber, Ellen Pompeo, Celine Dion, and Maren Morris all count themselves as fans of this jewelry brand, and it's not hard to see why. Created by self-taught designer Jenny Bird, her namesake collection features classic designs with a subtle modern twist. These pieces can be worn day to night and look so much more expensive than their under-$200 price tag. I, along with the rest of the fashion crowd, am especially obsessed with the brand's Nouveau Puffs—they make any outfit look chic in an instant and don't weigh down my ears.
J'Aime New York
If you haven't heard of J'Aime New York yet, allow me to introduce you to one seriously cool fine jewelry line. Designer and entrepreneur Jaime Love created her namesake jewelry line with the style and edginess of New York City, where she was born and raised. J'Aime's pendant necklaces are especially unique, with charms like melted peace signs, animal heads, and guitar picks taking center stage. The brand even offers full bespoke consultation services so you can help create a one-of-a-kind piece (or repurpose an old favorite) with the help of their expert designers
Missoma
London-based jewelry brand Missoma features a wide range of dainty, delicate-looking pieces that still make a statement. Missoma's varied jewelry collection is made of pieces you can wear every day, but have subtle design differences to make you stand out from the crowd. Mix and match the brand's layer-friendly pieces to your heart's content, or choose one of their pre-made sets. Either way, you're in good hands. Prices range from $38 to about $4k for their fine jewelry line.
Catbird
Catbird is the ultimate jewelry line for those with a penchant for vintage-looking pieces. Their styles range from minimalist everyday pieces to dainty antique-inspired rings, but all of them are treasures to keep in your collection for years to come. Catbird also offers virtual styling appointments and has an online gift-finder service in case you need extra help in picking out a special piece.
Net-a-Porter
Sure, you may know Net-a-Porter from their incredible inventory of designer clothing, but don't sleep on their Jewelry and Watches section. The e-retailer offers over 15,000 pieces in its collection with prices starting at $30 and going upwards to the tens of thousands of dollars (there's even diamond tiaras, if you're in the market for one). You may have to browse through their extensive collection for a bit, but I guarantee you're going to find your next favorite piece here. The site also has a super handy exchange and return policy—create a return or exchange return online within 28 days of purchase, then book a complementary collection.
Stone and Strand
Investment pieces don't necessarily have to be classic, simple styles. If you're looking for something a little more fun to add to your collection, look to Stone and Strand. The brand offers a ton of candy-colored stud earrings, tennis bracelets, and rings along with diamond-encrusted options as well. This brand is especially great for those looking to build their go-to earring stack—their wide options of stud and hoop earrings (available in singles and pairs) make it the perfect place to fill your piercings. They also offer a ton of styling inspo on their website, too.