The Platform Heel Trend Is Taking Over Hollywood
Dua Lipa, Zendaya, Ariana Grande, and more have all been spotted in them.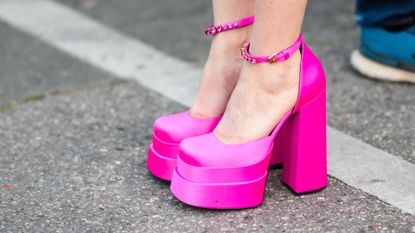 (Image credit: Edward Berthelot/Getty Images)
We're nearly halfway through 2022, and one thing has become clear: This year's fashion is all about the drama. From so-called "serotonin dressing" to the prevalence of ultra-glam fabrics like chainmail and sequins, the style obsessed are going all out. And yes, that includes choosing the most in-your-face shoe trend of all: platform heels.
This trend kicked off with Versace showing a selection of colorful satin and leather versions on the runway at their Fall/Winter 2021 show. The shoes were immediately styled in real life by Dua Lipa and Ariana Grande, and then other brands like Valentino followed suit with similar options. Before long, just about every footwear brand was including platforms in their collections, and celebrities could not stop wearing them, either. Zendaya, for one, was spotted wearing a pair of hot-pink Valentino shoes at the brand's Fall/Winter 2022/2023 show in Paris earlier this year. Everyone's favorite Gen-Z songstress Olivia Rodrigo even wore a sky-high pair to the White House last year.
But it wasn't just the original square-toe options that rose to popularity. Platform heeled sandals—a red carpet mainstay over the last few years—began to crop up alongside chunky-heeled clogs and mules, too on the feet of Hollywood's latest slew of It-Girls. So too did platform mules, which offer a touch of grunge '90s style to even the most modern of outfits. If you want to get in on the trend, keep reading: I've broken down all the top trending styles and picked a few of the best platform heels in each category.
Platform Pumps
Celebrities like Ariana Grande, Dua Lipa, Nicola Peltz-Beckham, and more have all been spotted in ultra-daring platform pumps. Their picks are normally made from satin (and are very, very expensive), but the market is chock-full of similar styles to shop right now. You have my explicit permission to live out your 2000s fashion fantasies this spring and summer.
Platform Mules
Just as popular as traditional platform pumps are platform mules. The easy slide-on sandal has officially been elevated (forgive the pun) for spring and summer 2022. And while you're more than welcome to try out a black pair, playing with colors, textures, and prints is way more fun.
Platform Clogs
Fashion's obsession with the wild west continues on in 2022. First, there were the cowboy boots, but now clogs are officially back in style, too. Opt for a classic pair of brown platformed versions or choose from ones made with different textures this season—the choice is yours.
Platform Sandals
Take one look at the red carpet at the 2022 Grammys or 2022 Oscars and you'll see that platform-style sandals were everywhere this year. Just about every celebrity has been sporting them recently. The timeless silhouette is a lot comfier than your usual strappy pair, trust me.