Editors handpick every product that we feature. We may earn commission from the links on this page.
13 Fashion Gifts You Can Find on Amazon For Less Than $100
They're hiding in plain sight.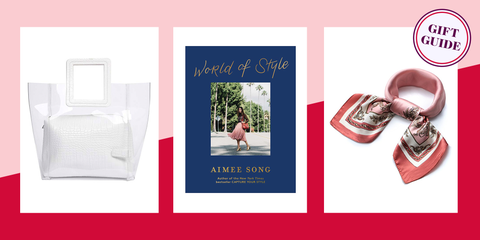 Design by Morgan McMullen
Amazon is your one-stop shop for books, electronics, groceries, even clothes. So when it comes to gift-giving, naturally this is a top place to turn to (plus that Prime shipping will save your ass in a pinch). The e-commerce giant recently ramped up its fashion game (it launched J.Crew's mercantile line in September) and the amount of surprisingly stylish pieces available are infinite.
Of course, with a site so immense, it does take a little digging to find exactly what you're looking for—it's like thrifting. So that you don't end up hanging your head in frustration following hours of unsuccessful searching, we rounded up the 13 most fashionable finds—all under $100. Your shopping chart just got a lot more stylish.
Aimee Song World of Style
amazon.com
For a fun coffee table read, gift her Aimee Song's World of Style. The fashion influencer highlights her favorite travel destinations and the best places to eat, shop, and sightsee in them. Your BFF will enjoy thumbing through the pages on a Sunday morning, marking off her next vacation spot.
2
A Luxe-Looking Jewelry Tray
Socosy Marble Dish
amazon.com
$8.99
If she's always losing her rings and earrings, this gift is both fashionable and functional. The spacious marble-patterned tray looks and feels luxe, even though it's only $12. Finally, her gold rings will get the proper display love they deserve.
Barabum Clear Tote Bag
amazon.com
$21.99
We can't believe something this chic is this inexpensive! The accessory comes in four colors, though this icy white is our pick for winter. Style with your wool coat and jeans.
Rock Paradise Home Decor Bookends
amazon.com
$34.00
Upgrade her #shelfie, with this natural agate pair of bookends. They're cut, polished, and dyed by hand in Brazil from rough agate geodes, meaning no two are exactly alike. If she didn't feel like organizing her books before, she will now.
QBSM Silk Scarf
amazon.com
This silk scarf has multiple functions. It works as a headband, a scarf, a hair tie, and as a bag accessory (tie the scarf around one of the handles). Your friends and family members will love the versatility of this piece and you will love the price—it's only $6! Add a few scarves to your checkout cart, so you can stuff one into each of your family's stockings come December.
W&Y Ying Sunglasses
amazon.com
Add a dash of vintage charm (that actually feels super modern, too) to your outfits with these retro cat-eye sunglasses. While the pastel shade might feel very spring/summer, lavender is actually just the pop of color your all-black ensemble needs. If purple isn't your style, the sunglasses come in three additional, wearable colors.
Kate Spade New York Wallet
amazon.com
Don't dismiss Amazon when it comes to luxury. Kate Spade New York is one of the affordable, upscale brands the retailer carries, and this wallet—with its colorblocked neutrals—looks as chic as can be. This accessory is a steal at $66.
PyroPet Candle
amazon.com
$54.95
This novelty candle, named Einar, is almost too pretty to burn. But in order to witness the magic, you must light it. The mystical Icelandic unicorn has an inner metallic skeleton that's only revealed once the wax melts down. After a burn time of 16 hours, you have a nice little unicorn skeleton table decor.
Hanloud Pineapple Bracelet
amazon.com
If her favorite drink is a piña colada, give her this adjustable pineapple motif bracelet. When she's stressed at work, she can look down at her wrist and be reminded to indulge in some self-care. A getaway to Costa Rice sounds nice right about now.
Sam Edelman Rain Boot
amazon.com
Sam Edelman's Chelsea rubber rain boots come in nine different colors, which will please even the pickiest gift recipients. So forget boring black booties, instead, go with this gentle olive color. She can now step in puddles with a sigh of relief.
Gift Boutique Peace Decor
amazon.com
Is your friend moving away? Before she "peaces out," present her with this as a going-away gift. She can use it as a jewelry holder or leave it unadorned as a simple decorative piece. Whatever she uses it for, it's pretty thing with a nice message to have around your apartment.
iDonzon Macbook Air Case
amazon.com
$16.98
Make over her work laptop with one of these vibrant see-through hard shell cases. My personal favorite is the desert cactus print, which reminds me of Palm Springs. If this isn't her vibe, there are eight other design options (flowers! marble! space!) to choose from. Since they're just $16 each, you can give her several so she can change the cases up.
Jessica Simpson House Slippers
amazon.com
$28.99
A pair of fluffy house slippers keeps your toes warm and toasty on even the coldest mornings. This pair have thick memory foam inside and an anti-slip sole. Prepare to hunker down and get real cozy. Remind me why I should leave my house tonight?
This content is created and maintained by a third party, and imported onto this page to help users provide their email addresses. You may be able to find more information about this and similar content at piano.io