An Exclusive First Look at H&M Studio's New Holiday Collection
Marie Claire spoke with the brand's design head about injecting glamor into your every day and what's next for the luxe-leaning sub-brand.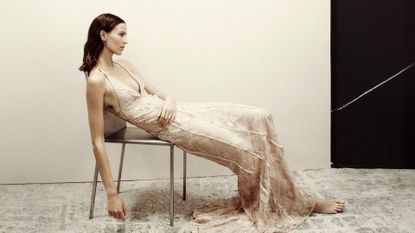 (Image credit: H&M Studio)
As the late, great, unabashedly fabulous André Leon Talley once said: "[New York women] have dinner parties to go to, social functions, opening nights, ballet, opera. They have a lot to do. They have to be dressed. They need new clothes." The fashion editor's point that a jam-packed agenda demands a robust wardrobe extends beyond only Manhattanites. As women, we're all busy creatures. There are always things to do—grocery shopping, cocktail-hour schmoozing—and our clothing should streamline, not complicate, our schedules. H&M Studio's 2023 Holiday Capsule intends to do just that.
The latest collection from the retailer's luxe-leaning subbrand offers quintessential party dressing—glitz, glamor, and more—while prioritizing versatility. "Occasions aren't just parties: occasions are the different things you do in your every day," Ann-Sofie Johansson, the retailer's design head and creative advisor, tells Marie Claire over Zoom.
The capsule, which launches on Dec. 7, includes a sharply tailored double-breasted blazer that works for in-office days and after-hours drinks. Are you meeting a friend for lunch and then rushing home to host a dinner party? There's a baby pink cowl-neck blouse that's perfect for both. "You decide for yourself when to wear the garments—what is the best occasion for you to wear that one dress," details Johansson, who started at H&M 36 years ago as a sales associate and now sits in the top spot.
Of course, there are moments of flash and fun in the new holiday edit—the ruched magenta mini skirt with a taffeta train and trompe l'oeil tube dress are particular standouts. But every piece in the capsule has the potential to be pared down. "The bias-cut slip dress, for example," offers Johansson. "You can wear it more grungy with a T-shirt underneath and a leather jacket on top, so it's perfect for every day or to wear to work." The creative advisor admits that the sleek staple is her personal favorite from the collection, as it encapsulates the new design direction H&M Studio is taking now that it has hit ten years. "The simplicity of [the slip dress] is so beautiful. Because it is not always about sequins and lace; a slip dress cut on the bias in silk can be super, super lovely."
Subtle yet strategic minimalism was a guiding inspiration for H&M Studio's Stockholm-based ateliers, as it was for many brands designing for today's take on quiet luxury. "Fashion is going back to something that's a bit more timeless," says Johansson. We want to wear our garments more and keep them for a longer time." Returning to that silvery-gray slip dress—it looked great on Kate Moss in the '90s, it looks great on Angelina Jolie now, and it'll look great on you in 20 years.
"We also talked about the raw and the refined together—this kind of stripped-down but grounded feeling. A contrast like that is always interesting in fashion," details Johansson. You'll find this balance of hard and soft throughout the collection, seen in lingerie-inspired closures, corseted bonings, and picot edges. "Also the trousers, where you can almost see underwear peaking up under their sheer waistline, for example," she offers.
But make no mistake: This is not your standard fast-fashion drop. "We focus on craftsmanship, on know-how, and the foundation of making garments. And we don't want to make many any unnecessary garments here—we want to keep it quite tight." shares Johansson of the 24-piece collection. The aim is to be more thoughtful with design, which, in the end, positions H&M Studio as the more mature older sister to the iconic retailer. "We're building and treating H&M Studio as a fashion brand within H&M. It's a bit more special," she states.
That includes greater sustainability efforts. "We always try to push our sustainability as far as possible while still being durable and long-lasting. In [H&M Studio's Holiday Collection], you'll find organic silk and recycled wool. The sequins are made of recycled polyester, and we used recycled aluminum in some of the jewelry and the heel of shoes," the head of design shares. As a result, the price point of H&M Studio is higher than the mainline—ready-to-wear pricing in the new drop ranges from $65 to $499.
"There's still a value for money, but the pricing is higher due to the top-notch fabrics and innovative sustainable materials we use—and the amount of work we put into each collection." After all, atelier-driven designs don't come cheap.
H&M Studio's Holiday Capsule launches in limited stores and online on Dec. 7. Keep an eye on this page, as we'll update it once the collection runs.
Marie Claire email subscribers get intel on fashion and beauty trends, hot-off-the-press celebrity news, and more. Sign up here.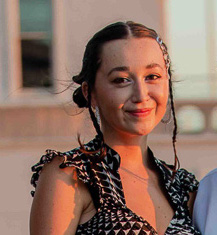 Emma Childs is the Fashion Features Editor at Marie Claire, who writes trend reports, long-form reported features, and style guides. She previously wrote for TZR, Editorialist, Elite Daily, and Mission Magazine and studied Fashion Studies and New Media at Fordham University. When she's not writing fashion deep-dives, you'll find her stalking eBay for designer vintage and perusing HBO Max (in her heart, it'll always be *HBO* MX).