Big Girl in a Skinny World: Best Holiday Dresses
We're barely adjusting to the fact that Thanksgiving is over and "the holiday season" is officially upon us, but nonetheless if you're anything like me, there are a handful of holiday-centric parties, events, and family gatherings that require a special s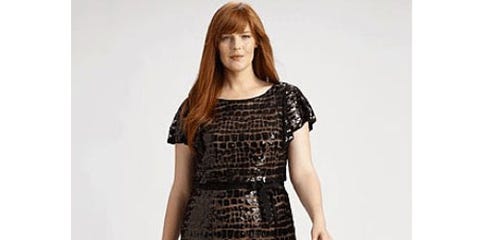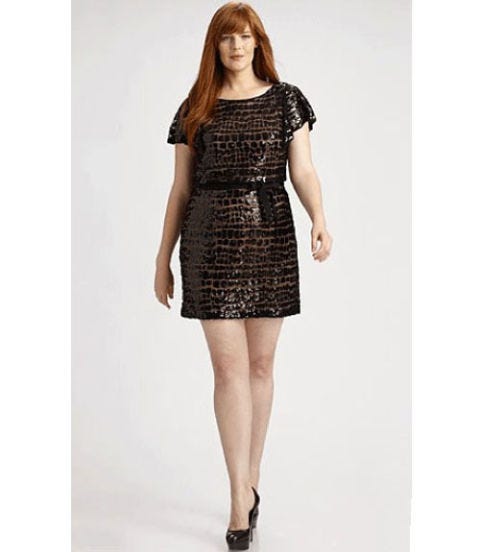 Phoebe Couture by Kay Unger Semi-Sheer Sequin Dress
Why We Love It: Ever since I first came across Kay Unger's new contemporary line, Phoebe Couture (sizes 18-24), I've had a bit of a crush on all the pieces. They are chock full of detail, totally on trend, and don't sacrifice or hold back design when it comes to the plus-size market. Case in point: this sheer, cappuccino and black, sequin dress, with a Grosgrain tie at the waist and sexy V-back. I adore the unusual pattern of the sequins, and how it packs just a hint of edge into the super-feminine silhouette.
Wear It With: A killer pair of heels will do the trick, but if you'd like to take a riff on the subtle edginess of the dress, try pairing it with a pair of ankle boots.
$250, Saks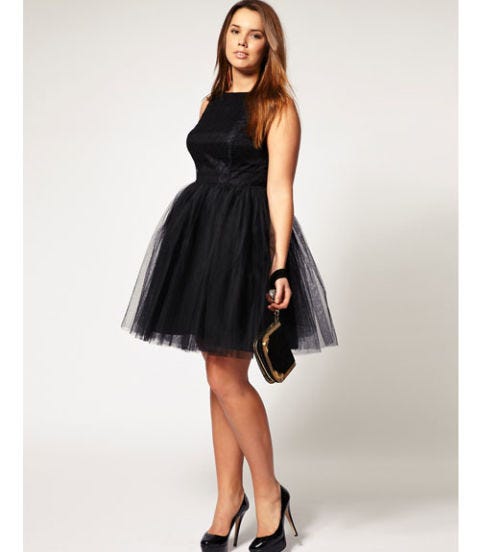 ASOS Curve Lace Dress with Mesh Skirt
Why We Love It: Do you ever want to completely revel in being a girl, and twirl around in a playful skirt? This is the dress for exactly those moments. With a gorgeous lace bodice and a full tulle skirt, ASOS Curve (available in sizes 16-22) is knocking it out of the ballpark with this youthful, flirty number. It may actually be at the top of my list of dresses I'd like be wearing to ring in the new year! Hey, it's the holidays: have fun.
Wear it With: Quirk it up even more with a glittery statement heel! I love navy and black, so these KG by Kurt Geiger heels are a great option; for the super-splurge, look no further than Miu Miu.
$108, ASOS CURVE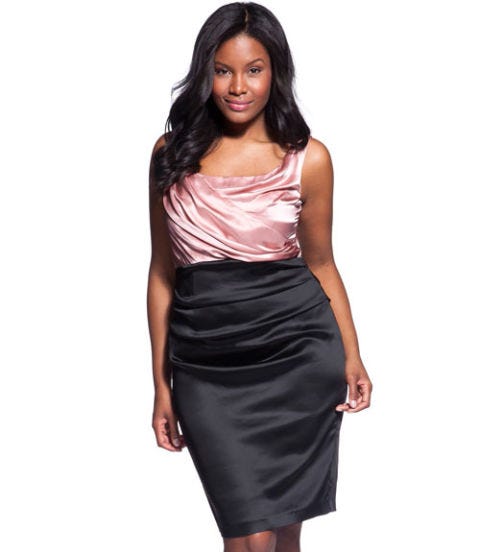 eloquii by The Limited Ruched Satin Dress
Why We Love It: How chic is this pink and black color combination? The Limited's new plus-size line, eloquii, has many stand-out pieces in their workwear heavy collection and, no doubt, this is one of them! The ruching on this stretch-satin dress creates an ultra-flattering curve with all the biases in the right places. And skillful color-blocking helps to balance out proportions and emphasize your waist.
Wear it With: Play up the nod to the 1950s with a round-toe Mary Jane or a peep-toe pump! For a slightly more conservative approach, throw on a classic black cashmere or angora cardigan.
$128, eloquii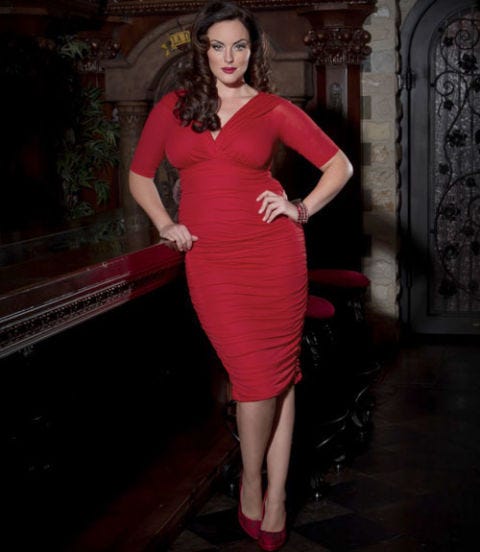 Kiyonna Betsey Ruched Dress
Why We Love It: Kiyonna's line of jersey dresses are a staple that every curvy girl should have in her closet. Available in sizes 0X-5X (10-32), the plunging neckline and curve-hugging hems of this dazzling red color are sure to turn heads. But the best part? Super stretchy jersey means you will be comfortable all night long! If red's not your color, the dress also comes in a beautiful, peacock-y teal, a festive and slightly unexpected hue for the holidays.
Wear it With: Channel your inner Marilyn Monroe and let the dress speak for itself; leave your decolletage bare and opt for some blingy chandelier earrings! If you can't stand to go with a nude leg, this is the perfect opportunity to try out some my favorite back-seamed tights!
$128, Kiyonna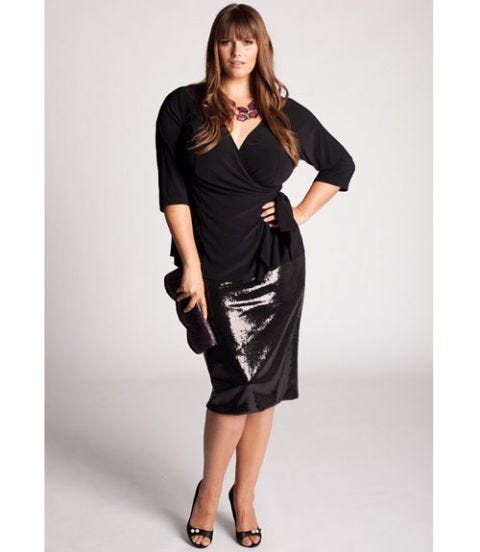 Igigi by Yuliya Raquel Minnelli Sequins Skirt & Joan Top
Why We Love It: More of a separates kind of girl? Me too. For those of us who wear totally different sizes on top and bottom, sometimes separates are the best way to go when there is no time to run to our trusty tailor. Glittery pieces are always essential during the holidays, but you'd be surprised how much mileage you can get out of a great sequined pencil skirt (year round, no less) like this one from Igigi, available in sizes 12-32! And, who said glam and comfort can't go hand in hand? Hidden underneath those sequins is a super stretch base.
Wear it With: The general rule with glitzy statement pieces is to tone down the accessories, but with black, it's easier to get away with something crazy! Personally, I think a bright envelope clutch is essential.
$90 (skirt) and $65 (top), Igigi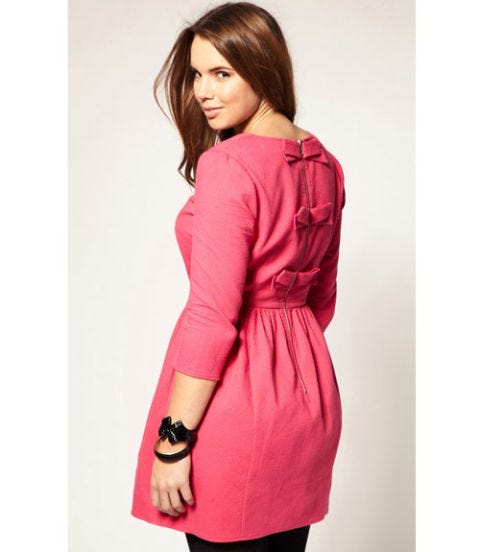 ASOS Curve Pique Dress With Bow Back
Why We Love It: Like much of America, I have a little bit of a girl crush on Zooey Deschanel. I can't help it; her adorable quirks, lust-worthy wardrobe, and always perfectly-coiffed hair are easy targets for my adoration. Now, look at this dress - is it not something Zooey would wear while strumming on a ukelele singing songs from her new She & Him Christmas Album? The bows on the back are the perfect nod to the gift-giving season and who needs a present when you are the present?!
Wear it With: This dress is begging for a sweet patent ballet flat and a long pendant necklace worn over the understated bodice.
$81, ASOS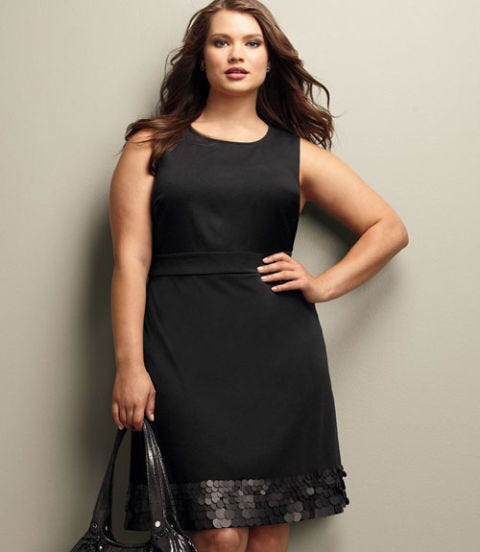 ELLE for Kohls Embellished Shift Dress
Why We Love It: Talk about a major bargain buy! At $45 (not counting your Kohl's Cash, of course), this stylish black shift dress has just enough embellishment to set it apart for the holiday season. Matte black sequins at the hemline are ritzy without being over-the-top.
Wear it With: Luxe it up with a gorgeous faux-fur embellished wrap coat another great piece that is sure to take you through the winter season!
$45, Kohl's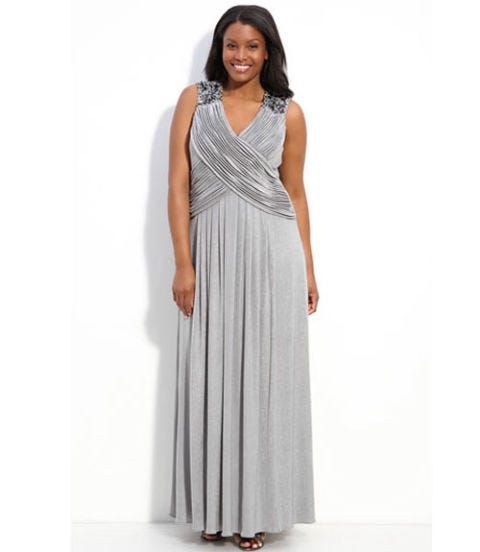 JS Boutique Embellished Shoulder Gown
Why We Love It: For the more formal events on your agenda, or if you can't get enough of the maxi trend, this silver floor length gown from JS Boutique (sizes 14-24) is mega flattering. The criss-cross detailing on the bodice will give your chest a little extra oomph, draw attention to your nipped-in waist, and length of the dress will elongate your entire body. The embellished shoulder detailing brings the eye right back up to where it belongs: your face!
Wear It With: Pick up on the amethyst, gold, and silver embellishments on the shoulders by wearing a purple clutch or teal strappy heels.
$198, Nordstrom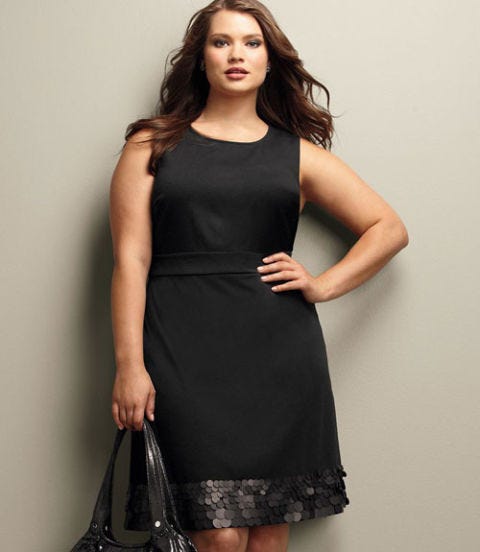 Monif C. Samantha Sequin Party Dress
Why We Love It: As a plus-size gal designing for plus size gals, Monif Clarke, founder of the eponymous label, knows exactly what curvy girls are looking for. If you haven't already picked up on the sequin trend in this round-up, let me reiterate: sparkle is a totally crucial part of your holiday wardrobe. Perhaps the most shiny of the bunch so far, though, is this stunning gold sequin party dress, available in sizes 1-3 (about a 14-24), perfect for a lady who is not afraid to be the center of attention.
Wear it With: This dress totally does the talking; pair it with a black strappy heel and a fabulous little clutch - the hands free shoulder-strap on the clutch means you don't have to worry about juggling your purse and a glass of champagne.
$268, Monif C.
This content is created and maintained by a third party, and imported onto this page to help users provide their email addresses. You may be able to find more information about this and similar content at piano.io