Winter-to-Spring Outfits That Make Transitional Dressing a Breeze
Here's your in-between-seasons sartorial gameplan.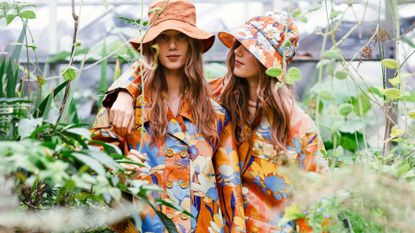 (Image credit: Kat Irlin)
You have your cold-weather essentials down solid at this point: cozy sweaters, baggy trousers that leave room for fleece-lined leggings (opens in new tab) underneath, and an arsenal of winter-proof coats (opens in new tab). But spring is poking its head around the corner (forget what Punxsutawney Phil had to say this year—he's just a little rodent! What does he know?), meaning it's time to start prepping your transitional wardrobe. And curating your closet for the seasonal switch doesn't have to be complicated! As stylist Shea Daspin details below, you can simplify the process by calling on timeless silhouettes in weather-proof fabrications—think water-wicking trench coats (opens in new tab), lightweight bomber jackets, and rubber Chelsea boots (opens in new tab) that can withstand even the deepest of puddles. Ahead, with the insight of Daspin, we've outlined seven winter-to-spring outfits that'll make shifting into the next season a breeze (a balmy, high-40s, low-50 degrees breeze at that).
Puddle-Proof Rain Boots
"I am a freak for rain boots (opens in new tab)," gushes the stylist. "I love UGG and Hunter's because they come lined in fleece and in tall and short styles. And for something a bit more stylish, ASOS carries a variety of colorful chunky styles." Daspin adds that it's worthwhile to invest in tall socks to wear underneath your galoshes, too, "so you don't overheat under all that rubber. I like ones that peek out just over the tops of the boots for a little extra style."
Spring Suiting
In times of sartorial confusion, it's best to call on the classic styles and silhouettes that are, and forever will be, wardrobe constants. Case in point: suited separates. A hard-working blazer and a matching pair of trousers make for an effortlessly streamlined and put-together ensemble during the awkward interim between winter and spring. And underneath the blazer, Daspin recommends wearing a "sleeveless mock neck sweater or turtleneck," calling them "a godsend for layering."
Strategic Layering
"Late winter, I'm still rocking a puffer jacket because I run cold, but I make sure to have plenty of layering pieces underneath," offers Daspin. But when spring kicks in, the stylist encourages you to lighten your load but layer strategically, perhaps by following her go-to winter-to-spring outfit: "A sweater with a button-down shirt or tee underneath, a midi skirt so I'm half covered, half not, and sandals with socks (yes, this is okay to do!)."
A Ready-for-Anything Rain Jacket
"A proper rain jacket is also key. For the colder months, opt for one lined in fabric to keep you warm in the cold winter rain, but once April hits, you can get away with unlined versions as well," Daspin shares. And if you're open to a splurge, the stylist invites you to consider shopping the paint-brushed technicolor number from fashion's favorite maximalist of the moment, Christopher John Rogers.
A Floral Frock
You already know this one: as soon as a springtime mood strikes, slip on a floral dress and head to the nearest meadow to frolic. Or alternatively, if wide fields of wildflowers aren't exactly common where you live, you can also wear a flowery frock for running errands downtown or in-office workdays.
Springy Outerwear
"Jackets, jackets, jackets!" The outerwear item is so essential for transitional dressing, Daspin has to say it thrice. "You will want a variety of different-weight jackets for any occasion and weather fluctuation," she explains. "I personally like to phase out my winter puffer for a puffer vest and beanie, then move my way onto chunky cardigans, denim, bomber, or varsity jackets, and even lightweight hoodies."
Let's Talk Tights
"Another very tricky transitional item to navigate is tights," explains Daspin. "Winter is great for black opaque tights, but once it starts to warm up, you can slowly opt for tights with a lower denier. The warmer it gets, the more sheer the tights can be. And once it hits above mid-50s Fahrenheit, fishnets become fair game since they don't exactly keep your legs warm, but give the illusion of coverage."
Meet the Expert
Shea Daspin is a fashion stylist with work that is vibrant and sparkly. Born and raised in the suburbs of Chicago, she moved to NYC as a teen to pursue fashion and attend university. She began her career as a Personal Shopper in NYC, later moving on to editorial, e-commerce, campaign, and red carpet work. She now lives on the East Side of Los Angeles with her four cats, dream closet, and a roster of celebrity clientele.
Emma Childs is the Style Editor at Marie Claire, where she researches up-and-coming trends, curates shopping guides, and gushes about the must-buy items she can't stop thinking about. She previously wrote for TZR, Editorialist, Elite Daily, and Mission Magazine and studied Fashion Studies and New Media at Fordham University. When she's not writing up fashion deep-dives or finding the season's best pieces, you'll find her fiddling around in Photoshop and perusing HBO Max for the next show to base her personality on (currently, it's "Succession").