19 Fitness Stars Everyone Is Following on Instagram
If you don't know these names, you need to.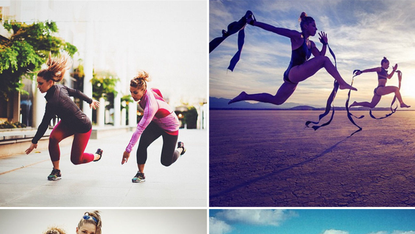 (Image credit: Instagram)
Marie Claire newsletter
Celebrity news, beauty, fashion advice, and fascinating features, delivered straight to your inbox!
Thank you for signing up to . You will receive a verification email shortly.
There was a problem. Please refresh the page and try again.
You know how an Instagram feed that's full of delicious-looking food can make you want to get all up in that? The same goes for fitness: Follow badass women who post photos and videos of themselves dead-lifting twice their weight, showing off their chiseled legs, or sculpting a sick core, and you might be more inclined to hit the gym.
Here's a list of Instagram stars that hundreds of thousands—and in some cases, millions—of people are following. Get on it!
1. Christmas Abbot, @ChristmasAbbot (opens in new tab)
If you have any doubts about female weightlifters' capabilities, Christmas is your girl: With more than 245,000 followers, the CrossFit competitor and Olympic lifter posts photos and videos of herself lifting insanely heavy shit (opens in new tab).
2. Amanda Bisk, @AmandaBisk (opens in new tab)
This Australian goddess hasn't racked up more than 339,000 followers for nothing: The exercise physiologist, yoga instructor, and CrossFit coach posts G-O-R-G-E-O-U-S photos of herself sweating everywhere you want to be.
3. Kaisa and Jennifer, @TwoBadBodies (opens in new tab)
Kaisa has a master's degree in exercise science, and Jennifer is a National Academy of Sports Medicine (NASM) nutrition specialist. Together, they've got 354,000 followers for whom they post fun fitness stunts (opens in new tab) that make you wish you could third-wheel it during their next workout.
4. Cassey Ho, @Blogilates (opens in new tab)
Cassey Ho is a body-positive (opens in new tab) certified fitness instructor and Pilates maven loved by more than 963,000 Instagram followers. Her feed is full of graceful poses and Pilates moves interspersed with healthy foods—and adorable animals. (Because why not?)
5. Jeanette Jenkins, @MsJeanetteJenkins (opens in new tab)
For her 286,000-plus followers, this celebrity trainer posts motivational quotes and selfies in fun fitness clothes and body-baring outfits. The latter makes her feed especially worthwhile: If anything is going to inspire you to squat a little lower, it's that butt—amiright?!
6. Emily Skye, @EmilySkyeFit (opens in new tab)
More than 919,000 people follow this beautiful Australian model-turned-personal trainer, who mostly posts photos of her covetable six-pack, flexing up a storm.
7. Lita Lewis, @FollowtheLita (opens in new tab)
This triathlete calls herself the "Thick Fit" trainer. Her plyometric exercise videos and motivational captions keep her 332,000 followers around.
8. Jenelle Salazar, @GetBodiedBy_J (opens in new tab)
Upward of 363,000 people follow this fitness coach (and mom!) for creative exercise ideas (opens in new tab).
9. Lyzabeth Lopez, @LyzabethLopez (opens in new tab)
Some 1.8 million followers are obsessed with this Canada-based trainer known for her hourglass workouts (opens in new tab) and figure. (That. Butt!) She posts creative exercise ideas that you can do anywhere — and selfies (opens in new tab) that prove her workouts actually work.
10. Massy Arias (opens in new tab) (aka Mankofit), @Massy.Arias (opens in new tab)
Known for her empowering captions (opens in new tab) and can-do attitude, this certified personal trainer has a massive following: 1.7M million people follow her for advice on how to properly build strength (opens in new tab) and confidence.
11. Estelle Archer, @EstelleArcher (opens in new tab)
This fitness fanatic and instructor shrunk down from a size 16 to 6—and shares photos with her 207,000 followers to prove it.
12. Michelle Lewin, @Michelle_Lewin_ (opens in new tab)
More than 4.9 million people follow this fitness model to see how fitness magazine cover stars (like Michelle) keep their shape. (Spoiler: It's no walk in the park.)
13. Katrina and Karena, @ToneItUp (opens in new tab)
Cali girls Karena, a triathlete and model, and Katrina, a health science student who'd once struggled with her weight, met at the gym, eventually collaborating to launch their own fitness studio, crazy popular YouTube channel (opens in new tab), and 437,000-strong Instagram following. Their fitness account features healthy foods, inspiring before-and-after photos of women who've stuck with the Tone It Up fitness program, and workout ideas.
14. Rachel Brathen, @Yoga_Girl (opens in new tab)
This yoga guru hasn't racked up 1.4 million followers for nothing: She posts beautiful yoga selfies and smiles with upbeat, borderline prophetic captions (opens in new tab) that just make you feel good.
15. Tanya Poppett, @Achieving_Balance (opens in new tab)
Fact: This Australian fitness instructor's Insta-vids (opens in new tab) are exhausting to watch—she works out hard. But because she relies on her own body weight or easy-to-access props like a pillow, set of swings, and chair, her posts provide actionable ways for you (and her 213,000 followers) to work it Tanya-style.
16. Lauren Fisher, @LaurenFisher (opens in new tab)
This college student and Crossfit competitor's account has a girl-next-door feel, teetering between silly pics (opens in new tab) and seriously impressive fitness feats (opens in new tab). If the combo makes you want to be her BFF, get in line: She's got more than 380,000 followers.
17. Natalie Jill, @NatalieJillFit (opens in new tab)
Sixty pounds down, this single mom and functional fitness trainer from San Diego, California, is a stronger, leaner version of her former self. She posts quick, multi-move workout Instagram videos (opens in new tab) from her living room, to the delight of her 437,000 followers.
18. Aurora Lauzeral, @Aurora_LZ_Fit (opens in new tab)
This French certified personal trainer and body builder doesn't just have a contagious smile (which she Instagrams on the regular)—she has an enviable body from head to toe. Her training is clearly responsible for it, and her Instagram account, which about 463,000 people follow, bears the evidence—as well as some fun stunts (opens in new tab) here and there.
19. Kayla Itsines, @Kayla_Itsines (opens in new tab)
This Australian certified fitness trainer has a cult-like Instagram following of 3.2 million followers. Her feed is full of incredible transformations (Hello, abs! (opens in new tab)) from fans who swear by her Bikini Body Guides.
Additional reporting by
Cydney Eckert (opens in new tab), Kate Beckman (opens in new tab), Veronica Lopez (opens in new tab), and Kerry Justich (opens in new tab).
Elizabeth Narins is a Brooklyn, NY-based writer and a former senior editor at Cosmopolitan.com, where she wrote about fitness, health, and more. Follow her at @ejnarins.